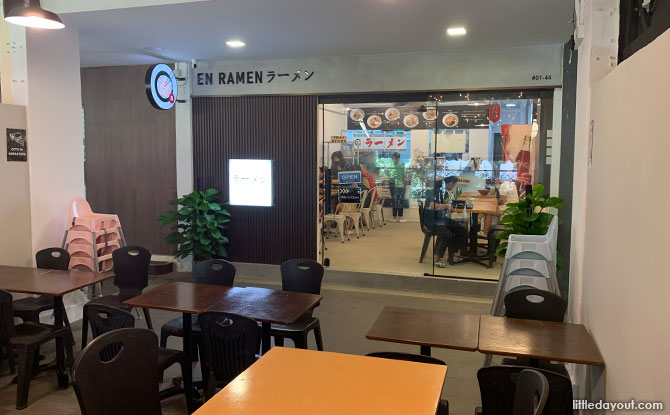 En Ramen has recently opened at Sunset Way, just beside Mariners' Corner. The store offers great value in the form of reasonably priced ramen with a great taste.
With great enthusiasm, we visited En Ramen, having heard about it and some raves about its price point and the taste. It was previously located within a coffee shop but has moved into its own unit amongst the other restaurants at Sunset Way.
---
En Ramen at Sunset Way
We entered into the store and went to the counter to place our order.

A bowl of En Original Ramen costs $7.50 and features slow-braised chashu slices and egg in a tonkotsu pork broth.
---
-- Story continues below --
We also ordered the Tonkotsu Shoyu Ramen ($7.50), which features the tonkotsu pork broth with a Japanese soy.
The last order we placed was for an En Signature Ramen ($8.50) which is a spicy version, also with the chashu.
For an additional $1.50, there was a choice of adding on a side of either chicken karaage or three pieces of gyoza.
Armed with a buzzer, we went to find a seat. There is both indoor and outdoor seating areas at En Ramen.
Finally the buzzer buzzed and we made our way back to the counter to collect the food.
---
En Ramen Review
The bowls of ramen did not disappoint. The broth of the En Original Ramen was creamy and flavourful. We felt it had a strong garlic flavour, which we personally enjoyed.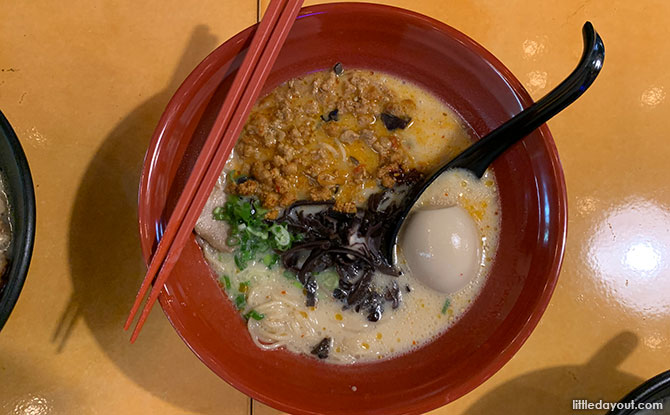 The other star was the En Signature Ramen, which had a nice spicy broth. It certainly helped to wake up the taste buds and got us digging in with the spoon for more.
The noodles serving was substantial and slightly firm. The colour of the egg was a bit on the lighter side but it had a nice soft yolk.
The side dishes of gyoza and chicken karaage felt as if they were freshly cooked and crisp. They helped to complete the meal.
Beside ramen, there are also rice options at En Ramen. These include chicken teriyaki don ($7.50), gyu don ($8.90),  buta don ($7.90) and chicken karaage curry rice ($8.50).
If you are looking for a nice bowl of noodles around the Sunset Way area, stop and check out En Ramen.
---
Where to Find En Ramen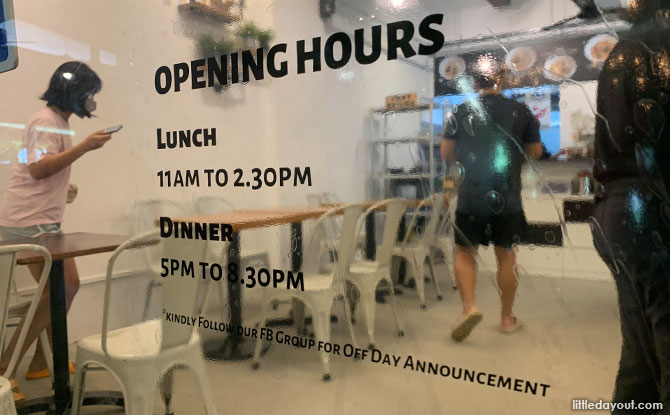 Where: 106 Clementi Street 12, #01-44, Singapore 120106