Did you know that on 22 April 1970, millions of people took to the streets in the United States of America to protest the negative impacts of 150 years of industrial development?
Earth Day has since become a global event. It is believed that more than 1 billion people in 192 countries now take part in what is the largest civic-focused day of action in the world.
Here are some activities you can be a part of in celebration of Earth Day 2019 in Singapore.
Earth Day 2019 in Singapore
---
Sara Goes Carbon Footprinting
Make your way to the Jacob Ballas Children's Garden on Saturday, 27 April and join Sara and her new friend, Rana the Frog, to learn about carbon footprint, and the many things that all of us can do to make a difference for our home, Planet Earth.
At S$8.50 per child and S$6 per accompanying adult, participants will be introduced to some useful multi-purpose trees, and learn how to reuse and recycle objects from home and nature. Upcycle things lying around in the house, and transform them into useful items for decorative or practical purposes. To register for the event, go here.
Date: 27 April 2019
Time: 10 am to 11 am
Venue: Jacob Ballas Children's Garden
---
Earth Day 2019 at Science Centre Singapore
Celebrate Earth Day at Science Centre Singapore from 19 to 21 April 2019 by being a part of all the exciting activities taking place in the various Galleries.
Pick up some interesting facts about our animal friends and take home your own little animal craft at The Mind's Eye Exhibition. Or you can also learn about recyclable materials through an interactive activity and start binning it right at the Climate Change Climate Challenge Exhibition.
To find out more about the exhibitions and workshops going on this weekend at Science Centre Singapore, go here.
Dates: 19 to 21 April 2019
Time: 10 am to 4.30 pm
Venue: Science Centre Singapore
---
Sustainability Day
Want to teach the little ones more about the concept of sustainability? In celebration of Earth Day, the Alexandra Neighbourhood Committee presents Sustainability Day at Valley Point on Saturday 20 April 2019.
Pop by for an afternoon of engaging activities and workshops and learn all you can about sustainability by getting hands-on.
The first 50 participants of the day will be able to make their very own key pouch or eco coin pouch in an upcycling workshop. Hang around and be an audience at "Understanding Plastics", a talk by WWF Singapore.
Register for Sustainability Day here.
Date: 20 April 2019
Time: 11 am to 4 pm
Venue: Valley Point, Level 1 Atrium
---
Our Earth Our Future 2019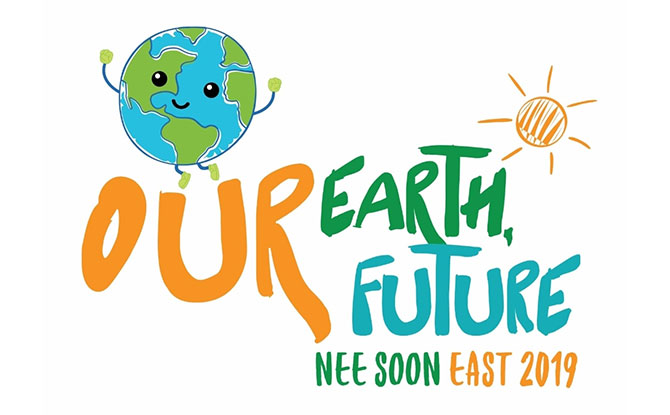 The first-ever Earth Day celebration organised by Nee Soon East, Our Earth Our Future is all about spreading awareness on how we can adopt more responsible living habits and work toward a sustainable future.
In addition to the official opening of the Yishun Greenwalk Community Garden, all guests will get to enjoy The Rubbish Prince, a puppet show commissioned by the National Arts Council and produced by arts company 3Pumpkins.
Other highlights of Our Earth Our Future include a farmer's market, sale of eco products, a hipster dining corner, a flea market, interactive craft stations, as well as sharing sessions by guest speakers on living sustainably.
Admission is free! For more on Our Earth Our Future, go here.
Date: 27 April 2019
Time: 2 pm to 9 pm
Venue: Yishun Nature Park, 329 Yishun Ring Road 
---
Love the Earth
Enjoy a spot of shopping but want to purchase green? From now until 30 April 2019, Takashimaya is running their Love the Earth campaign as part of its commitment to deliver a sustainable and environmentally-conscious retail environment for its shoppers.
During this time, shoppers to Takashimaya will find thoughtfully designed booths providing a range of eco-friendly, green products by participating brands that are committed to critical environmental and social causes.
Other noteworthy events held in conjunction with Takashimaya's Love the Earth campaign include "Fashion is not a synonym for New and Expensive", an exhibition by students from Nanyang Academy of Fine Arts (NAFA) who were invited to upcycle fabric and breathe new life into past season clothes.
To find out more on how you can purchase green at Takashimaya this month, go here.