There's really no mystery surrounding herbal chickens. This recipe calls for just three herbs to give this Double-boiled Herbal Chicken a full-bodied flavour and wholesome goodness.
Dong quai, dang gui, 当归, or angelica sinensis, is a fragrant plant in the same botanical family as carrots and celery. For centuries, its roots have been used by the Chinese, Koreans and Japanese to build blood health, boost blood circulation, regulate the immune system, relieve pain and manage hypertension and constipation. The plant is also known as female ginseng as it benefits women who have just given birth, are going through menopause, or have PMS and cramps.
Wolfberries, or goji berries, are used in TCM remedies to improve eyesight and are an excellent source of antioxidants.
Red dates, or jujube, prevent anemia, nourish the liver and detoxify the body.
---
-- Story continues below --
With so much nutrition packed in just these three superfoods, I'm sure you can't wait to try out this simple and delectable dish!
Recipe for Double-boiled Herbal Chicken
Good for a family of five.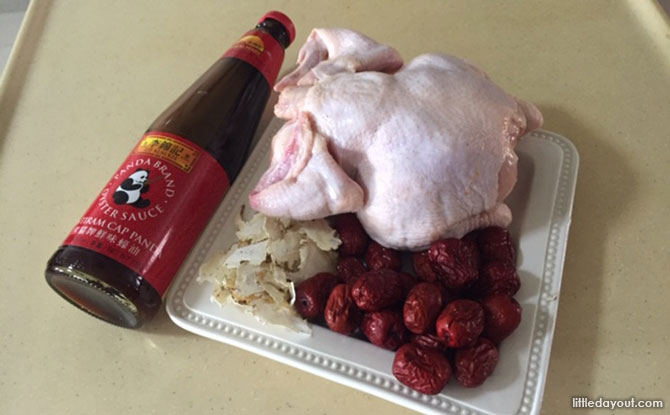 Ingredients
1 whole chicken weighing about 1.5 kg
30 grams of Angelica Sinensis (dong quai)
20 red dates
A small handful of wolfberries
6 tablespoons of oyster sauce
A little black sauce
Method
Wash and dry the chicken.
Rub the whole chicken inside out with oyster sauce and just a little bit of black sauce.
Stuff all the dong quai, wolfberries and dates into the chicken stomach together with the remaining sauce.
Put the entire chicken in a small pot. Seal the pot with masking tape to ensure that water from the bigger pot will not seep into this smaller pot.
Boil water in a bigger pot. When it boils, place the pot with the chicken on a rack to double-boil the chicken for approximately 1.5 to 2 hours. Make sure that the water level in the big pot does go above the smaller one with the chicken.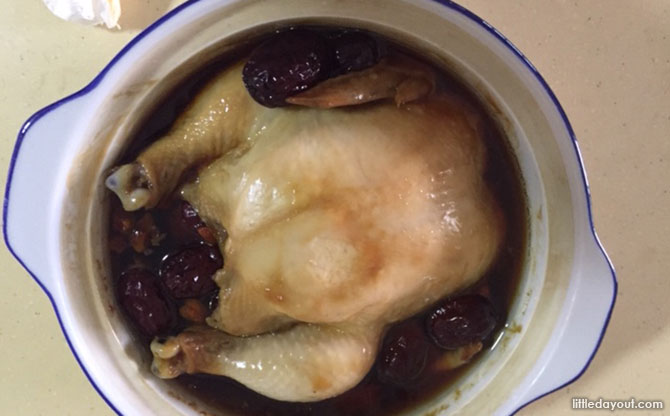 Simple #homecooked-recipes is a series specially developed to inspire beginner cooks with work and kids to handle, and not much time to spare in the kitchen. The recipes are deliberately simple enough even for kids to help you with them. Click here for more simple home-cooked recipes.