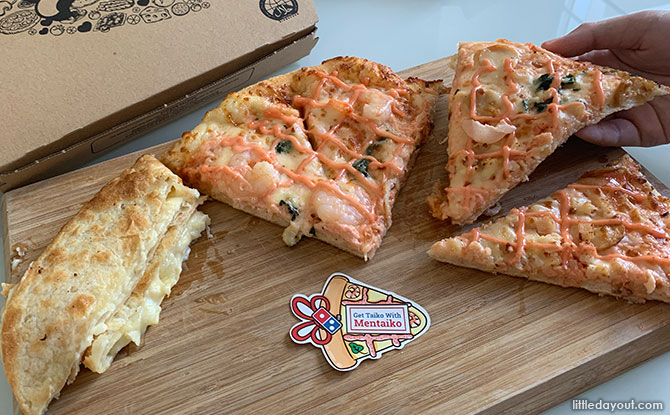 Mentaiko fans can now get taiko (lucky) with Domino's Pizza Singapore's new Japanese-inspired flavoured items on the menu. Let your taste buds be reminded of this classic Japanese flavour with the all-new Ebi Mentaiko and Tori Mentaiko Pizzas and the new Hokkaido Cream Cheese Fold.
---
Domino's Ebi Mentaiko and Tori Mentaiko Pizza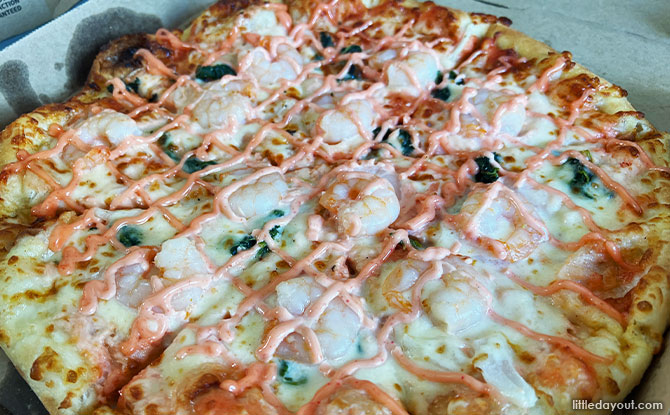 Topped with creamy mentaiko mayonnaise, the super umami Ebi Mentaiko and Tori Mentaiko Pizzas are an enjoyable addition to your next pizza party. Taste the flavors of the sea with the Ebi Mentaiko pizza which containing tasty prawns and spinach topped with creamy Mentaiko Mayonnaise sauce.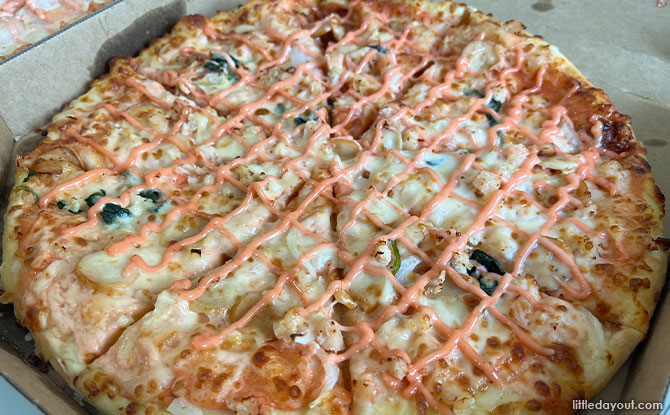 ---
-- Story continues below --
Those who want to indulge in the best of both worlds with a "surf-and-turf" inspired combination can order the Tori Mentaiko pizza that contains smoked chicken breast, and spinach and is also topped with the umami Mentaiko Mayonnaise sauce.
Diners who are fans of sweet and savoury pairings can opt for the Hokkaido Cream Cheese Fold. Initially, we were hesitant to try this combination, but we were pleasantly surprised by the milky Hokkaido cream cheese and tart pineapple chunks.
---
Test Your Taiko (Luck) And Win A Supply Of Pizza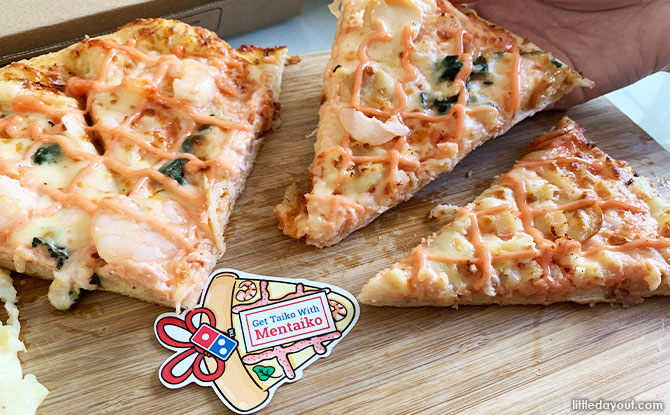 From 5 through 11 September 2022, Domino's Singapore will host an island-wide Epic Hunt and participants stand a chance to win "one year's supply of pizzas". Customers who purchase a minimum of one regular mentaiko pizza will stand a chance to receive their pizzas inscribed with the figures '88' in luscious Mentaiko sauce, along with a Golden Ticket which will allow them to redeem 12 regular pizzas in the All-Time Favorite category.
---
Look Out For The Mentaikat
Aside from the new flavours, customers can look out for the Mentaikat, which is inspired by the new pizza flavours and 'maneki-neko', a common Japanese cat figurine often believed to bring good luck. The half-cod, half-cat character will be featured in a series of animated shorts that will be released on Domino's social channels. Fans can also grab a photo with Mentaikat at Domino's Kebun Baru store.
For more information, visit the website here.