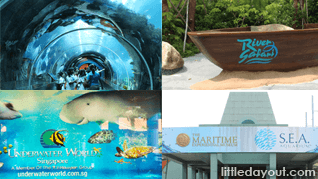 (Updated June 2016) Underwater World Singapore has closed.
It used to be just one in Singapore for almost half a century.
The Van Cleef Aquarium stood steady as a landmark aquarium in Southeast Asia, at Fort Canning, till it was torn down in 1998. Thereafter, Underwater World at Sentosa, which burst onto the scenes in 1991, became the only anchor marine life attraction in Singapore for 15 long years.
The tide has turned with the opening of S.E.A. Aquarium at Resort World Sentosa's Marine Life Park in November 2012 and the soft opening of River Safari by Wildlife Reserves Singapore on 3 April 2013. The new wave encompassing seawater and freshwater creatures of all shapes and sizes has propelled Singapore's profile in the world of aquatic attractions to the top of the charts.
How do they all stack up next to each other? What are the similarities and differences? Is it worthwhile visiting all three? Little Day Out pooled together the facts and figures for these three aquariums for a quick roundup!
Singapore Aquatic Attractions Comparison Chart
Underwater World, Sentosa
S.E.A. Aquarium, Marine Life Park
River Safari

Since

1991
22 November 2012
3 April 2013 soft opening

Location

Siloso Point, Sentosa
Resorts World Sentosa
Mandai Lake Road

Catchphrase

"Go under the water"
"World's largest oceanarium"
"Asia's first and only river-themed wildlife park"

Vital Statistics

2,500 marine life

250 species

100,000 marine animals

800 species

5,000 aquatic and terrestrial specimens

300 species

Exotic Features

Pink Dolphins, Dugong, Sharks, Manta Rays, Sea Angels
Manta Rays, Hammerhead Sharks, Bottlenose Dolphins, Goliath Grouper, Napoleon Wrasse and more than 200 sharks
42 endangered species including Giant Panda, Giant Salamander, Giant Freshwater Stingray, Mekong Giant Catfish, Giant River Otter, Yangtze Alligator

Design Concept

Interact with rays and fish in touch pools.

The underwater tunnel downstairs places visitors alongside marine life. Catch pink dolphins and fur seals in action at the Dolphin Lagoon.

Explore 10 different zones representing 49 habitats from Southeast Asia, through the Arabian Gulf, and the Open Ocean.

Tanks range from the small-sized to towering displays.

Explore on foot through freshwater galleries representing 8 river zones.

View both marine life and terrestrial animals that includes beavers and the Indian Gharial.

More animals will be on display once the Amazon River Quest boat ride opens.

Highlights

Underwater Tunnel that brings visitors around the main tank on a conveyor belt, providing a fish-eye view of the Reef Colony and Ocean Colony.

Dolphin Lagoon with playful pink dolphins along with their furry friends, the fur seals.

Touch pools including the Ray Pool that lets you touch the rays, the Turtle Pool, and another that lets you feed the fish.

Open Ocean Gallery with 50,000 marine animals including giant manta rays, saw fish, goliath groupers and rainbow runners.

Discovery Touch Pool provides an opportunity to touch and feel a Sea Star.

Moray Eel Habitat houses four species of these unique animals. Crawl into a cave to get a feel of their world.

Giant Panda Forest exhibit, kept at 18 – 22 degree celcius is home to 2 giant pandas, Kai Kai and Jia Jia, on loan from China for 10 years, red pandas and golden pheasants.

 

Amazon Flooded Forest aquarium with world's largest freshwater aquarium and viewing panel of 22 metres wide and 4 metres high

Mekong Giant Catfish aquarium with viewing panel at 3 metres high, with giant catfish.

Close Encounters

Touch Pool, Ray of Fun, Swim with the Dolphins, Dive with the Sharks.
Discovery Touch Pool, Lens Aquarium, Floor Aquarium.
Squirrel Monkey Forest walk-in enclosure.

Unique Fun Factor

Swim with the Dolphins programme allows visitors as young as 6 to get into pool with the pink dolphins. Separate booking is required.
11 two-storey Ocean Suites luxury accommodation with under-the-sea vista of the Open Ocean habitat. Separate booking required.
Boat ride at Amazon River Quest (to be opened later in 2013).

Educational Programmes / Show Schedules

Meet the Dolphins and Fur Seals sessions at 11.00 am, 4.00 pm and 5.45 pm
The JASON Project, Teacher Programmes, School Group Tours (See more…)
River Talk Show with interactive opportunities, held at 11.00 am and 4.00 pm daily at Amazon Square

Fast Facts

Child: $17.60, Adult: $25.90

10.00 am to 7.00 pm

Child: $20, Adult: $29

10.00 am to 7.00 pm

Child: $23, Adult: $35

9.00 am to 6.00 pm

The Vibe

Granddaddy of marine attractions in Singapore.
Awe-inspiring aquatic surroundings with a wide myriad of the wonders of the deep.
Relaxed environment with a good mix of tropical outdoors and indoors, expansive layout, engaging exhibits and friendly staff.

The Verdict

The smallest of the marine attractions. Make sure to time your visit to catch the pink dolphins and fur seal show to enjoy the full experience.
Great place to linger – whether staring at the immense Open Ocean tank or at the tiniest fish at the Lens Zone.

See our review of the S.E.A. Aquarium.

Come for the pandas and discover much more. The terrestrial animals make all the difference.

See our review of the River Safari. 
We are certainly blessed to have three fantastic marine life attractions on our shores. Each is different in its own unique ways and a visit to each one adds on to the appreciation of marine life and boosts our marine conservation consciousness and efforts.