Donning a red KidsSTOP cap, on 18 February 2014, Science Centre Singapore's Chief Executive, Associate Professor Lim Tit Meng, used augmented reality to walkthrough the different zones of KidsSTOP, the new children's science centre scheduled to open on 5 June 2014.
Designed to spark the interest of children aged 18 months to eight years old in science, KidsSTOP will comprise different zones and areas, centred around the four tenets of Imagine, Experience, Discover and Dream.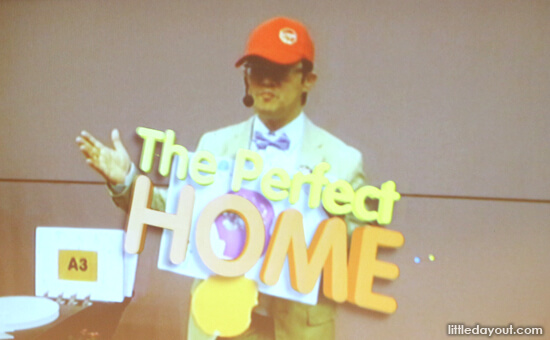 The Built Environment Zone will be fashioned after a bustling construction site where children can operate a mechanised crane and experience different aspects of construction. It will feature a magnetic wall with movable pipes and ramps for children to create their own structures and introduce concepts such as gear ratios and energy transfer. The Built Environment Zone is sponsored by the Building and Construction Authority.
At the Supermarket, children will be able to take on roles such as cashiers, customers, chefs and street vendors. This zone will introduce them how different food items are produced and the importance of good nutrition.
The Dino Pit will give kids a chance to become a paleontologist and search for dinosaur bones. They will be able to learn about common dinosaurs and how to classify them.
The Flight and Space Zone, sponsored by the Civil Aviation Authority of Singapore, will allow chilren to create their own flying machines and even their designs in a wind tunnel. Here, they will be able to learn the science behind flight and also role-play as pilots and ground crew.
Active young ones will enjoy scaling the Big Dream Climber, a nine-metre climbing structure with unique hanging elements such as suspended leaves, flying fish and fanciful, hanging doors. Adventurous ones can take on the Giant J, a seven-metre slide that will allow them to experience free-fall for an instant before sliding to safety.
In addition to other learning zones, facilities at KidsSTOP will also include The Party Room, an open space with a stage for performances and a room in the corner that can be rented out for birthday celebrations. Very young children will be able to enjoy Small and Smaller Worlds, a dedicated space for them that will include a Nursing Alcove.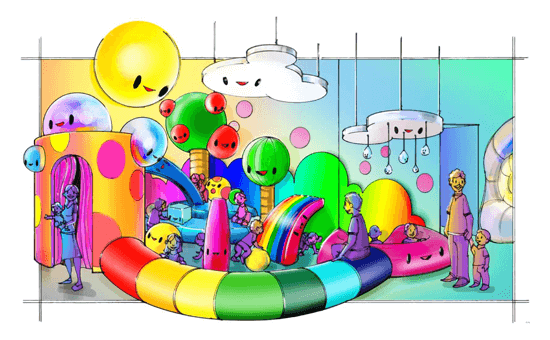 Associate Professor Lim said, "We are very excited about the development of KidsSTOP, a dedicated facility for younger children. It will tap on their natural curiosity at a critical stage of development as they discover the world around them through discovery and play."
See Little Day Out's preview of KidsSTOP.