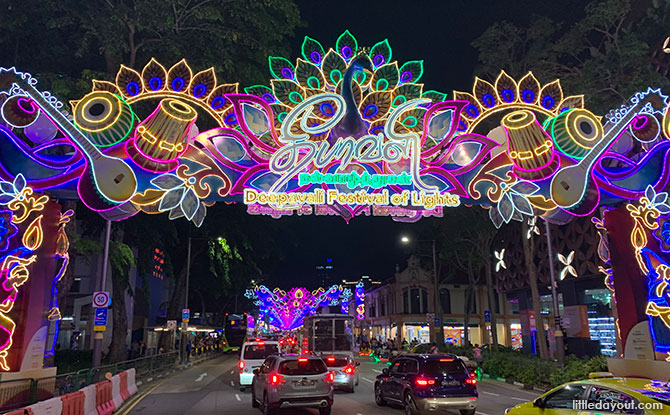 Pay a visit to Little India to enjoy the Deepavali light up 2022 in Singapore and to enjoy various activities to mark the Festival of Lights.
---
Deepavali Light Up 2022 Singapore
From 16 September to 13 November, Serangoon Road and Race Course Road will be lit up for the Deepavali Light Up 2022 Singapore.
The Deepavali Street Light Up at Little India starts from the junction of Serangoon Road, Bukit Timah Road and Sungei Road with a brightly coloured archway. The motif of this year's street light up decoration is musical instruments like the tabla and sitar. Images of these can be found on both on the archway and decorative lights strung over the roads.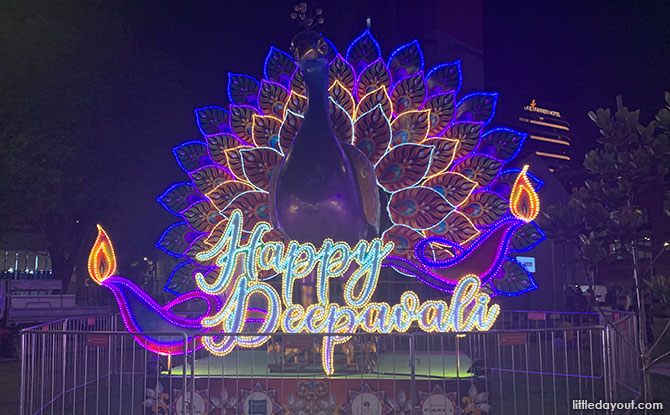 Over at Kinta Road, there is a light installation featuring a peacock.
---
Other Deepavali Festivities in Little India
In addition to the light up, there are other events being held in celebration of Deepavali.
Deepavali Purana Mascots
On 1 October 2022, you can spot the Deepavali Purana Mascots from 1 pm to 8 pm at Poli @ Clive Street. Take a selfie and stand to win a hamper in a contest.
---
Deepavali Games Challenge
Poli @ Clive Street will also host the Deepavali Games Challenge. For ages 12 and above, signup as a family of four before 25 September to participate in the challenge. Details here.
---
The Hunt for Tradition
On 8 and 15 October, join in a hunt for tradition. Find the clues and solve the mystery. The hunt starts at the Indian Heritage Centre. Registration is required. Get more details here.
---
Cultural Show and Competition
There will also be cultural shows on 8 and 22 October at Poli @ Clive Street.
Other activities being organised include live online cooking demonstrations and a Thittikum Deepavali Sweets virtual event.
Away from Little India and on the trains, look out for the launch of Deepavali designs at HarbourFront and Little India MRT stations.
Get more details about what is happening at Little India for Deepavali 2022 here.