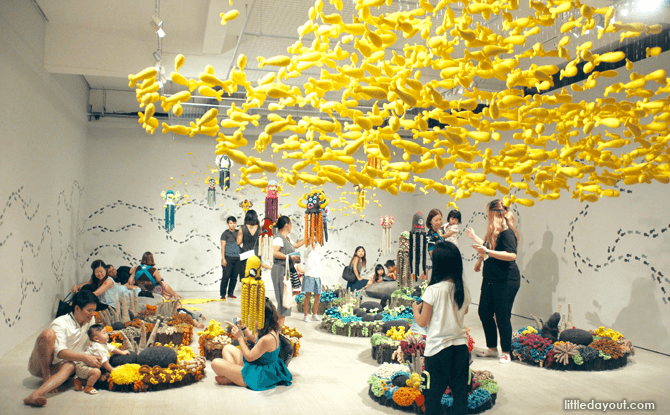 Dive into deep waters at Imaginarium 2016, where human life and civilisation are closely bound to the sea.
The sixth edition of Singapore Art Museum's children-focused annual exhibition provides whimsical discoveries of our relationship with the oceans through the eyes of contemporary artists.
Little Day Out navigates the underwater adventure at "Imaginarium: Over the Ocean, Under the Sea" in our visit to SAM at 8Q!
LEVEL ONE
Mulyana
---
-- Story continues below --
Our deep-sea diving expedition begins with Indonesian artist Mulyana's "Dimana Mogus?" (Where is Mogus?), a dreamscape of fantastical sea monsters, coral reefs and oceanic life.
The Mogus, an imaginary octopus monster, is the artist's alter ego. (You can wear Mogus as a funny wig-hat!)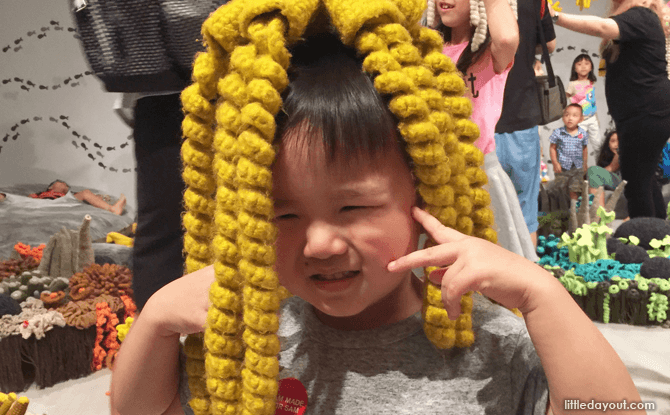 These soft, tactile sculptures made with yarn, cotton, felt, synthetic fur, vulcanised copper wire and dacron filling invite visitors to interact, play, and imagine.
But do not push/pull the octopus sculptures hanging overhead or tug/sit on the coral reef displays, no matter how inviting they might look.
The friendly but slightly harried staff at SAM had a tough job of reminding the burgeoning crowds not to do so. In fact, the sign outside the installation says to keep off the sculptures please – which we, too, overlooked in the excitement to jump in. Sorry!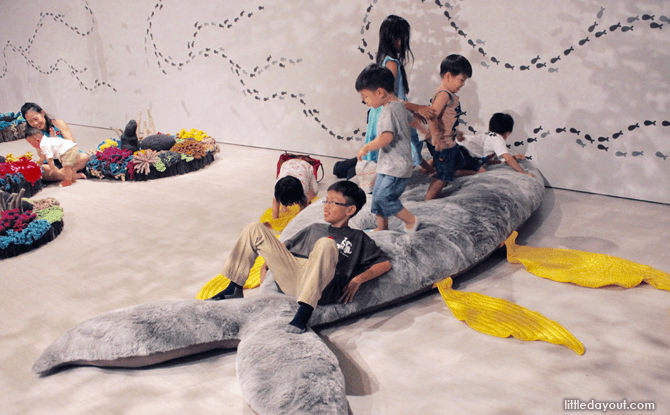 However, the huge cushion whales are free for sitting, bouncing and lying in. Yay!
And, hmm, we wonder if this lone coral reef at the corner of the room, pure white in colour, signifies the death of ocean life if humans continue to abuse the environment?
Yuree Kensaku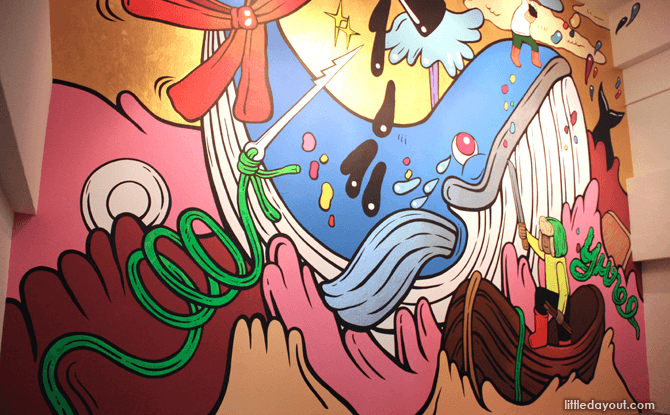 As you walk up the stairs of SAM 8Q, you will encounter the (rather gory but) resplendent murals by Thai artist Yuree Kensaku. This particular one is titled "The Finale Fin of Shark's Fins".
The series of acrylic on the walls at every stair landing tells of the tragedy of how humans as apex predators have exploited the oceans because of excessive greed.
LEVEL TWO
Submaroom is a fun workshop space that allows kids (and parents) to interact with creative tasks like folding origami.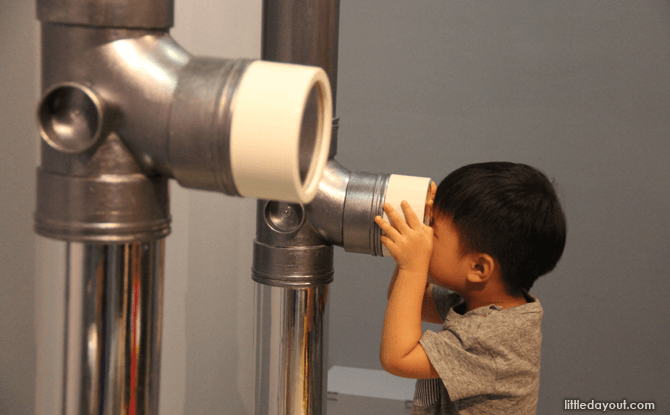 There is also a row of imaginative "periscopes" made of video projections.
On the same level, the Moving Image Gallery is screening a selection of local and international short films inspired by marine adventures and aquatic tales.
LEVEL THREE
Karina Smigla-Bobinski
This pitch-black room is really fun, and surprisingly cool.
The gigantic helium PVC balloon is encrusted with charcoal studs, and glows gently from lights within.
Polish artist Karina Smigla-Bobinski created "ADA" to be an interactive art-making machine, requiring animation from visitors.
But giggling children and breathless adults will soon realise that "ADA" seems to take on a life of her own as she bounces all about the white room, leaving behind deep charcoal marks all over the walls, ceiling, and floor… and our little gleeful one's face.
Krit Ngamsom
Thai artist Krit Ngamsom's kinetic sculptures make cheeky references to iconic artworks which use ready-made objects.
The three artworks pay homage to artists Marcel Duchamp, Damien Hirst and Salvador Dali.
LEVEL FOUR
Tan Zixi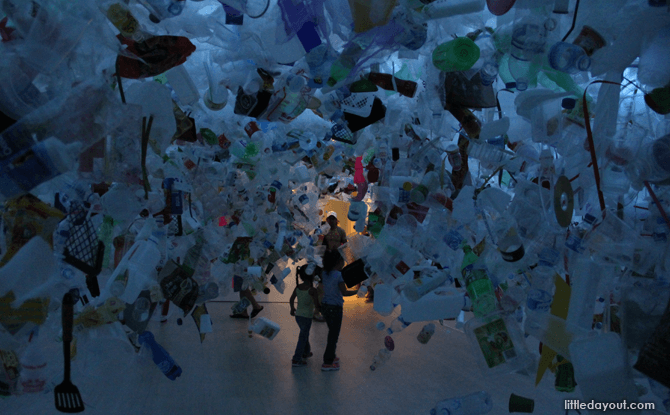 Kids will love Tan Zixi's "Plastic Ocean" as they can swim and navigate their way through a floating sea of plastic trash.
Recycled bottles, containers, wrappers and such are repurposed for this installation which questions why we heedlessly throw away so much garbage. About 269,000 tons of plastic floats on the world's oceans, endangering the lives of sea creatures.
Papermoon Puppet Theatre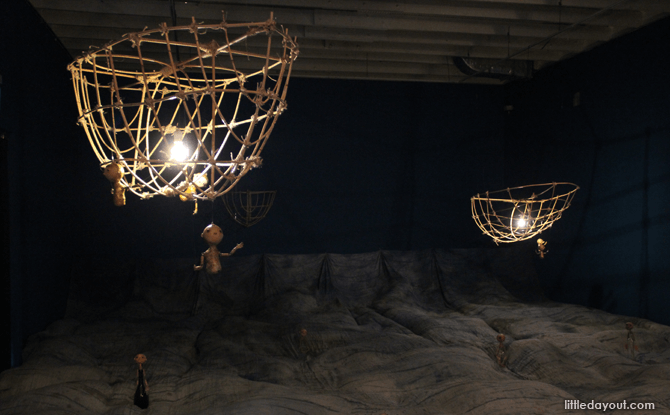 A visual and audio treat, "Suara Muara" (The Sounds of the Estuary) recreates the lapping waves of a fisherman's village and the quiet life of an almost-forgotten place.
Papermoon Puppet Theatre's installation is made of fabric, rattan, wood, paper, glass bottles and metal.
Visitors are invited to put on the headphones and go on an auditory journey in Lasem, a tiny town on Java Island.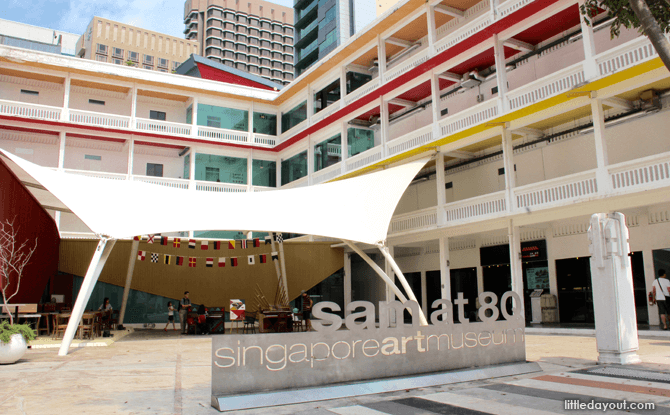 IMAGINARIUM: OVER THE OCEAN, UNDER THE SEA
14 May – 28 August 2016
Entry free for Singaporeans and PRs, and for children under six
SAM at 8Q
8 Queen Street
Singapore 188535