Blue dancing figures representing performing arts like joget and breakdancing line up along the exterior of the Stamford Arts Centre. They are part of a commissioned artwork, Culture and Harmony by artist Leo Hee Tong, which captures the spirit of the Centre's aim to support Singapore's multi-ethnic performing arts.
---
Dancing Figures Celebrate Traditional & Contemporary Performing Arts
With its mix of both traditional and contemporary performing arts, Culture and Harmony represents Singapore's unique identity.
It is made from 8 mm thick aluminium plate and has a total length of of almost 21 metres.
Represented on the artwork are elements of traditional Indian and Malay dance, traditional Chinese instruments and ballet and modern dance. It reflects the Stamford Arts Centre's mission to be a centre of innovative traditional art forms and practices.
---
-- Story continues below --
Culture and Harmony's blue colour is meant to reflect the dynamism of the performing arts.
---
Culture and Harmony at Stamford Arts Centre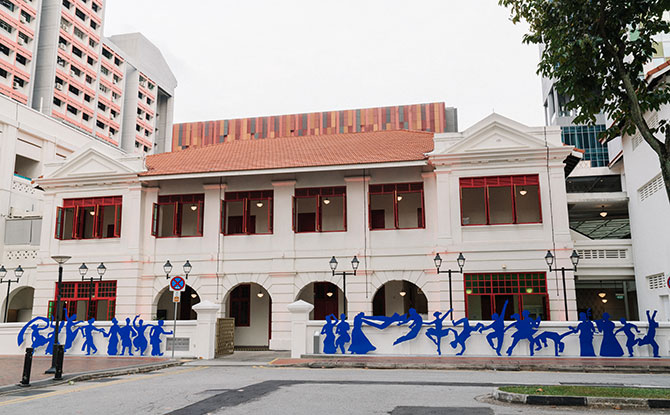 The installation was commissioned by the Public Art Trust and sponsored by art patron Mr Tsai Eng Rung.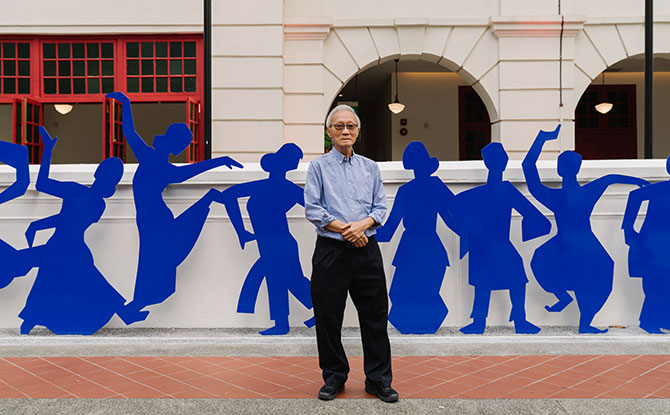 The artist, Leo Hee Tong, born 1940, is an alumni of the Nanyang Academy of Fine Arts and the Ashiya Art College in Japan. He has also done murals entitled Towards 21st century which can be found at the Monetary Authority of Singapore and Somerset MRT Station.
This artwork adds to the arts hub status of the area.