This Cantonese-style creamy corn with chicken is delicious and easy to make.
For greater convenience, you could use frozen corns instead of fresh corns. Just add a few more minutes to the cooking time if frozen corns are used. Dish this over rice and you get a fantastic all-in-one meal.
Modify the recipe below by adding more water and corn starch and this becomes Creamy Corn with Chicken Soup!
Recipe for Creamy Corn with Chicken
Servings: 4
Ingredients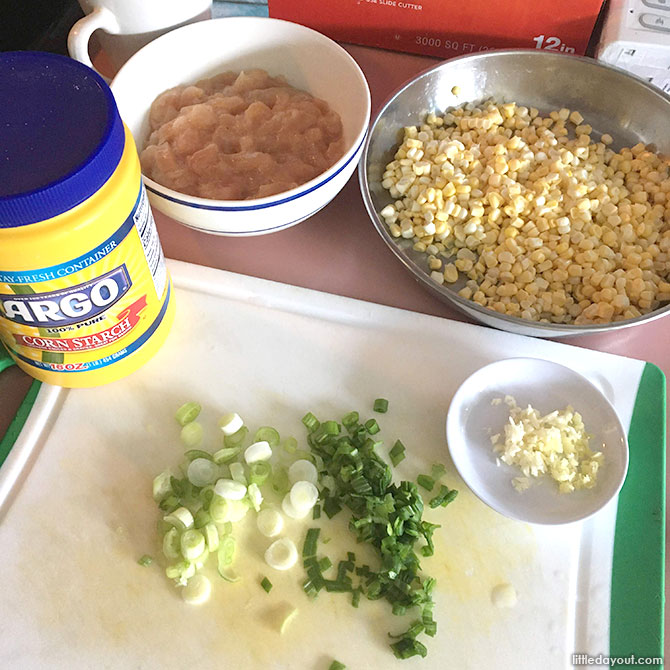 2 teaspoon of cooking oil
1 clove of garlic, minced
1 cup of corn
2 teaspoon of chicken flavour granulate
1/4 teaspoon of white pepper
1/4 teaspoon of light soy sauce for color
1 cup of water or more
Starch solution, mix 2.5 teaspoon of cornflour with 2 tablespoons of water
1 egg, lightly beaten (optional)
1 stalk of scallion, chopped
Marinade for Chicken
Mix well and set aside for 15 minutes:
1 piece of chicken breast (skinless), diced to small cubes
1/4 teaspoon of salt
1/8 teaspoon of pepper
1 teaspoon of rice wine
1/2 teaspoon of cornflour
Method
Heat up a wok on medium-high heat. Add in the cooking oil and swirl around the wok.
Add marinated chicken cubes and stir fry till the chicken changes its colour, for about 3 to 4 minutes.
Add in minced garlic, corn and chicken flavour granulate, continue to stir-fry for a minute.
Add in enough water to cover everything in the wok. Simmer for 5 to 6 minutes. Adjust the taste to your liking by adding salt and pepper.
Stir in the starch solution to thicken the sauce.
Drip the beaten egg around the corn & chicken. Wait for 5 seconds to let the egg set before stirring it around.
Garnish with scallion and serve with rice!
Click here for more great recipe ideas!