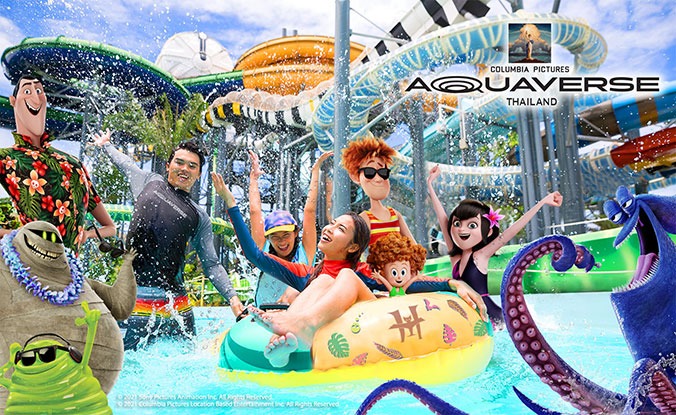 The world's first Columbia Pictures theme and waterpark Columbia Pictures' Aquaverse is set to open at seaside town of Bangsara. The park's rides and attraction will begin to open from October 2021.
Located 20 minutes from Pattaya and 90 minutes from Bangkok, Columbia Pictures' Aquaverse will feature rides and themed attractions based on Hollywood movies such as Ghostbusters, Jumanji, Bad Boys, Men in Black and Hotel Transylvania.
There will be both water- and land-based attractions, complemented by live shows and entertainments, unique sets and themed restaurants. As with all themed parks, visitors can also expect to find specialty merchandise and retail locations within Columbia Pictures' Aquaverse.
---
Highlights at Columbia Pictures' Aquaverse in Thailand
The Men in Black themed zone will have Aquaverse's most thrilling rides and attractions. These include a water coaster ride, including a 12-meter free-fall ride that sends riders down a MIB Wormhole.
At the Ghostbusters Supernatural Experience, step into the Ghostbusters portal and zip along a water coaster or enjoy a family raft ride in a fully-enclosed water dome.
Go go kart racing at the Bad Boys Raceway along in a neon Miami themed racecourse.
Brave the world of Jumanji at Jumanji Jungle Adventure with its jungle-themed water slides and splash pool.
Younger kids will be able to enjoy the Hotel Transylvania Kid-Friendly Zone. This will be Aquaverse's biggest water park attraction with over 100 water features, splash buckets, and water rockets.
At the Cloudy with a Chance of Meatballs Swallow Falls River Adventure, float along a lazy river and meet the amazing Foodimals from in the hit film.
Other attractions include a giant wave pool.
---
Sony Pictures' First Theme and Water Park
"Columbia Pictures' Aquaverse is the next step in Sony Pictures' larger global strategy to grow and expand location-based entertainment by utilising its strong global film and TV brands. We are creating opportunities for all audiences around the world to immerse themselves deeper into our stories through water parks, touring exhibitions, and theme park attractions," said Jeffrey Godsick, EVP of Global Partnerships and Brand Management and Head of Location Based Entertainment at Sony Pictures Entertainment.
Visit the park's website here.