Designed by Stacey Yip, COLOR is one of the incubation projects in the NUS Design Incubation Centre. Available as two separate activity sets, COLOR aims to open the discussion of a socio-cultural perspective behind colours in a way that is accessible to children. It also aims help children "rediscover the colours of the world."
---
COLOR by Stacey Yip: Rediscover the World of Colours
The first activity set is "Colour Stories", a deck of interactive cards that uses water to reveal a broader knowledge of the colours around us.
The second is "Colour Language", which is based on a culture with no words for colours and teaches an alternative way to describe colour through its context.
---
-- Story continues below --
---
Colour Stories
Did you know that cheese isn't just yellow? That is one of the facts that is shown in the deck of interactive cards that is can be "activated" with water in "Colour Stories".
In this deck, users can interact with the creatively designed cards by putting drops of water on the indicated sections to watch the colours diffuse and reveal interesting facts.
At the back of the cards is then little-known yet easy to understand facts about colours. There are also suggested activities for facilitated learning outside the classroom.
We really enjoyed this activity and see it as a great educational tool that is fun and immersive. It can be self-facilitated by kids who are able to read and a great supervised activity to do with children who are still learning to read.
---
Colour Language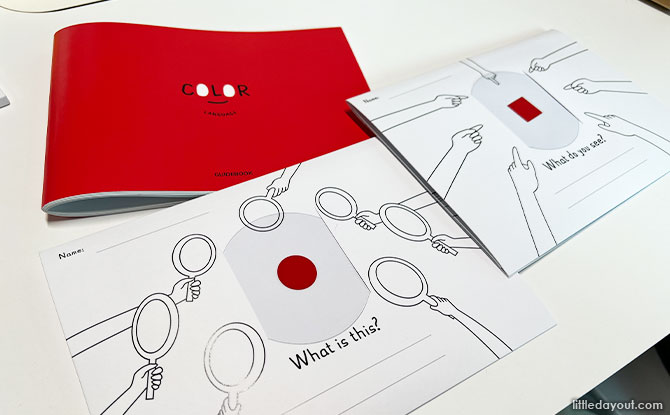 Colour Language is based off the discovery of a unique culture from the Candoshi Tribe that has no words for colour. Through research, it came to light that the concept of "colour" is actually largely a cultural phenomenon.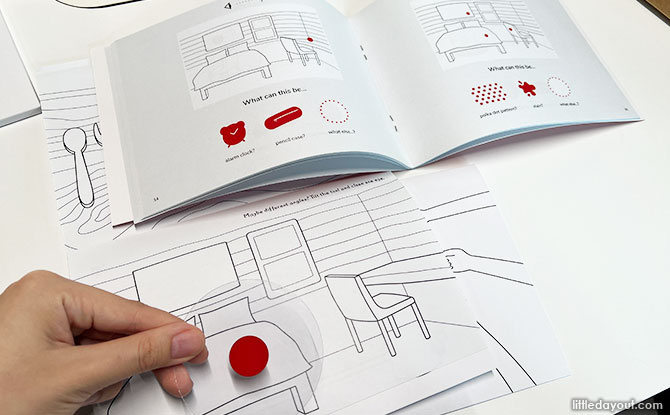 This activity uses playable booklets with two coloured shapes that challenge the players to flex their creative muscles and play around with the distance of the shapes and the various shapes to imagine what the coloured object is.
Some examples with the square shape include it being like a "kite" in the sky but a "picnic mat" when placed on the sand in a beach background. We enjoyed participating in this activity
---
Where to get COLOR
COLOR can be used individually with a child or with a class in an educational setting. It is available from the NUS Design Incubation Centre. COLOR is available for purchase at the site here. Bulk discounts are available for educators.
"Colour Language" and "Colour Stories" are sold separately.