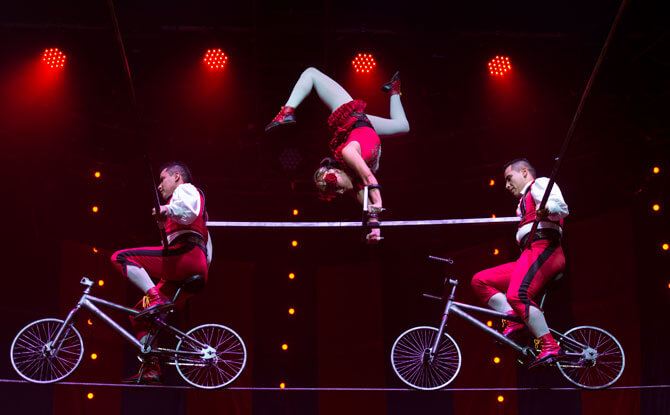 The romance of an old-school circus comes to town with Circus 1903 – The Golden Age of Circus at Marina Bay Sands, Singapore.
This theatrical production brings the magic of the Big Top to the Mastercards Theatre, complete with acrobats, jugglers and even faux elephants.
The Circus Comes To Town
At Circus 1903, audiences are taken back to the turn-of-the-last-century, a time when circus folk toured from town to town in caravans, setting up their shows on fairgrounds. This provides the setting for a plethora of circus arts – the kind that drew in audiences with their astonishing and death-defying skills.
In the first act of Circus 1903, the circus has just arrived in town and is in the midst of unpacking. This creates a backdrop of rigging and trucks against which the performers take to the stage.
The skilled acts entertain with wild flips on a teeterboard, grace and balance performing "bicycle ballet" and more.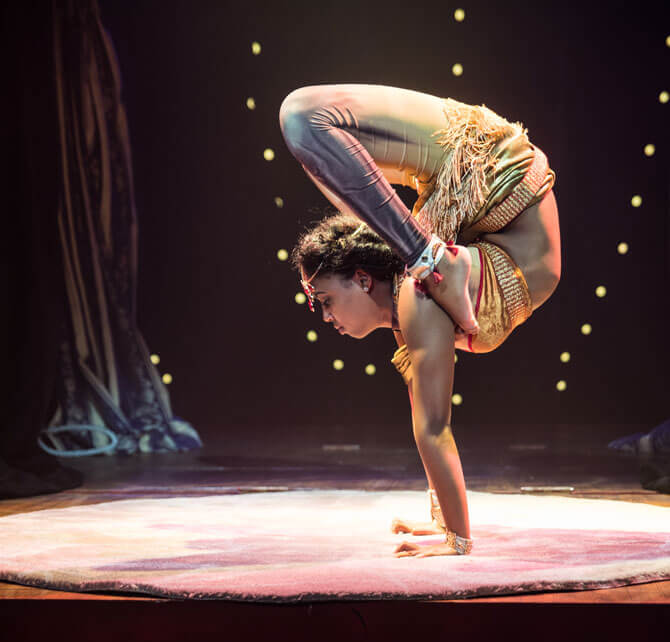 Just like a classic circus, Circus 1903 has a sideshow of oddities. This setup provides for some entertaining jokes and segues into a spine-bending contortionist performance.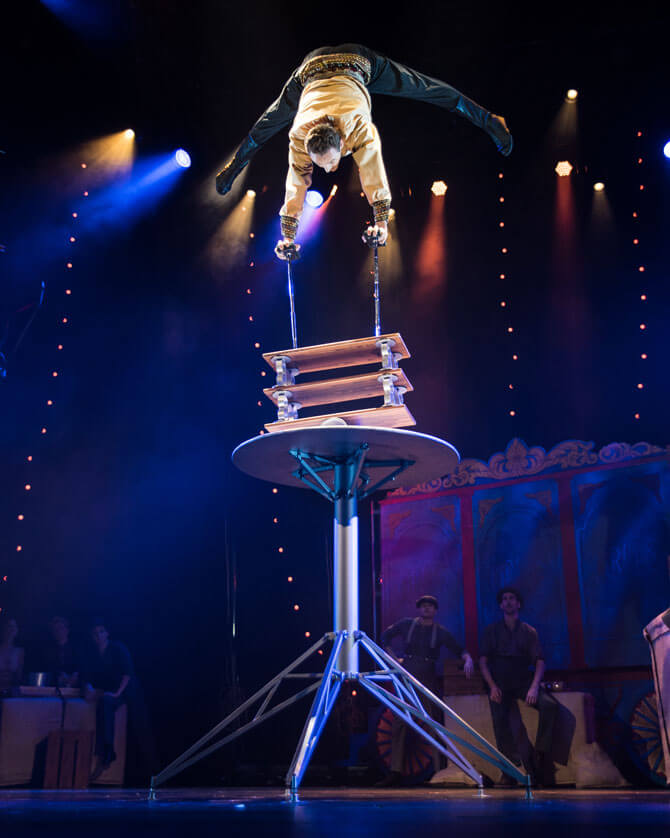 Part of the thrill of a circus comes from death-defying acts. In the case of Circus 1903, you have knives being thrown at an assistant spinning on a roulette wheel and even a rola-bola balancing act that draws gasps as the stack of cylinders under grew higher and higher underfoot.
The Big Top & Elephant Puppets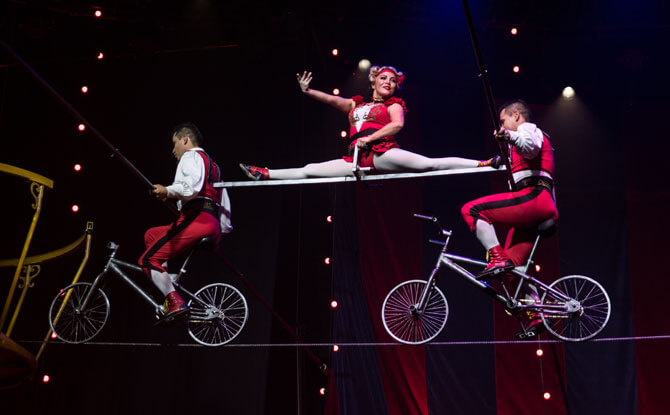 In the second half of Circus 1903, the stage is transformed into the Big Top – the circus spectacular is truly in town.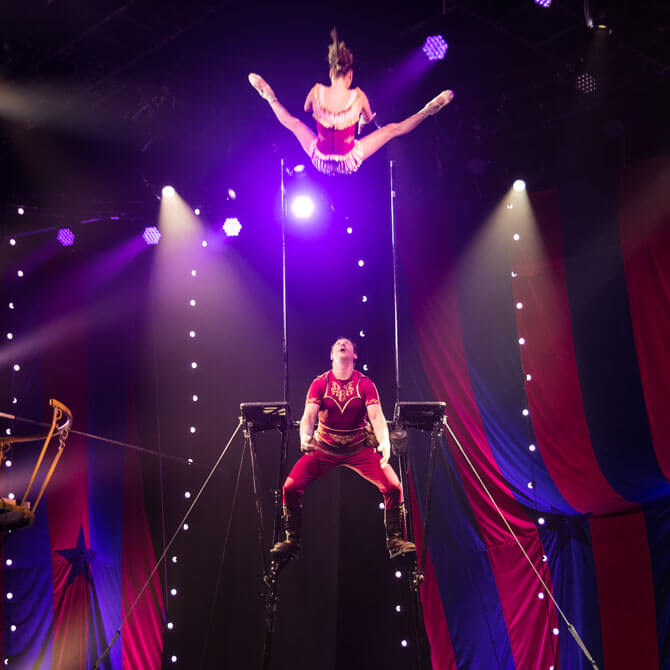 The stage becomes a playground for tightrope walkers, foot jugglers – juggling each other no less, and a human flying trapeze act.
And there are the elephants, of course.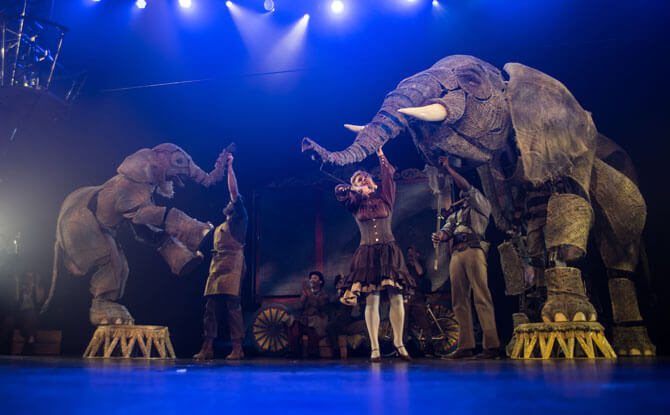 Circus 1903's elephants are the creation of Significant Object, the puppeteers from War Horse.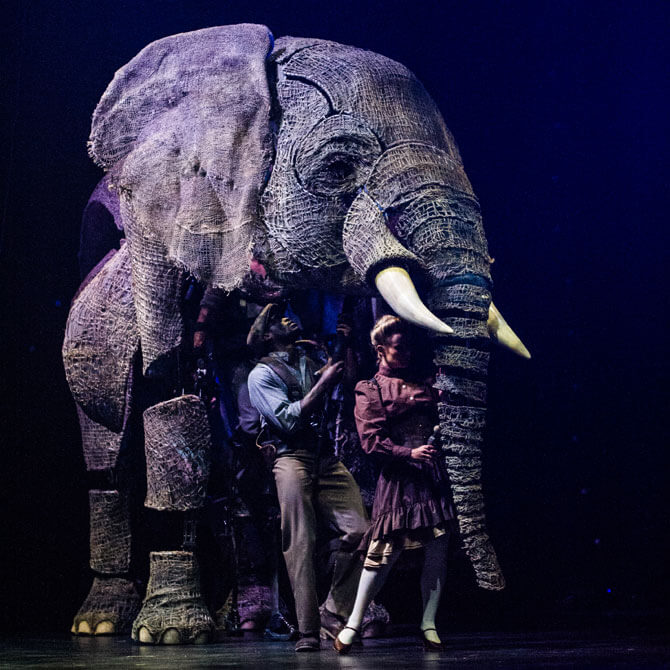 The larger of the show's two faux elephants, Queenie, takes four puppeteers to animate. However, you will scarcely notice the puppeteers as Queenie moves naturally about the stage, taking on a life of its own.
The show is held together by the Ringmaster. A grandfatherly figure, he engages the crowd with a mix of banter and teasing. In true ringmaster fashion, he hypes up the big introduction to each upcoming act and also plays the charming hosts during audience participation segments when chosen kids who get on stage.
With costumed performers and life-sized elephant puppets, Circus 1903 is family-friendly entertainment. It does not try to be the ethereal experience of shows like Cirque du Soliel but instead invites audiences to rediscover the bygone age of the travelling circus.
Circus 1903 is in Singapore from 18 to 29 April 2018 at the Sands Theatre at Marina Bay Sands.
CIRCUS 1903: The Golden Age of Circus
Dates: 18 to 29 April 2018
Venue: Marina Bay Sands, Singapore
Tickets are available from SISTIC