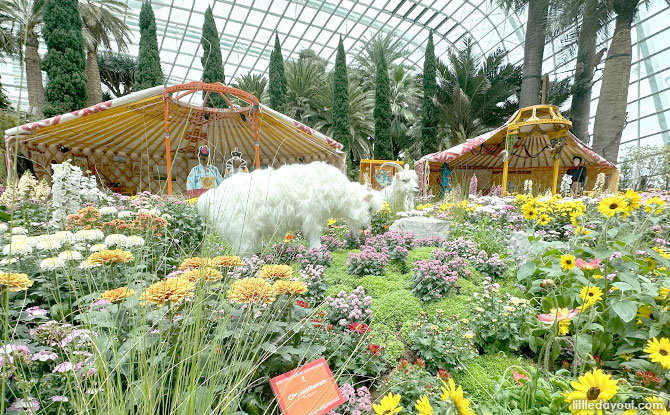 Inspired by the open grasslands and wild beauty reminiscent of the steppes of Mongolia, Chrysanthemum Charm at Gardens by the Bay's Flower Dome features over 80 varieties of chrysanthemums, including more than 10 making their Southeast Asian debut.
In addition to the multi-coloured varieties of chrysanthemums, the floral display also features gers, the tent-like structure that are an integral part of Mongolia's nomadic culture, along other displays of the Central Asian country's heritage.
---
Chrysanthemum Charm 2023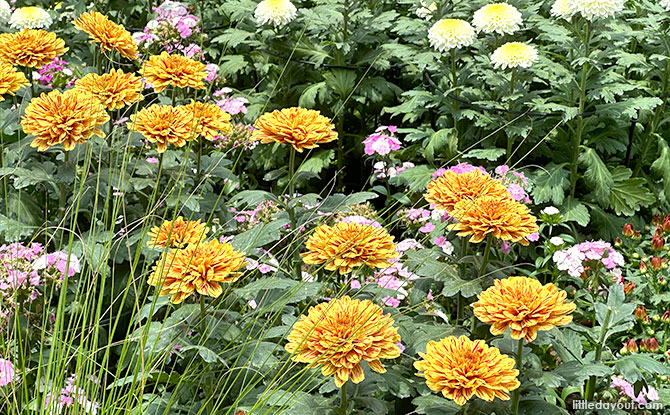 Chrysanthemum Charm 2023 is presented in collaboration with the Embassy of Mongolia in Singapore.
---
-- Story continues below --
Ambassador of Mongolia to Singapore H.E. Enkhbayar Sosorbaram said, "Although Mongolia is located on the Central Asian plateau and the climate can be harsh, the spring and summer brings a vibrant burst of colour and life and steppes and hills turn into carpets of flowers. Through this collaboration with Gardens by the Bay, we hope to introduce to Singapore the wild beauty of Mongolia's vast lands, amidst the rich tapestry of Mongolian culture."
---
New Varieties at Chrysanthemum Charm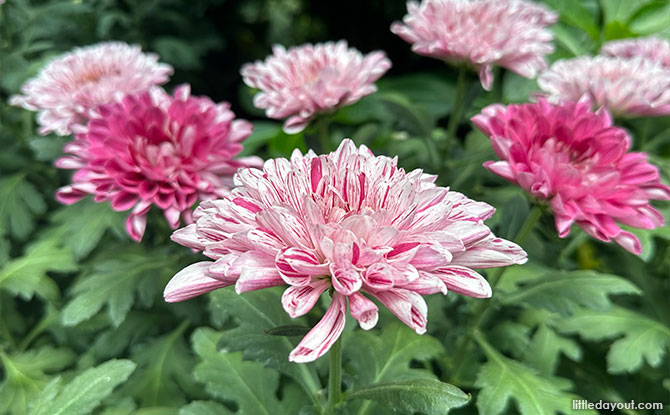 More than 10 new varieties of chrysanthemums making their debut in Southeast Asia, including five new cultivars that have yet to be named.
Amongst these are the Chrysanthemum Canon, with petals that are predominantly light pink with dark pink streaks, and the Chrysanthemum Pumpkin, with striking blooms that are predominantly orange, but with dark red stripes across the petals.
These flowers are interspersed with other pretty blooms such as dianthus, asters and scabiosa – flowers that pepper the wild landscapes of the Mongolian steppes.
---
Cultural Display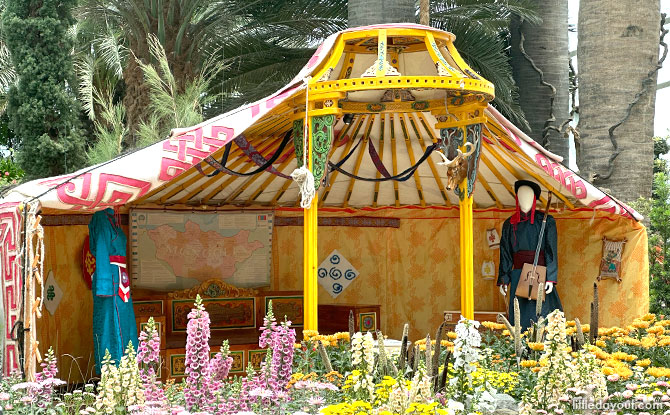 There are two gers at the Flower Dome's Flower Field.
One is a more ordinary version that shows the everyday life of Mongolians, and the other is an elaborate one with intricate hand carvings, not only on the pillars and central support, but also on the door.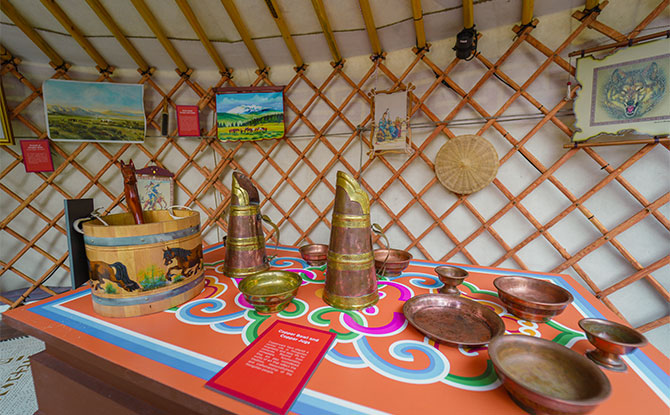 The gers have been set up as halves to allow visitors to step inside for an immersive experience.
The gers were assembled with the support of the Mongolian community in Singapore, in honour of the country's tradition where families set up their own gers.
Other cultural displays at Chrysanthemum Charm 2023 are Mongolian games, made from animal bones.
There is also Mongolia's national instrument – the morin khuur or horsehead fiddle (so-called because it can imitate the sound of horses) and a display of the traditional clothing of Mongolia, the deel.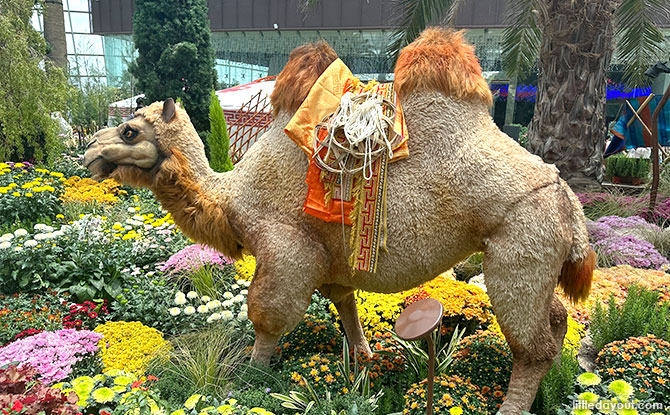 There are also representations of animals like the camel at the floral display.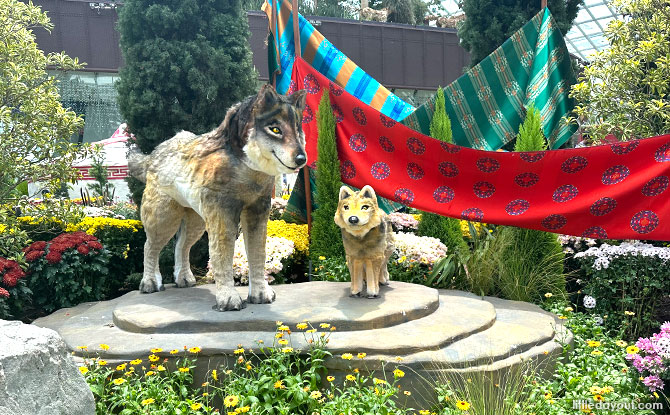 Wolves are revered as a symbol of Mongolian identity and nationhood.
We liked the horses that were made out of golden and brown leaves.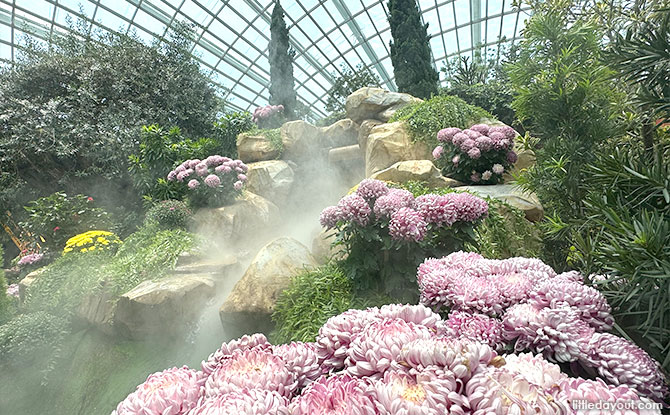 There is a re-creation of the Orkhon Waterfall, situated in the Orkhon Valley in central Mongolia. Inscribed as a UNESCO World Heritage Site in 2004, the Orkhon Valley Cultural Landscape has served as a major intersection between the East and West over the centuries.
---
Yeo's Drinkable Garden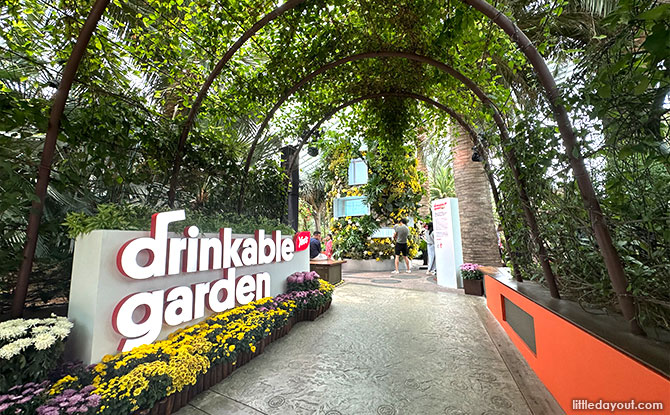 In addition, be sure to stop by Yeo's Drinkable Garden at the South American Garden.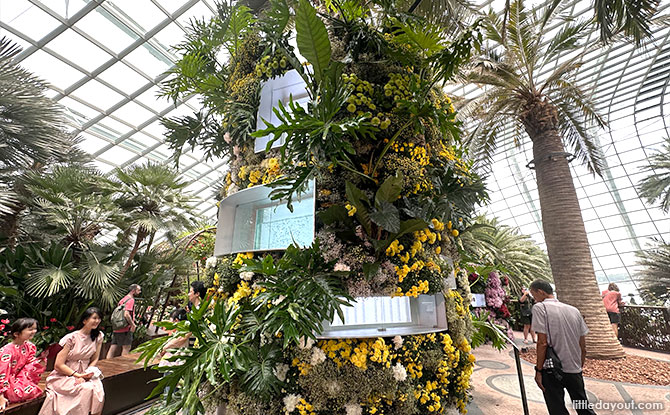 Designed to refresh the senses, visitors can experience the intricate craft of tea-making at the towering installations each inspired by Yeo's brews: the iconic Chrysanthemum Tea produced from the aromatic Hang Bai Ju chrysanthemum, the newly launched 'heavenly' rare Snow Chrysanthemum Tea sourced from China's cool Kunlun Mountains, and a "test-kitchen" Rose-Infused Chrysanthemum brew.
Yeo's Drinkable Garden is located in Flower Dome, Gardens by the Bay, from now until 13 October.
---
Traditional Mongolian Performances at the Flower Dome
"Rhythm of Mongolia", a celebration of Mongolian culture through art and music, will take place over the weekend of September 30 and October 1.
Watch 16-year-old contortionist Khulan Serdamba showcase just how flexible the human body can be by performing this centuries-old art form. Contortionism used to be the domain of female performers, with dramatic bending, folding and flexing positions that integrate traditional Mongolian dance elements.
Shinetsog-Geni Dorjnyam from popular Mongolian folk-metal band Uuhai returns to his roots of Mongolian folk music, and demonstrate the art of throat singing while playing the horsehead fiddle.
Through his voice, he will create a harmonically rich sound with multiple pitches, complemented by the wild and lilting music of his horsehead fiddle.
Master calligrapher Oyunpurev Nyam-Ochir will showcase calligraphy of classical Mongolian script, offering a visual journey into the ancient Mongolian empire.
All performances will take place in Flower Dome's Flower Field Hall, at 2 pm and 4 pm on both days.
---
Chrysanthemum Charm Floral Display at Gardens by the Bay
Chrysanthemum Charm Floral Display is now on till Sunday, 13 November 2023. Usual admission charges apply.
While at Gardens by the Bay, you can also view the Mid-Autumn Festival display that is on till 1 October 2023.