Tis the season to be shopping with these great Christmas gift ideas for 2023! Take advantage of the fantastic sales to purchase Christmas gifts for your loved ones. We have a list of suggestions on the perfect gift for every member of the family – from online options including delivery, eco-friendly presents and best gift ideas guaranteed to please someone during the holidays! Read on for our Christmas gift guide, including a one stop shop that is TAX-FREE!
---
Marvellous Shopping and Christmas Gift Ideas 2023
Tax-free Shopping at iShopChangi
We are in the year-end festive season, making it an opportune time to shop during iShopChangi's year-end sale and avoid the in-store crowd. Whether you are a parent shopping for the kids or looking for gifts for parents-to-be, take advantage of the extensive array of products spanning toys, baby feeding essentials and gears, apparel and wellness on iShopChangi.For instance, Mums-to-be will love the pampering that comes with Clarins' Beautiful Pregnancy Ritual set* consisting of Tonic Body Oil, Exfoliating Body Scrub and the legendary Stretch Mark Body Expert Body Partner. Lao Xie Zhen's Premium Boiled Essence of Chicken and Ginseng Essence is also an excellent choice for post-partum recovery.
Nourish the children's health with multivitamin and eye lutein gummies. In addition, boost their digestive and immune support with probiotics just for kids. For fun and play, how about a spectacular LEGO Italian supercar or a princess-themed, mess-free colouring activity?
Travellers can shop 30 days in advance or up to 12 hours before your flight on iShopChangi. Skip the queues by collecting your orders at the airport. For those based in Singapore, delivery is also available
Take advantage of sitewide codes below to enjoy greater savings. Travelling or not, one can shop without tax on iShopChangi.com
12.12 Sale (For Non-Travellers)
From 1 – 15 December 2023
Code
Description
12XMAS15
15% off with no min. spend, capped at S$60*
12XMAS18
18% off with min. spend S$600, capped at S$150*
Holiday Deals (For Travellers)
From now till 31 December 2023
Code
Description
TREAT10
10% off no min. spend, capped at S$50*
TREAT15
15% off min. spend S$500, capped at S$150*
*Terms & conditions apply.
---
Christmas Gift Ideas 2023 for All
Here's a look at different Christmas gifts 2023 in Singapore:
---
Christmas Gift Ideas for Kids and Families
LEGO, LEGO, LEGO on LEGO.com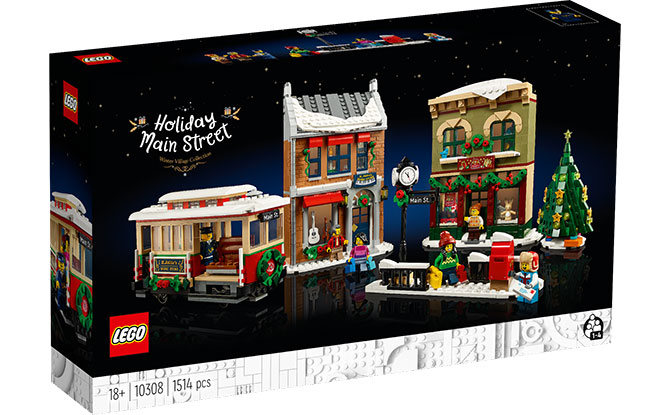 One can never go wrong with LEGO, right? LEGO.com has recently been launched and you can head over there to find full range of LEGO sets including hard-to-find sets and enjoy exclusive perks to help avid fans expand their collection.
Some of the sets available include 21343 Viking Village for those with a passion for medieval history, 21342 The Insect Collection that enables one to connect with their passions for nature as they build detailed, posable, life-size models of three extraordinary insects, and 21335 Motorised Lighthouse, featuring a lighthouse tower with motorised rotating light, custom-designed Fresnel lens elements and a cottage with a glowing fireplace. Builders can have a seamless journey looking for collectors' items and browse the endless options.
There is also a newly launched loyalty programme on the website where LEGO fans can earn points whenever sets are purchased. Points can be redeemed for discounts, members-only merchandise and cool collectibles.
Head over to LEGO.com.
---
Bee Hoon Boy
This latest picture book by Ames Chen is a story surrounding a famous hawker dish and of kindness and friendship. Do we notice classmates seated alone? Or classmates that get teased too often? What does it mean to look beneath the surface and show kindness in love? The book comes complete with thought-provoking activities and behind-the-scenes look at the making of the book Bee Hoon Boy. It makes a wonderful Christmas gift idea for kids of all ages.
Purchase the book here.
---
Food Exploratory Plate
Singapore-based start-up A Lil'Love has launched My Story Plate – a food exploratory plate for little ones! It is made with eco-friendly materials and designed to create a positive dining experience for young children who are at the weaning stage up to 6 years of age, helping to set up good habits for life.
More details here.
---
eReader & Books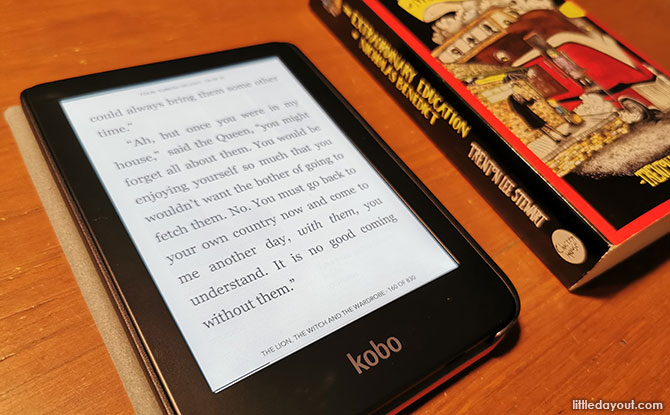 We love a nifty eReader that is pre-loaded with tons of books and of course indulge in some late night reading. The KOBO Clara is a great choice; tried and tested here.
For those who love books, the smell of books, the feel and touch of books – gift the love of reading especially to the young readers. Titles like Good Night Marion, Tiger Tales: Almost True Animal Stories from Old Singapore are perfect as Christmas presents!
---
Card & Board Games
Support local and buy games made in Singapore! We love Potato Pirates, Kopi King and the locally-flavoured games bound to help families bond and laugh (or cry) over the fun.
Families will enjoy the games designed by Growing Up Academy. Choose from a fun game such as Memory Snap or Opposites Bingo to encourage bilingual learning while Happy Family and SG City teach kids about countries and places of interest in Singapore. The travel-friendly games are on sale till 31 December 2023.
Buy the games from Growing Up.
---
Family Photoshoot Package
Gift a family photoshoot package – photos are wonderful keepsakes perfect for including as greeting cards or wall décor. Treasured memories can be one of the best Christmas gifts. Gift vouchers are available from Tomato Photo Studio, known for its professionally taken light-hearted shots.
Buy the gift voucher here.
---
Mr. Bucket's Chocolate Factory's Experiences and Workshops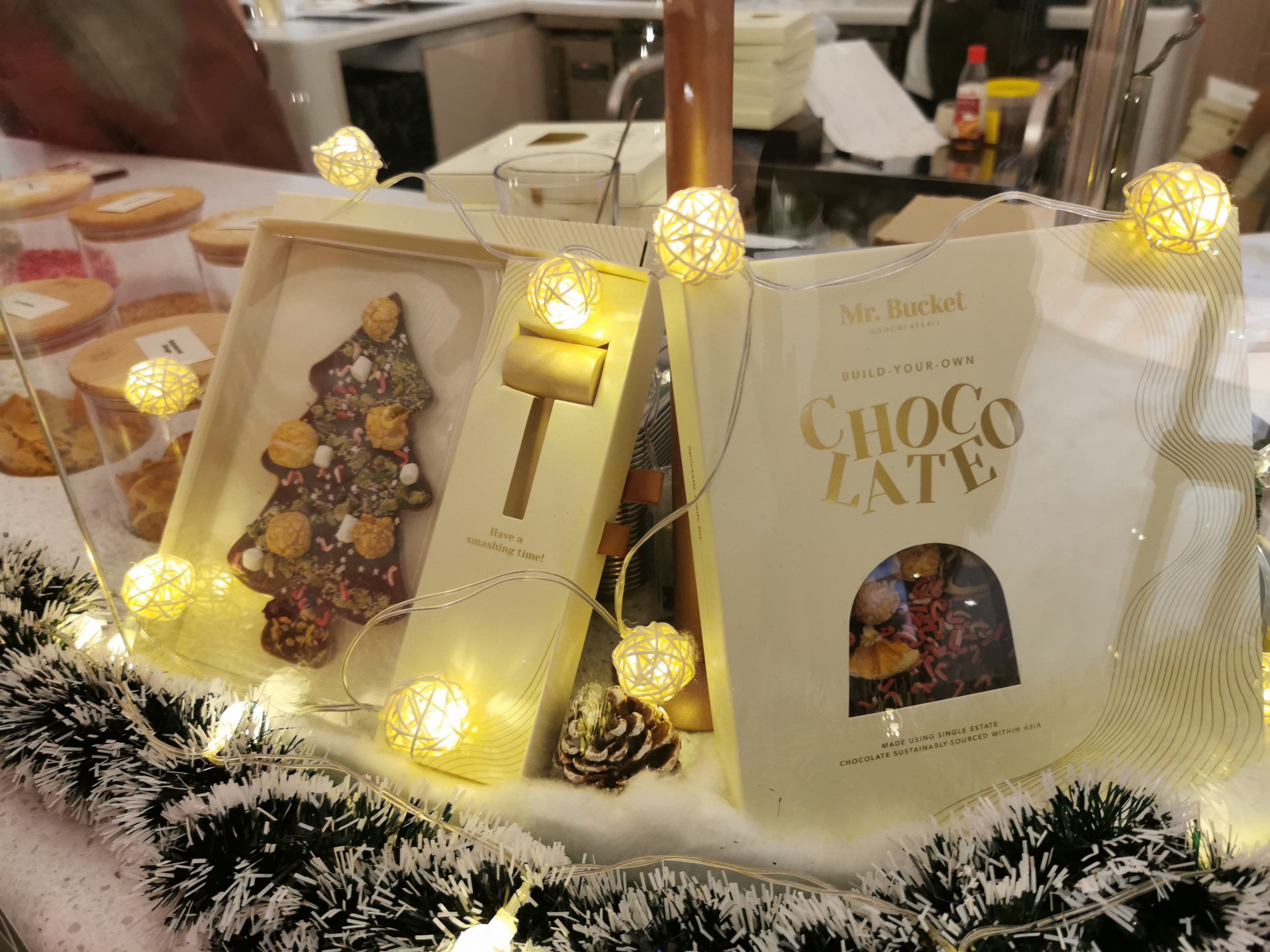 Gift more than just chocolate this holiday season and gift the experience of chocolate making. How about treating your loved ones to a workshop on creating a Chocolate Christmas tree or gift a box of Festive Bon Bons? Purchase an experience that is guaranteed to taste and smell lovely, with memories to last a lifetime.
Find out more here.
---
Pier Fishing Lessons
Perhaps you prefer to gift memorable experiences coupled with lifeskills. Teaching one to fish could be one of them. Gift Pier Fishing lessons organised by Pure Hybridz – great ideas for family bonding!
Enquire here.

---
Christmas Gifts for Teens
Have a teen or tween in the house who is into cool stuff? We've got a Christmas gift guide to help you pick out something for him or her.
Stylish Keyboards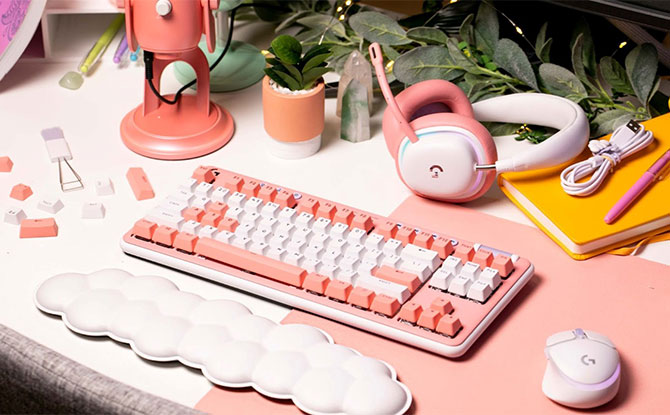 Regardless of whether the receiver is into gaming, a digital worker or a keyboard warrior, how about a sleek keyboard that delivers quality performance? Designed to be for any gender, Logitech's Aurora Collection is designed to please while appealing to gamers looking for a playful design and curated experience. The softer aesthetics and style would please anyone!
More details here.
---
Jabra Elite 10 Wireless Earbuds
Ready to get your teen a set of wireless earbuds? With Jabra Elite 10 Wireless Earbuds, your teen can dial up the Dolby Atmos experience. The Jabra ComfortFit technology and semi-open design also ensures an airy fit, catering to various ear shapes and sizes. It delivers an unparalleled combination of comfort, sound and call quality.
Purchase here.
---
Climb Central Gift Cards
How about a gift for teens that sends them up the wall – instead of sending you up the wall? Teen can get climbing with Gift Cards from Climb Central. There are four outlets to visit at Sports Hub, Novena, Funan and i12 Katong to choose from. Read our review of the walls at i12 Katong here. Aside from getting a good workout and the endorphins going, this Christmas gift will ensure some screen-free fun!
Purchase the Climb Central Gift Cards here.

---
Christmas Gifts for Men
It can seem time consuming to shop for the perfect present for a special person or guy friends and you want to make sure that you are spending your money right. Maybe the person enjoys music or your friend is just looking for something with style, or a watch. Well, we have a Christmas gift guide to what most folks would like to find under their Christmas trees during the holiday break.
---
Wacaco Minipresso Coffee Maker
How about a portable espresso machine for a pick me up? Coffee lovers will love this nifty gadget that is compact, lightweight and versatile. Prepare any coffee beans and roast and brew your espresso on the go. Minipresso GR brews up to 50ml of authentic espresso.
Get caffeinated here.
We all have plant parents in our midst. Their love of foliage is shared by many! How about a plant parent sweatshirt, magnetic sunglasses and googly eyes to add some personality for the plants, or a beautiful monstera themed trellis? If you prefer something more functional, this adorable self watering plant system would please any plant daddy.
---
TENNET Watches
TENNET is an independent watch boutique that believes in the core tenets of what make for good and reliable watches: good quality design paired with an excellent movement. The brand is founded on the belief that the best watches are not merely objects of desire. The watches are designed to combine classic aesthetics with modern mechanical mastery. Find out more about these stylish watches.
---
Wine Bottle Stopper
A stainless steel, leak-proof wine bottle stopped will keep wines fresh! Perfect for those who love to try different bottles of reds and whites. You can find ones such as the OUWO Wine Stopper, which has highly-rated reviews, on sites like Amazon and they make a great gift for those who love a bit of tipple!

---
Christmas Gifts for Her (Including Mums, Wives & Girlfriends)
Wonder what you can buy to place under the Christmas tree for her. Need a Christmas gift guide to shop for your special someone? Want to get something sweet yet with style that even Santa would approve of? Well we've got suggestions in our gift guide for a Christmas gift idea to help you find all the things you need to absolutely nail your shopping.
Yarning Hearts Presents Christmas Gift Market (25 & 26 November)
Yarning Hearts is a boutique yarn studio that prides itself in bringing in only natural fibres from plants or animals and from small mills and independent dyers around the world. This provides its customers with the best options for their crafting projects.
You can start your Christmas gift shopping early and purchase exclusively handmade accessories, home décor and stationery at Yarning Hearts Presents Christmas Gift Market on 25 & 26 November 2023. There will be over 20 unique local craft vendors and a chance to win exciting lucky draw prizes. Vendors include Amy Handmade Ceramics, Hiroro Handmade, Hungry for Yarn, Mia Tavola, Yarning Hearts Collective, TinySupply and more!
Or head over to Yarning Hearts to look for a lovely gift for someone that you know who loves to craft. Find out more about Yarning Hearts.
---
Rough Beauty Handcrafted Soaps
Specialising in handcrafted botanical bath and body products, Rough Beauty's calling card is its bar soaps made using sustainable palm oil. All products are handmade with botanical ingredients and contain no synthetic fragrances, colours, sulphates and parabens. Instead, the brand relies on plant essential oils, herbs and spices to create its scents and hues. Packaging is kept simple to reduce wastage and uses recyclable materials.
Get special gift sets just for the season. Pair the bar soaps with body scalps or a balm packed in a gift-worthy box.
Find out more here.
---
Gifts from Independent Market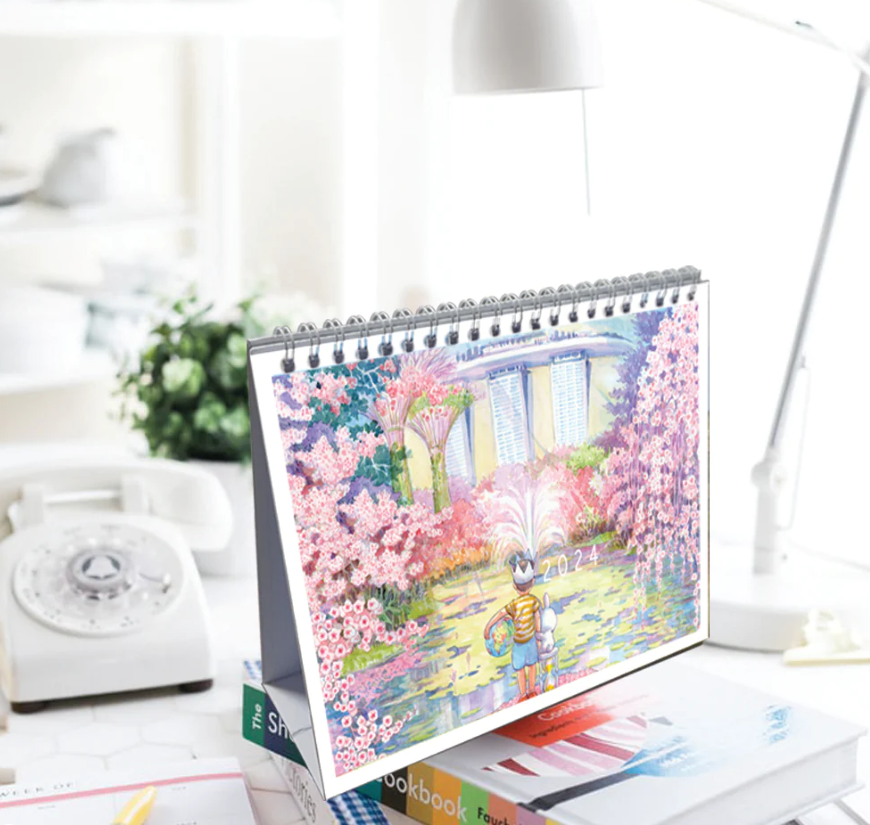 Choose thoughtful gifts crafted by local artists and makers? Absolutely! The whimsical 2024 Calendar illustrated by Ah Guo is one gift idea perfect to start the 2024 with. The table calendar features beautiful illustrations from Ah Guo. Include eco-friendly kitchen essentials to reduce the reliance on disposable plastic and buy beautiful beeswax wraps made with Peranakan tile designs!
Shop the entire store of products here.
---
With Autumn Workshops
The gift of time is perhaps the most precious to some time-starved families. How about heading for a workshop together, or gifting a busy crafter a workshop to attend. There are a list of workshops by With Autumn you can consider: Wool needle felting, latch hooking, tapestry weaving, punch needle embroidery and more.
Browse here.

---
Food Gift Ideas for Christmas
Food is always a welcomed gift during the Yuletide season. They can often be the best Christmas gifts. We have a host of food ideas for Christmas to help you get your shopping done. Here's our Christmas gift guide for food presents.
---
Delcies' Gluten Free Macaron Bombs
Friends with diet sensitivities will enjoy these Macaron Bombs. They are gluten-free, egg-free and dairy-free. The assortment includes three sumptuous flavours including peppermint chocolate, salted vanilla buttercream with butterscotch filling and mocha. The Macaron Bomb Collection is a symphony of flavour and inclusivity!
---
Fizzicle Kombucha
Get fizzicle with made-in-Singapore Fizzicle Kombucha! Sweet gift sets include 12-pack surprises (we recommend Number One and Immunity) as well as Kombucha Starter Kit.
Shop here.
---
MINDS Christmas Delight Box Set
Support bakers with special needs as they bake some delicious holiday cookies. It has launched its exclusive holiday cookie collection, crafted with love, care and the finest ingredients handmade by Persons with Intellectual Disabilities. The Limited Edition Holiday Cookie Collection includes Raisin Orange Cookies and Speculoos Cookies.
Buy your cookies here.
---
IRVINS Limited Edition Festive Box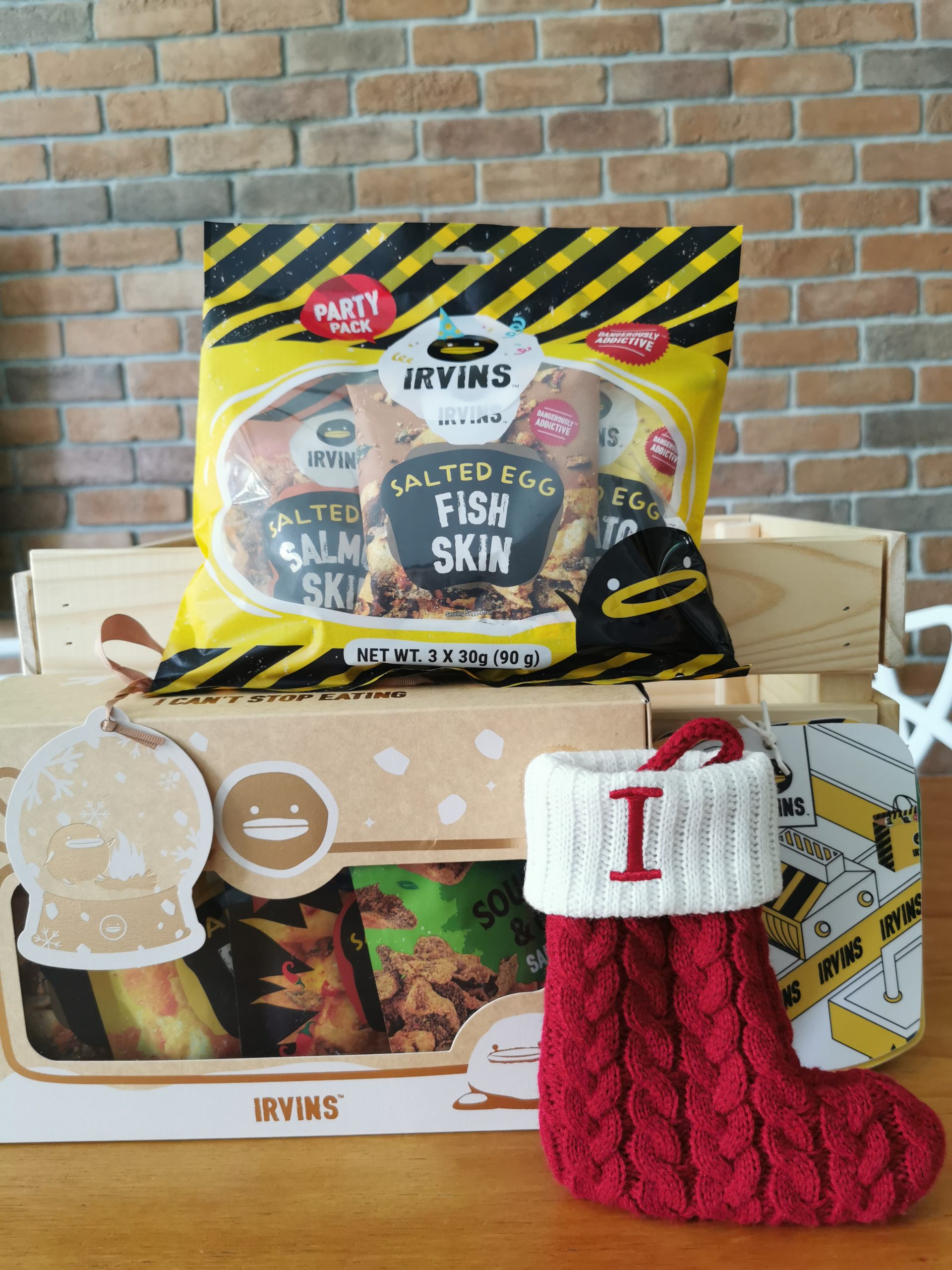 IRVINS is ready to spread holiday cheer with its limited edition Festive Box, packed with Singapore's favourite snacks. Each festive gift box includes Salted Egg Fish Skin, Salted Egg Potato Chips, Sour Cream & Onion Salmon Skin and Hot Boom Salted Egg Potato Chips. Every festive box comes with a IRVINS Party Pack valued at $9.60 featuring iconic salted egg snacks.
Order your IRVINS Limited Edition Festive Box.

---
Christmas Gifts for Pets or Paw-rents
Our furry pals shouldn't be forgotten this season. Take a pick of healthy and delectable treats for cats and dogs from Yappy Pets. From dental chews to the world's first freeze-dried kefir, pawpals will certainly love their Christmas surprise under the tree or sniff it out straight away!
Pawesome treats here.

---
Ways to Give the Gift of Doing Good
Perhaps you want to do some good this holiday season and give back to the community? We've some ways that you can gift back and do good.
Drop Off Wrapped Presents & Gift Wrappers For Migrant Workers
Help to reach out to a group of people that is often invisible. Remember the migrant workers this Christmas, you can drop off wrapped presents, donate wrapping paper or participate in gift-wrapping activities. The wishlist of brand new items you can gift include: Towels, power banks, bluetooth headphones, Tiger Balm or similar. Toiletries such as body wash and shampoo, umbrellas, raincoats, backpacks, 1.5L water bottles, kettles, hot plates, caps, sunglasses, socks, dried fruit and nuts, 3-1 coffee, energy bars, chocolates and biscuits.
Find out more here.
Happy shopping!
Disclosure: This story contains sponsored content.