For decades, Changi Airport has stood as an icon of Singapore and been a welcomed sight to Singaporeans returning home from overseas. Now, the icon celebrates Singapore's Golden Jubilee with 50 larger-than-life attractions that reflect Singapore's landmarks, favourite local dishes and milestones.
These 50 'Home Spots' can be found around the Airport's three terminals, both in its public and transit area, and even on the Skytrains ferrying passengers between terminals.
They are the collective effort of Changi Airport Group, airport partners such as the Civil Aviation Authority of Singapore, and external partners such as the Singapore Kindness Movement and Nanyang Polytechnic.
At Terminal 3, a Luggage Wall of Greetings built with 100 pieces of luggage replicates the Singapore skyline. Visitors can pen their well wishes for the Nation on specially-created luggage tags and hang them on the art installation.
---
-- Story continues below --
Giant replicas of favourite local dishes will tempt passengers in the transit areas. These include models of Hainanese Chicken Rice, Satay and Roti Prata served with a cup of frothy teh tarik.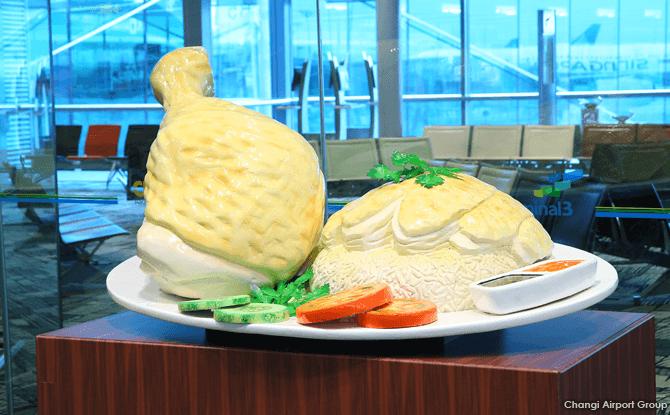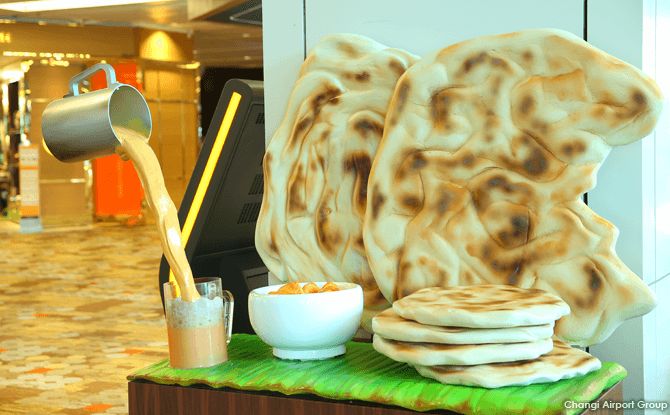 Topiaries found throughout the airport include a map of Singapore and the king of the fruits, durian.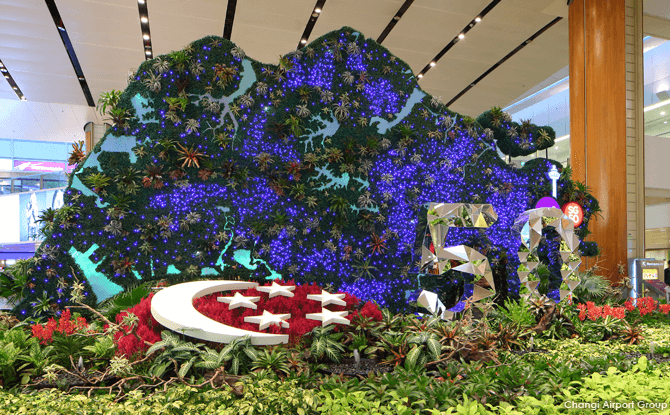 Those who grew up in the 1980s and 1990s will find the Trishaw Topiary at T1 familiar. Set against the modern Singapore skyline, this topiary is located where a similar one used to be located when Terminal 1 opened in 1981.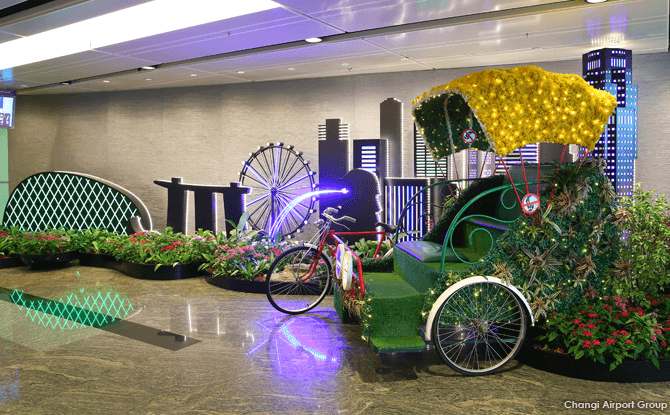 In celebration of Singapore's Golden Jubilee, over 150 of Changi Airport's retailers and F&B operators will be offering more than 200 deals to visitors and passengers. Changi Airport Group's philanthropic arm, Changi Foundation, will also be contributing $5 for every $1 received through donation boxes found at the Airport. Past beneficiaries of the Changi Foundation include Assumption Pathway School, Boys' Town and The Straits Times School Pocket Money Fund.
View a map of the 50 Home Spots around Changi Airport here. Visitors can also snap a picture at these Home Spots and take part in a #ChangiHomeSpotsContest from now till 9 August 2015. For more information on Changi Airport's SG50 activities, visit www.changiairport.com/SG50