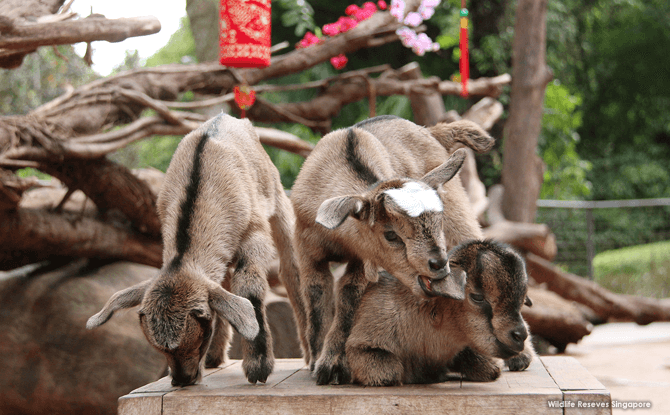 Wondering what to do over the Lunar New Year? Here are some family-friendly activities you can look forward to to usher in the year of the Goat.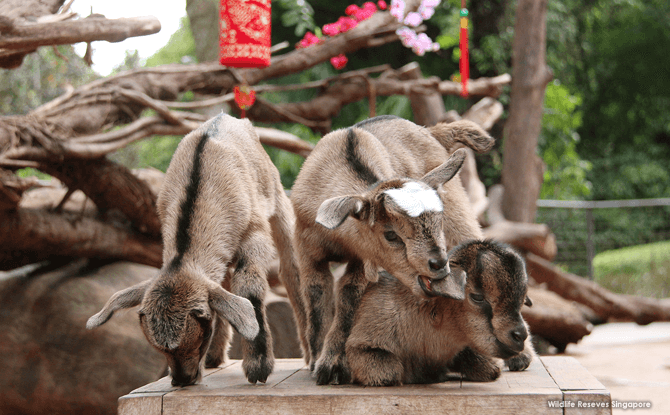 Join a herd of activities at Jurong Bird Park, Night Safari, River Safari and Singapore Zoo. Baby goats, acrobatic lion dance performances, and prosperity mascots are some of the festive offerings with animal friends at these popular attractions from Feb 18 to 22.
There will also be special treats for the animals to encourage them to display their natural behaviours. Catch them chomping down their festive goodies.
Take photos with a an effervescent herd of baby goats (called kids) at the Zoo as they prance along the scenic backdrop of Upper Seletar Reservoir.
The Bird Park's sulphur-crested cockatoo will be doling out red packets to lucky visitors.
At the Night Safari, watch out for the Asian elephants, Malayan tapirs and Indian rhinos  relishing their festive goodies during your tram ride.
Find out more here.
---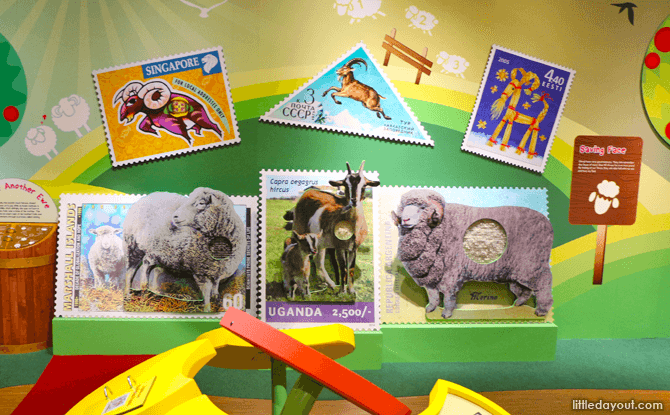 Enjoy free admission to the Museum's Chinese New Year 2015 Open House from Feb 19 to 20.
Fun activities (which happen only on Feb 20) include quizzes, kids activity stations, and Chinese lion dance and dragon dance performances.
The Philatelic Museum's latest exhibition Counting Sheep, Dreaming Goats ushers in the Year of the Goat. The fun and interactive exhibition is designed to engage kids from five years old onwards. Be transported into a world of sheep and goats of different cultures, and enjoy beautiful sheep and goat-themed stamps from around the world.
You could also pop over to another exhibition Return to Sender, which celebrates the King of Rock and Roll, Elvis Presley. On display are objects from a private collector who started the collection around the same time as the time Elvis was discovered.
If all the festive goodies are putting you in the mood for more foodie ventures, the Spice is Niceexhibition will hit a sweet spot for families with young kids. With many hands-on activities available, the exhibition traces the voyages of discovery, spice trade, colonisation, migration pattern, life in early Singapore, traditional cures and flavours of regional cuisine.
---

If you want to get into the thick of Lunar New Year action, go on down to Chinatown.
CNY street light-up
The famous Chinatown street light-up this year displays herds and herds of goat-shaped lanterns in all their brilliant splendour. A trail of 338 'goats' in 26 herds make their way down Eu Tong Sen Street. They represent the spirit of gathering and home-coming.
The dynamic rows of 1,500 gold coin lanterns over Eu Tong Sen Street, New Bridge Road and South Bridge Road tell of the movement of goats as a herd. This signifies the ushering of a new year in which individuals work hard together to progress as a society.
The little tykes will be entertained by 28 mechanised goat installations. Yup, the goats' heads can move.
Psst… you may (or may not) want to tell your kids, but the goat-shaped lanterns will be up for adoption in the first public adoption drive by organiser Kreta Ayer-Kin Seng Citizens' Consultative Committee. And get this – adoption is free. However, priority will be given to non-profit groups and those who are adopting the light sculptures for community purposes.
Festive Street Bazaar and Festive Carnival
Modern and traditional come together nicely at the Festive Street Bazaar, where 440 brightly-lit stalls offer all things Chinese New Year.
From traditional goodies like cookies and waxed duck to decorative items, potted plant and clothing, your family can soak up the celebratory atmosphere of CNY right here.
Festive Street Bazaar
Jan 30 – Feb 18
Daily: 6 pm – 10.30 pm
CNY Eve: 6 pm – 1 am
Pagoda Street, Smith Street, Temple Street, Trengganu Street
Festive Carnival
Jan 20 – Feb 18
11 am – 10.30 pm
Open space in front of People's Park Complex
Nightly Stage Shows
Chinese cultural performances will take centrestage at Kreta Ayer Square. Immerse yourself in festive songs, Chinese opera, lively music and dance performances by local entertainers and troupes from China.
Jan 31 – Feb 18
8 pm – 10.30 pm
Kreta Ayer Square
Chinatown Chinese New Year Walking Trail
This free walking trail will take your family on a journey of discovering the rich heritage and culture of Chinatown. Traverse the bustling streets of Kreta Ayer Road, Sago Street, Pagoda Street and New Bridge Road.
Led by volunteers, the walking trail is available only for five days, all before Chinese New Year. The trail is conducted in English and limited to 10 people per session. To register, emailchinatownfestivalsg@gmail.com.
Feb 1, 7, 8, 14, 15
2 pm – 3.30pm; 5 pm – 6.30 pm
8th International Lion Dance Competition
The lions will give the goats a run for their money at the 8th International Lion Dance Competition, which involves 14 troupes from 10 countries including Malaysia, Hong Kong, Taiwan, China and Singapore.
Be on the lookout for the cool kungfu moves and other forms of integrated martials arts, against the backdrop of rhythmic Chinese drums.
Tickets ($15) are available at Kreta Ayer Community Club (Tel: 62223597).
Feb 7
6 pm – 11 pm
Kreta Ayer Square
---
Giant, dazzling floats and vibrant performances dominate at the parade, themed "We Love SG" – and all the stops are out to celebrate the nation's 50th birthday.
This year, a section of Orchard Road will be closed on the evening of March 1 for a street carnival, where visitors will be able to get up close with 2,000 local and international performers, and hop onto some of the 13 floats on display.
This marks Chingay's return to the shopping street for the first time since 2007. In fact, this year also involves the highest number of international performers – 1,000 to be exact –  in the Parade's 43-year history.
The 19 troupes from 15 countries include a warrior dance troupe from Rwanda, and groups fromTurkey and Thailand with specially-choreographed dances for Singapore's 50th birthday.
The carnival will take place from 7pm to 10pm on the stretch between Ion Orchard and Ngee Ann City.
The kids will love the fireworks in the sky, above the civic plaza in front of Wisma Atria at 9.30 pm.
Get ticketing details here.
Chingay Parade
Feb 27 – 28
8pm (Pre-parade 7pm)
F1 Pit Building (next to Singapore Flyer)
---
River Hongbao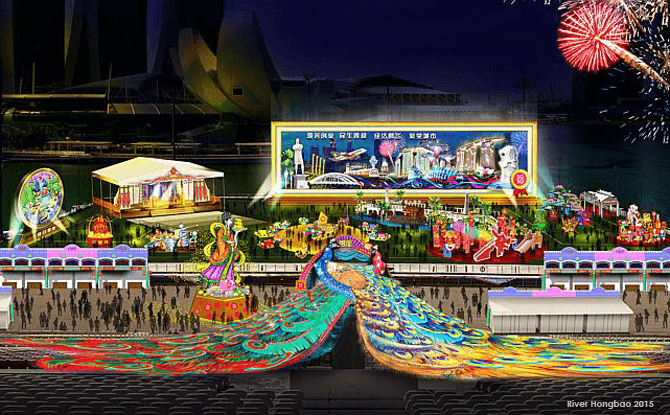 Another festive stalwart that has upped its game – River Hongbao promises to be the biggest in its 29-year history, also to celebrate SG50. And yay, admission is free.
The 12-day carnival from Feb 17 to 28 at The Float @Marina Bay includes tightrope-walking performances by members of the Acrobatic Troupe of Xinjiang China for the first six days of the carnival; more than 60 handcrafted lantern displays featuring SG50-themed lanterns like the iconic dragon playground; a food street featuring about 60 food stalls peddling local delights; and of course, fireworks during the light-up ceremony at 8 pm on Feb 17 and another during the Chinese New Year countdown on Feb 18 at midnight.
Feb 17 – 28
The Float @Marina Bay
---
Sun Yat Sen Nanyang Memorial Hall
The Memorial Hall has activities planned for families and kids throughout the 15 days of Chinese New Year, such as various craft workshops to make angbao lanterns, Chinese paper cutting, even the painting of sun-catcher keychains.
This is all part of the Hall's effort to promote awareness and appreciation of the historical and cultural significae of the Lunar New Year, the Chinese arts and heritage.
Don't forget to catch the lion dance and cultural performances on Feb 28 by students from Nanyang Girls' School (Primary), Maha Bodhi School, Anderson Secondary and Hwa Chong Institution.
Admission is free.
Feb 19 – Mar 5
10 am  – 5 pm
Sun Yat Sen Nanyang Memorial Hall,
12 Tai Gin Road, Singapore 327874
---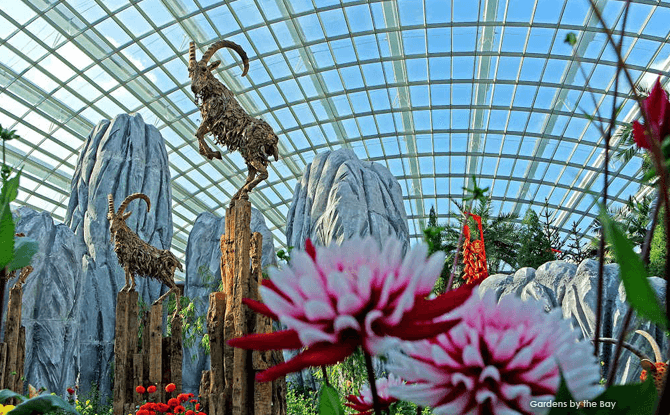 The Lunar New Year gets a floral treatment at Gardens by the Bay's Asian Tales Floral Display.  The floral showcase is inspired by the scenic landscape of mountains and valleys often depicted in Chinese brush paintings.
Get the kids to count how many wood-sculpted goats they can spot perched on the ridge and grazing in the field, with beautiful dahlias dotting the landscape. The dahlias were specially cultivated to celebrate the Year of the Goat.
Asian Tales is the first of six chapters as Gardens by the Bay embarks on a storytelling journey in 2015.
Take note of the majestic Supertrees, which will be displaying a Spring Edition of the Garden Rhapsody light show.
---
Get those hooves into a gallop towards Sentosa. From Feb 19 to 22, festive highlights include acrobatic acts and lion dance performances by Northen and Southern lion dance troupes.Guinness World Record holder Wei Wei will also showcase his martial arts skills.
Take your family for a stroll down the Prosperity Walkway, where hundreds of lanterns line up the path leading to the iconic Sentosa Merlion.
The Port of Lost Wonder at Palawan Beach will also offer special themed art and craft sessions and more, from Feb 16 – 22.