Celebrate Children's Day this year at the Esplanade and inspire the grand imaginations of your child through specially selected performances and activities for young children.
Returning from 4 to 6 October 2013 in its tenth edition with the theme "Imagine That!", this year's festival has an exciting line-up of programmes set to amaze, entertain and inspire not only children but their parents as well.
Comprising six ticketed and more than 17 free programmes, Octoburst! will cover the gamut of theatre, music and dance – specially for kids.


Back as well is the wildly popular Drawing Competition and Colouring Fun. On Children's Day, 4 October, children between 5 to 12 years old can unleash their creativity in this free drawing competition.
Adding to the excitement, the mystery theme for this year's contest will only be unveiled on the day itself. Competition winners will have their artwork proudly adorning the walls of the Esplanade.
Younger children, 2 to 4 years old, will not be left out either and can take part in some colouring fun on the same day. Parents can register their children for the Drawing Competition and Colouring Fun through the Octoburst website.
Inspiring Young Minds Through The Arts
mOOn ballOOn
mOOn ballOOn, a theatre piece, invites audiences to enter a world where a balloon can be anything you want it to be. Discover the beauty and joy of how balloons, giant and small, can open your child's mind to the infinite possibilities from the simplest things.
The production is adapted from Australia's Patch Theatre Company's production, The Moon's A Balloon, and is directed by Ian Loy under the guidance of Dave Brown – one of the original creators of the production.
A Prince's Journey

A Prince's Journey brings live musicians and digital animation together to tell a heartwarming tale of passion and courage inspired by an ancient Chinese painting. A young prince escapes the palace in search of freedom, but his adventures lead him full circle back to the palace with a renewed passion for things previously taken for granted.
Enjoy fascinating animation together with the invigorating sounds of Chinese music for an unforgettable experience with your child. Ding Yi Music Company's 12-piece ensemble will perform the music to animation from Nanyang Polytechnic School of Interactive & Digital Media Design.
Introduction to The Nutcracker
Introduce your child to the gracefulness of dance at the Dance Appreciation Series: Introduction to The Nutcracker. With music from Tchaikovsky, embark on a magical journey with Clara and the Nutcracker through the Land of Snow and the Kingdom of Sweets. The hour-long ballet experience will be performed by Singapore Dance Theatre with dance excerpts and narration specially selected for young children. Janek Schergen, Artistic Director of Singapore Dance Theatre, will be on-hand to guide audiences through what it takes to stage such a spectacular ballet performance.
ParenTalk Workshops
If you are looking for opportunities to bond with your child, be sure to take sign up for the interactive ParenTalk parent-child workshops being conducted as part of Octoburst! 2013
Making Stories, Telling Tales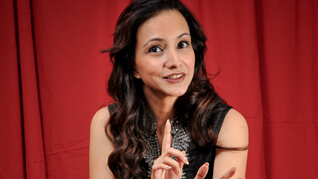 Sit down with Storyteller Kamini Ramachandran in Making Stories, Telling Tales for a 30-minute story-telling and puppet performance. After the performance, it is your turn to create craft puppets with your child and spin exciting stories of your own.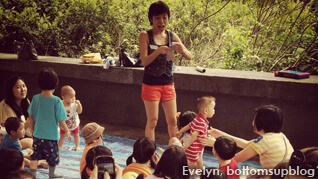 Take A Walk With Me
Go for an interactive walk around the Esplanade with Sarah Lee-Wong as your guide in Take A Walk With Me. Through fun games and storigami (telling stories with the aid of origami), she will weave together history, nature and visual art to bring stories of Singapore to life. Parents will also get a take-home kit to help them create their own memorable experiences with their kids.
My Family Portrait
Ever wondered how your child sees each family member? In My Family Portrait – a 3D Art Workshop, your child will be guided to create their own special family portrait where they can express the characteristics of each family member through 3D art. This fun activity will be conducted in Mandarin by Lee Kow Fong.
Free Programmes: All Are Welcome
Complementing the ticketed programmes are also at least 17 free programmes for children that will have Esplanade buzzing with energy and excitement.
Set to entertain over the three Festival days are free dance, skits and music performances tailored for children. Keep a look out for acts such as Our Forest Friends where two siblings and their animal puppet friends go on an adventure to save nature, and Princess Whatshername, a song and dance theatre piece of a princess seeking her memory back and searching for her happy-ever-after ending.
Chua Lik Ling, Assistant Director (Programming), The Esplanade Co. Ltd said, "During the three days, Esplanade will be transformed into a huge play space for children to roam around and discover art in various forms – from a craft workshop at the Jendela or a musical performance at the Concourse, to interactive adventures at the Outdoor Theatre. It is just as important that parents join in the arts experience and discover that spending time and bonding with your child can be a fuss-free affair."
Visit the Octoburst! website for more information on the Festival.
Tickets are on sale NOW at www.sistic.com.sg, all SISTIC outlets and via the SISTIC Hotline: +65 6348 5555.
Special Octoburst! Contests
Take part in our Octoburst! contests and submit your entries by 18 Sep 2013 to stand a chance to win tickets to mOOn ballOOn and A Prince's Journey.  
---
---