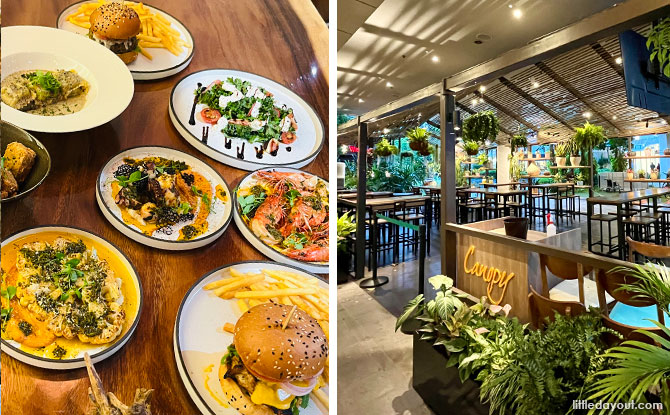 Canopy brings novel flavours to its new branch in the East, serving up excellent fare curated for the discerning diner. Offering a unique selection of Western, vegetarian and gluten-free offerings, Canopy of Changi City Point, located on the first floor at The Oasis' stretch of dining options, opened on 19 August 2022 and looks to be an attractive hangout for restaurant-goers.
We were greeted with an inviting dining space dressed in mellow amber hues and bedecked with vibrant greenery. Hanging clusters of rattan wicker lighting fixtures add dimension to the urban interior where illuminated deconstructed wooden tree silhouettes decorate the wall with flourishing shrub-filled tubs and plant-filled planter boxes overhead providing an accentuating crown of leafy foliage.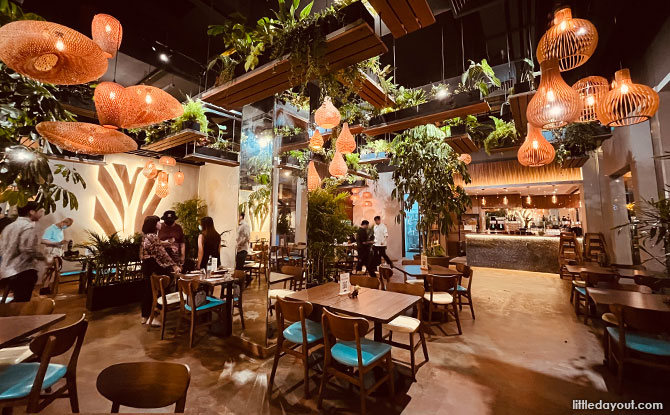 The orangey-earthy palette of the venue sings with ribbons of vivid olive, myrtle, chartreuse, moss, basil green shades, and beams, flooring, dining tables and chairs emanating swathes of warmth wood tones.
Aligned to its concept of a garden dining experience as with its other two branches at Bishan Park and HortPark, Canopy's third outlet is an invitation to gather and linger, make restful connections with nature while enjoying a good meal in a relaxing botanical dining space with living greenery. It caters for up to 200 people with both indoor seating as well as a sheltered alfresco terrace for pet-friendly or summery outdoor options.
It seeks to impress patrons with its fully curated modern menu, presenting a satisfyingly diverse blend of food, flavours and textures. We also sampled the new tapas menu designed to delight the palette!
---
Canopy Changi City Point: What's on the Menu
Kale Salad with Burrata Cheese
For starters, Canopy serves up a refreshing kale salad dish with ample flavour combinations: deliciously creamy pieces of burrata cheese that go so well with juicy plump cherry tomatoes and sweet fresh red figs, the slightly bitter tinge of crisp curly kale, and zesty radish adding a punch. 
Drizzled with dark sweet balsamic vinegar dressing and black pepper flakes, this appetizer sure whetted our appetite for more!
---
New Tapas Menu

(a Canopy Changi City Point outlet exclusive)
Grilled Octopus Leg
Taking it up a notch, this was unexpectedly mouth-filling, tasty and intense, besides the visual presentation wow-factor. With an appealing charred appearance and crispy thin ends, its firm browned meatiness was tender and not rubbery.
The lightly singed octopus was laid out on a bed of creamed mashed potatoes and parsley oil which complemented its sweet and savoury flavour, further sharpened by silky smoked red pepper sauce artistically splashed across the plate.
The finishing touch: this dish was creatively adorned with dramatic black squid ink tuile for a contrasting modernist garnish with a crunch and mild briny reminiscence of the ocean. Prepared well, this was attractive and delicious. 
---
Prawns al Ajillo ("in garlic")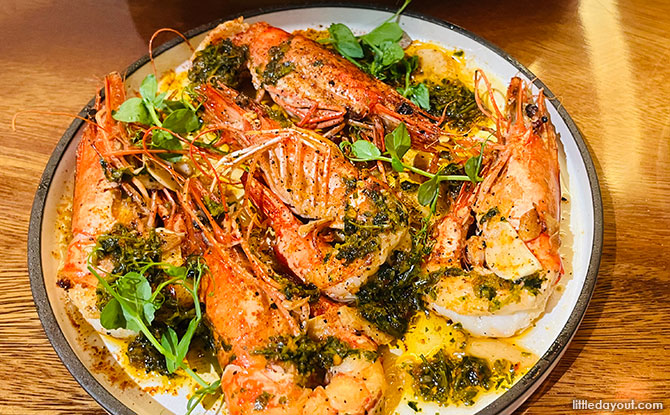 One can't go wrong with sautéed prawns, especially succulent king prawns served with heads still intact to suck the juices, cloaked in olive oil, generous dose of garlic with spicy hints of chilli and a touch of bright pesto, which gives dish a fantastic bite. We added a squeeze of lemon for an extra zing but some toasty bread would have been ideal accompaniment. 
---
Cauliflower Steak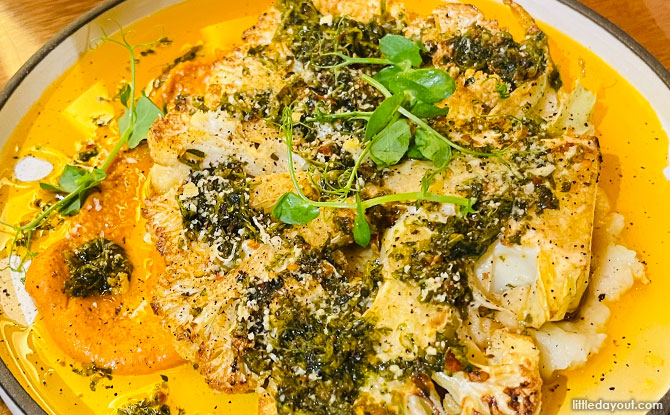 Roasted into a nutty, buttery treat, this was thick fan-shape chunky slice of cauliflower with its florets caramelised to crisp golden brown edges, lightly dusted with parmesan flakes. Coupled with a touch of pesto, red pepper flake and smoked paprika, this was served with a brush of rich Spanish Romesco sauce of puréed charred tomatoes and roasted red peppers lending depth to the equation.
---
New Specials
Salted Egg Chicken Burger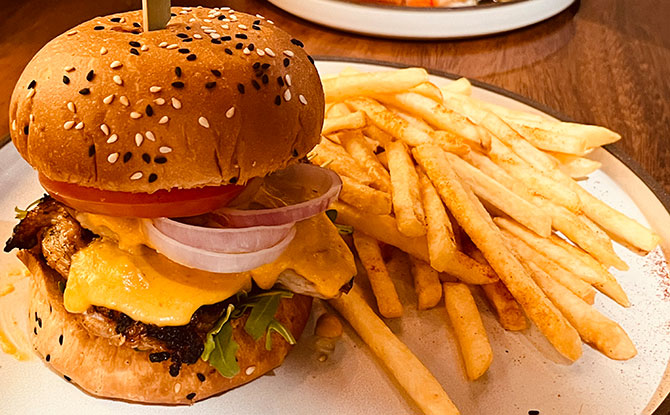 The salted egg sauce was creamy without being overpowering and enhanced the hearty pairing of moist well-grilled chicken and soft sesame-sprinkled potato bun burger, sandwiched with sweet sliced tomatoes and subtly peppery rocket arugula leaves. Thin rings of raw red onions added crunch and flavour, but left a lingering astringent aftertaste. Personally, I would have preferred a more caramelised option. The accompanying thin, crisp, lightly golden fries are perfectly done. 
---
Other Vegan Options
Mushroom Burger (Vegan)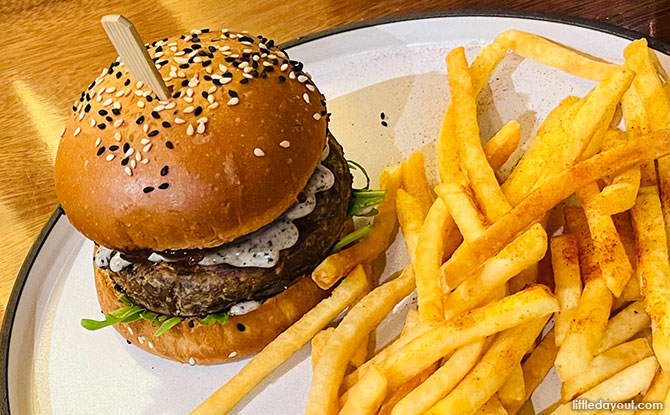 Picture a meaty mushroom patty slathered with silky smooth and creamy truffle aioli with a hint of garlic which complements the moist sesame potato bun richly. Coupled with sweet-spicy pickled onions, juicy tomato slices, tangy mustard-like arugula, this was a surprise vegetarian burger with textural chomp and a complex flavour profile, served with crispy paprika-sprinkled shoe-string fries on the side.
---
Crispy Fried Tofu Skin Chicken (Vegan)
Nicely crusted pieces of juicy vegan fried "chicken" seasoned with herbs and savoury spice, served with truffle aioli sauce for balance. We found it hard to believe that this crispy texture and flavourful "meat" was a vegan option made from beancurd skin! 
---
Spinach Ravioli with Truffle Sauce (Vegan)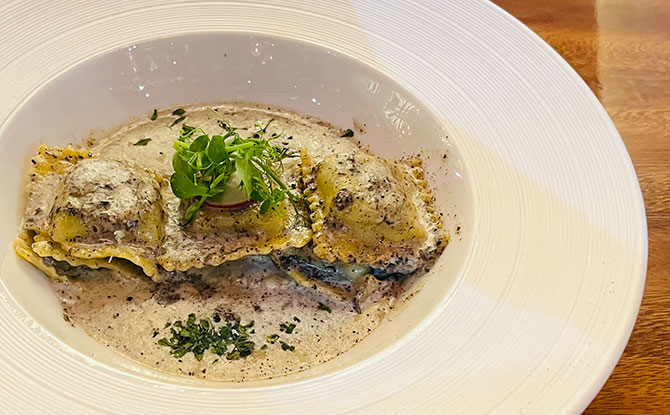 Ricotta cheese and spinach wrapped in squarish pasta pockets coated in truffle cream sauce, topped with parmigiano cheese, and garnished with a slice of radish and curly peashoot tendrils, the ravioli's thin layers and rich filling simmered well in the velvety and mushroomy sauce and had a nice smooth bite. 
---
Canopy Changi City Point: All-Dining With Nature in Mind
An all-day dining experience, designed with nature in mind, and extended with thoughtful and healthy food in a lively and serene space, this is a welcome addition to the eateries in the East.
Where: 5 Changi Business Park Central 1, #01-70/71, Singapore 486038
Opening hours: Mon to Sun: 9 am to 10.30 pm
Website