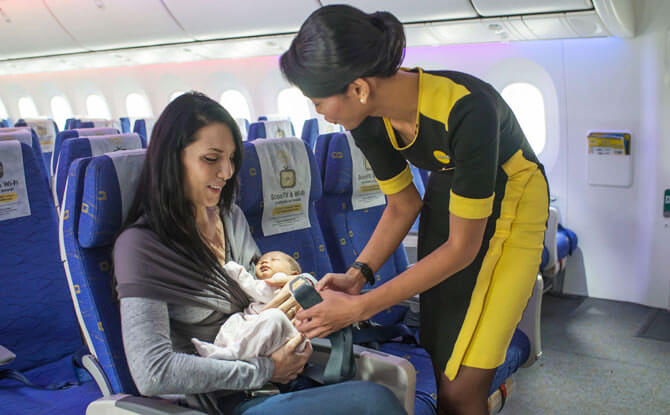 Love travelling but find that those overseas trips have gotten just "a bit" more expensive since having kids? Well, just because you are now a parent doesn't mean that you have to curb your wanderlust. In fact, with a few budget travel tips, you will still be able to indulge your inner travel bug.
Airfares take up a large chunk of the travel budget. Low cost carriers, aka budget airlines, are one way to save on costs. What's more, airlines such as Scoot fly to an enticing range of destinations.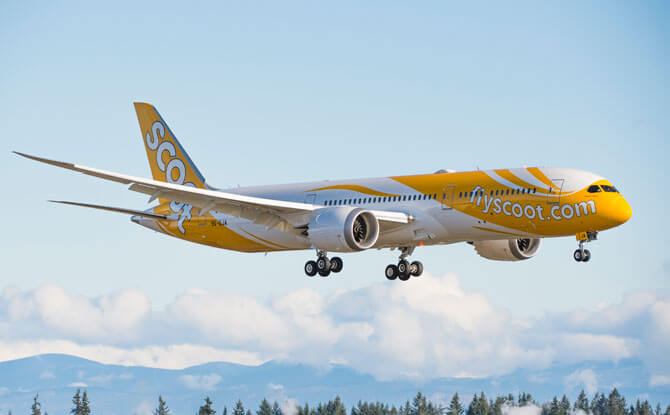 For example, Scoot flies direct from Singapore to Xi'an, where you can view the amazing terracotta army of Qin Shi Huang Di. Or take a flight to Osaka and be amazed by the wonders inside the Osaka Aquarium. There are also other far-flung and exciting cities, such as Honolulu and Athens, that can be reached by Scoot.
Some may worry about travelling on low cost carriers with young children. However, this doesn't have to be the case at all. We've got some budget travel tips on flying with Scoot that will get you travelling like a pro with babes and kids.
---
-- Story continues below --
Budget Travel Tips
---
How Soon Can You Travel?
You may be wondering, "How soon can I travel with my new infant?" or be anxious to introduce the latest addition to the family to his or her relatives overseas. Do remember the airline can only accept infants that are at least 8 days old. Babies will also need to be accompanied by an adult who is at least 18 years old.
---
Fares for Children 2 Years and Below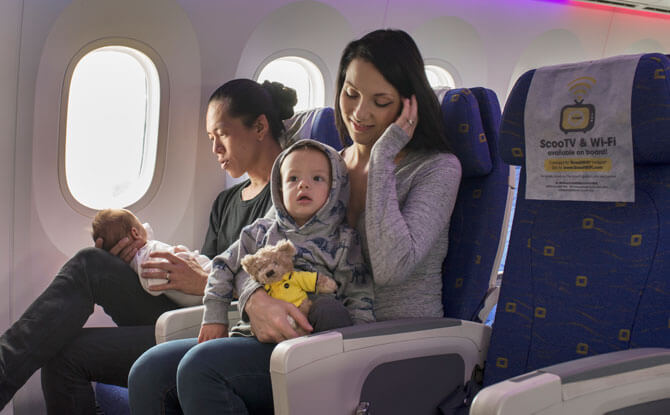 If your child is 2 years old and under, you can enjoy Scoot's infant fares. Depending on the travel destination, these range from S$45 to S$75 each way. Included with the fare is the use of an infant seatbelt and stroller and car seat check-in allowance. What's more, while fares typically rise during the peak season, Scoot's infant fares are fixed. This means that you don't need to pay higher fares for your under-2 even during in-demand school holidays and festive periods.
---
Child Slings and Harnesses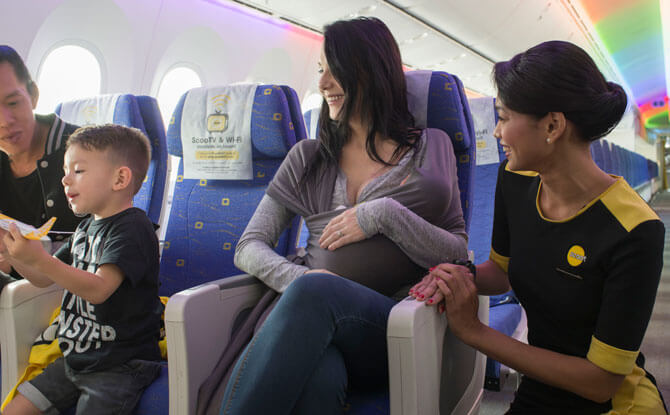 A child sling or harness can be one of the most useful things to bring on board the flight with babies. While you will need to use the infant seat belt during take-off and landing, since Scoot does not have bassinets, having a child sling will save you from having sore arms from having carried your infant throughout the flight.
---
Seats for Children Above 2 Years Old
Children above 2 years old will need their own seats on Scoot flights. If you feel better having your child harnessed up, you may bring on board a Federal Aviation Administration (FAA) and Civil Aviation Authority of Singapore (CAAS) certified forward-facing safety seat on Scoot. Just be sure to leave any certification labels attached for security check purposes. However, take note that these seats cannot be used at emergency exit row seats or the rows before or after the emergency exit row.
---
Hot Water and Baby Food for Bubs
Worried about what your little one will have on board the plane? Good news! Scoot can provide hot water for preparing milk for baby on the plane. Nursing mums who are departing from Singapore will also be happy to know that expressed breast milk and baby food are allowed on flights too (subject to declaration and security checks). Take note though that, for hygiene reasons, the crew will be unable to help reheat breast milk or baby food.
When flying out of Singapore Changi Airport, one additional tip is that you can refill your water bottles at the water fountains located inside the gate hold rooms, after security checks.
---
Use of Travel Gadgets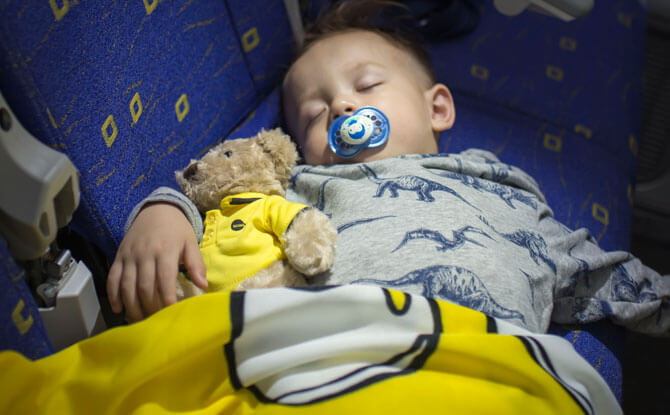 Travel gadgets such as JetKids, the carry-on luggage for kids that can convert into a bed/leg rest, can help make flights more comfortable for young ones. If your child is small enough, he or she may even be able to use it to lie down and have some shut-eye while you look on with envy.
On Scoot, these travel devices can be used on the window and middle seats (not the aisle seats). For safety reasons, they can't be used on the emergency exit row. These travel gadgets do count towards the cabin baggage allowance and should not exceed 115 cm in total dimension when fully deployed.
---
Creature Comforts on Board
To make kids feel more comfortable and relaxed on board a plane, bring your own blanket, socks and pillows. A sweet or lollipop can help him or her cope with changing air pressure during landing and take-off too.
---
Long-Haul Master Travel Hack!
If both parents are travelling on board a Scoot flight, you can consider this travel hack, especially on long-haul flights.
Scoot 787s have a Scoot-in-Silence zone where children below 12 are not allowed. One parent can book a Scoot-in-Silence seat while the other sits with the child in a regular seat. Each parent can then take turns getting some rest on rotational basis at the Scoot-in-Silence zone during the flight. This way, both parents can arrive rested and ready-to-go at the destination!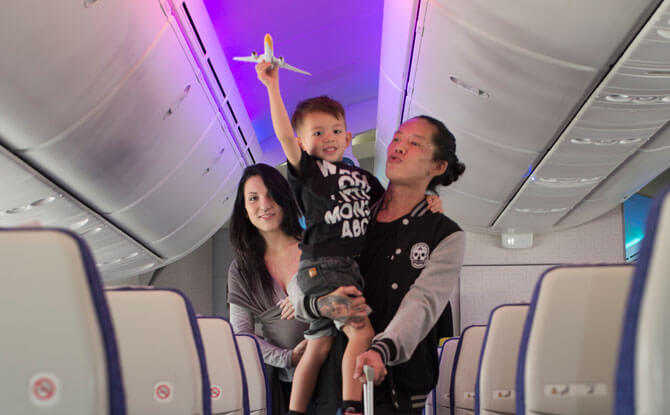 There you go! We hope you find these travel tips useful when planning your next holiday with children and infants. Now you can fly with confidence and fulfil your wandermust even more often with low cost carriers like Scoot!
This feature is brought to you in collaboration with Scoot.