Brick Toast Dessert, also called Honey Toast Dessert, is popular in Japan and Taiwan. Brick Toast Dessert is served either with a store-bought loaf of unsliced white bread, or you can bake the bread yourself.
Hollow out one side of the bread to make a toast box. Cut the central brick of bread into cubes and toast them with butter. Finally, fill the golden brown toasted box with toasty cubes, ice cream and fresh fruits. Garnish with your favourite candies, cookies, chocolate sauce, honey and whipped cream. Who can resist this goodness?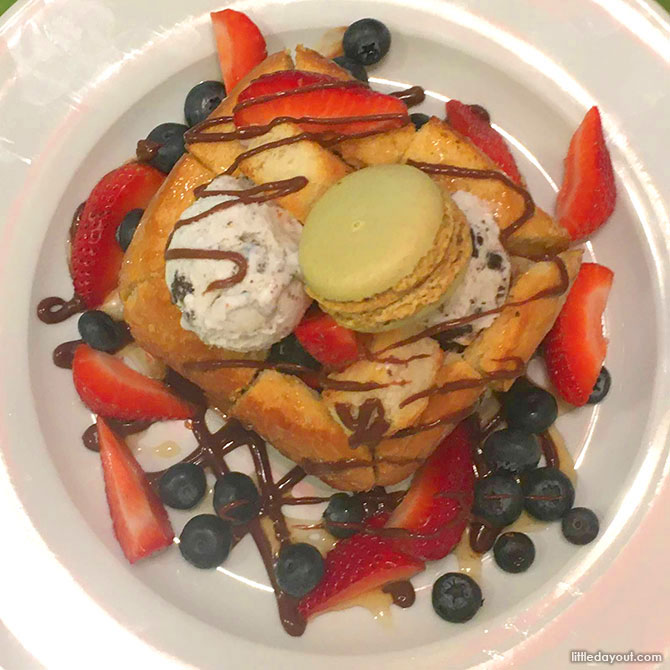 Recipe for Brick Toast Dessert

Ingredients
1 loaf of white bread of your choice
3 tablespoons of butter, melted
3 tablespoons of honey
2 tablespoons of chocolate sauce/syrup
1/2 cup of fruits of your choice (berries and mangoes)
2 scoops of ice cream
Whipped cream
Assorted cookies for garnish (sprinkles, Pocky and macarons)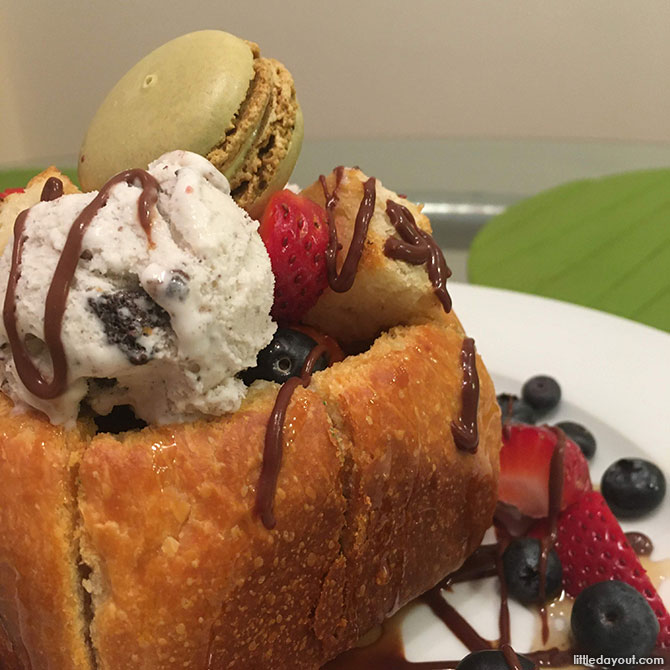 ---
-- Story continues below --
Method
To prepare the brick toast, preheat the oven to 175 degrees Celcius. Use a serrated knife, cut off the dome top of the bread to create square shape.
Cut a square out of the centre. Do not cut all the way through. Leave 1/2 an inch on all four sides and at the bottom of the crust.
Remove the cube of bread and cut the cube into smaller 1 inch cubes, leaving the box intact.
Spread all the pieces and the toast box on a baking tray lined with parchment paper. Brush melted butter on all sides of the small pieces and the toast box. Be sure to brush the inside of the box as well.
Bake them in the oven for 10 to 15 minutes, turning the small cubes occasionally to ensure even baking. Remove the small cubes from the oven, but continue baking the box for another 5 to 10 minutes.
Remove the toasted box from the oven and let it cool down a little on a wire rack.
Drizzle some chocolate sauce on a large serving plate, then place the toasted box on it.
Drizzle some honey inside the box, then alternatively add in fruits, toasted cubes and whipped cream.
Finally, top the brick with scoops of ice cream. Garnish with more chocolate sauce, honey and other cookies and candies as desired. Serve the Brick Toast Dessert and enjoy!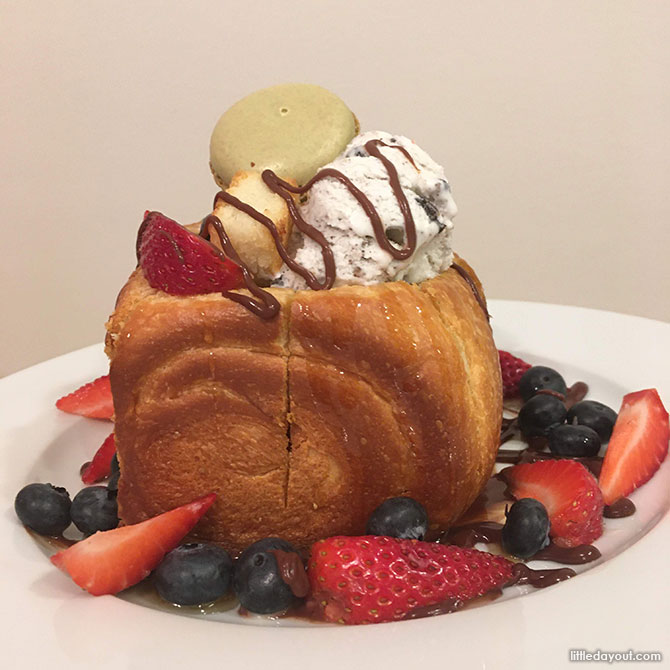 Click here for more recipe ideas.