Fans of Bluey, the global TV animated series, in Asia can rejoice because Bluey toys are making their debut in Asia, starting with Singapore.
Bluey follows the adventures of a Blue Heeler puppy, her sister Bingo and her parents. It showcases the joy of everyday family life and how it can be turned into extraordinary adventures.
Bluey has won over audiences from around the world with its relatable take on family life.
---
Bluey Toys in Asia
---
-- Story continues below --
The collection of Bluey toys being launched in Singapore include Bluey Plush toys, two- and four-pack figures and mini playsets. There is also the Bluey Family Cruiser as well as Bluey's Family Home Playset.
These toys are designed for children aged 3+.
The Bluey range of toys will be available at Toys R Us and Kiddy Palace in Singapore from 1 August 2023.
The toys are also available at Takashimaya, where a launch event was a Bluey and Bingo meet and greet were held on 29 July 2023.
There will be more meet and greets held on 30 July 2023.
Bluey storybooks and activity books are also available at Kinokuniya, Popular and Time bookstores.
Sophia Spinelli, VP Brands & Marketing, BBC Studios Asia says: "We are thrilled to finally bring the much-awaited Bluey toy range to Asia, starting with Singapore, to give fans in the region the opportunity to play along with Bluey and the Heeler family beyond the screen. We are also looking forward to introducing additional categories and new products to other countries across Asia in the coming months."
---
Bluey Meet and Greets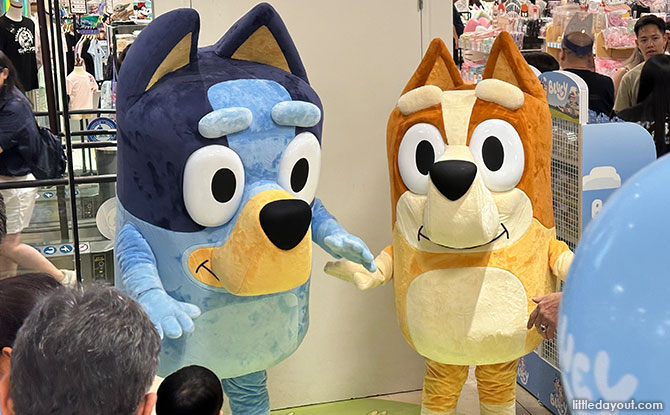 Fans can also look out for Bluey meet-and-greets at the following dates in September and October 2023.
2 September 2023: Times Bookstore, Waterway Point, 12 pm to 1 pm
2 September 2023: Kinokuniya, Ngee Ann City, 4 pm to 5 pm
7 October 2023: Popular Bookstore, Jurong Point, 1.30 pm to 2.30 pm
Discover more exciting, family-friendly things to do this weekend in Singapore.