The most liveable city in the world is a welcome place for families with young kids. In fact, Melbourne topped the world ranking of liveable cities for six years. Stroller-friendly, allergy-friendly meal options, amenities for babies and kids, wonderful  breakfasts (yes!), sprawling parks, and a mish-mash of many cultures (Italian, Greek, Indian, Chinese, Lebanese and more) make Melbourne with kids a great pick for family vacation.
Visiting Melbourne with Kids
It's preferable to rent a car and drive around, as Melbourne a big place, with some far-flung spots not covered by public transport. But inner city transport is accessible via tram (great fun for the kids) and train. Just master the hook-turn for inner-city driving, and you'll be fine!
Here are some of family-friendly places, things to do and activities which we loved when visiting Melbourne with kids.
Conveniently located just 2km from Melbourne city, a visit to Collingwood Animal Farm means you don't have to drive hours to the countryside when in Melbourne with kids.
---
-- Story continues below --
It's home to cows, donkeys, horses, pigs, goats, sheep, geese, ducks, chickens, cats, guinea pigs, and more.
Plan ahead and don't miss out on the cow milking and brushing, as well as the guinea pig cuddle times.
Cow milking and brushing:
Guinea Pig cuddles:
10.30 am to 11 am
12.30 pm to 1 pm
3.15 pm to 3.45 pm
Have breakfast or brunch at the Farm Cafe, where there are picnic tables for alfresco meals. They serve up good, hearty breakfasts here. Don't miss out on the scrumptious Iced Coffee, which comes with a dollop of creamy ice cream!
No doubt the breakfasts are good – after all, Melbourne is the Land of Breakfasts. It's almost their national dish.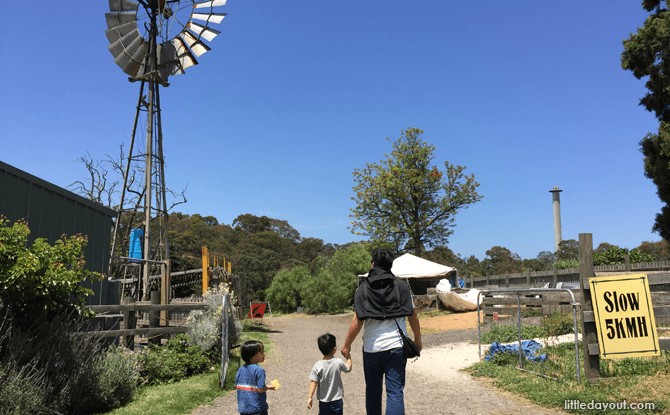 Tickets: Child $5 / Adult $10 / Family (two adults & up to four children) $20
Collingwood Children's Farm
18 St Heliers St, Abbotsford VIC 3067, Australia
Open daily: 9.15 am – 4.45 pm
Farm Cafe
Open daily: 9 am to 4 pm
Step back in time and hop on Puffing Billy, the century-old heritage steam train about an hour from Melbourne City. A real steam train! The kids will be beside themselves.
Running on its original mountain track since the early 1900s, the train travels from Belgrave to Gembrook, to the backdrop of the scenic Dandenong Ranges.
Passengers get to dangle their legs over the window throughout the ride – something we are all told NEVER to do on modern-day transport – which the kids will find extra thrilling, no doubt! At a top speed of 24km/h, it feels like a slow and leisurely journey.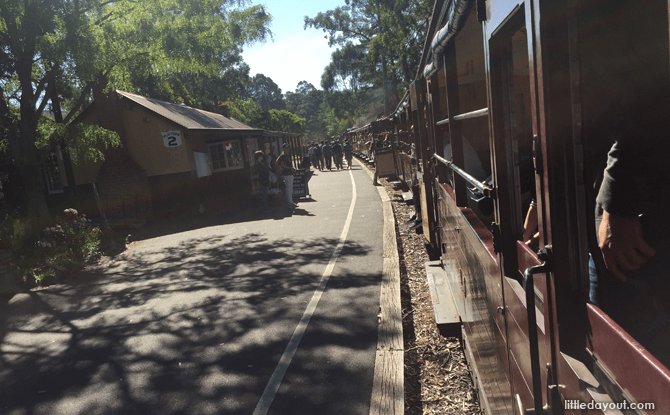 We chose the highly recommended route from Belgrave to Lakeside Station, a return journey of about three hours in total.
Pack a picnic, and have a leisurely meal or snack at Emerald Lake Park beside Lakeside Station. Lots of space for the children to run about.
The wide open fields dotted with cows and sheep, fern gullies, lush forests, houses and more will make for lovely passing scenery during the ride.
The tykes will enjoy having the train conductor punch holes in the vintage-design train tickets.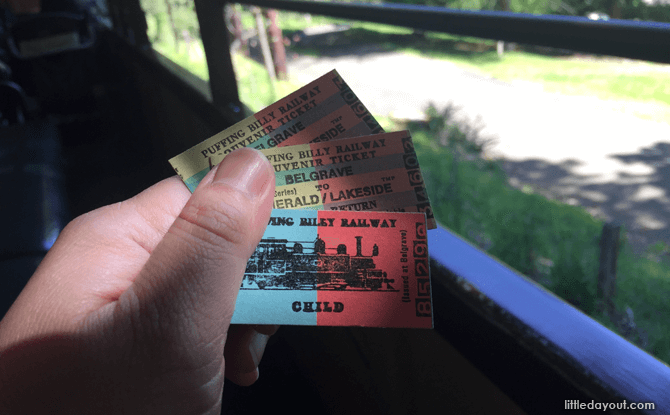 The train burns through about ¾ ton of coal for a return journey Belgrave-Lakeside. Yes, that explains that peculiar smell in your nostrils throughout the ride!
Pre-booking is a must, as the tickets usually get sold-out – so book tickets preferably a week in advance. A fun activity while in Melbourne with kids.
Tickets: $108 for family of 2 adults 4 children for return journey from Belgrave to Lakeside / kids under 4 travel for free
Puffing Billy Railway
1 Old Monbulk Road (PO Box 451), Belgrave VIC 3160, Australia
Open daily except Christmas
More animals! You will never get enough of them when visiting Melbourne with kids. Get up close with kangaroos and koalas at Healesville Sanctuary.
You will also get to see owls, emus, parrots, dingos, wallabies and more.
A large sand playground next to Sanctuary Harvest cafe will occupy the kids for some time. Besides being able to climb up and down structures, they will also be able to excavate "dinosaur" fossils under the sand.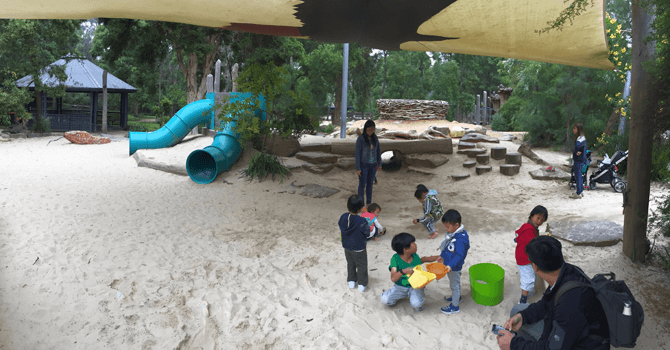 Sanctuary Harvest also serves up good, hearty meals, with a view of koalas to boot!  Kids with allergies will also find lots of meal options here, as they can whip up gluten-free, dairy-free, nut-free versions of certain dishes.
The Australian Wildlife Health Centre, inside Healesville Sanctuary, treats 1,500 sick and injured native animals a year. You can visit the Centre and watch the vets at work, caring for the wildlife.
In the Centre, a playspace called Future Vets inspires kids to care for animals in a mini wildlife hospital, through imaginative role-play.
Healesville Sanctuary is a tranquil, lovely place to stroll around for the whole family, surrounded by Australian bushland foliage.
Tickets: Adults $32.50 / Kids aged 3 and under free / Kids under 15 free during weekends, Victorian public and school holidays
Healesville Sanctuary
Badger Creek Road, Healesville, VIC 3777, Australia
Open daily: 9 am – 5pm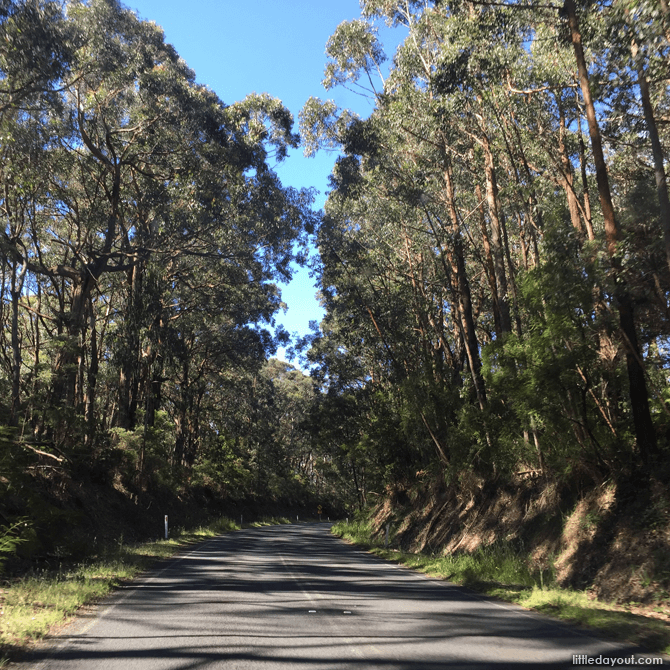 One of the best things about Melbourne is the easy accessibility to the countryside, while enjoying city life.
A day trip out to Yarra Valley means that the adults get to visit some vineyards (yum), while the kids can enjoy a chocolate factory, a strawberry farm, and lots of open to run about.
Wine cellars you can visit include Yering Station for good food and great scenery, Domaine Chandon, Dominique Portet.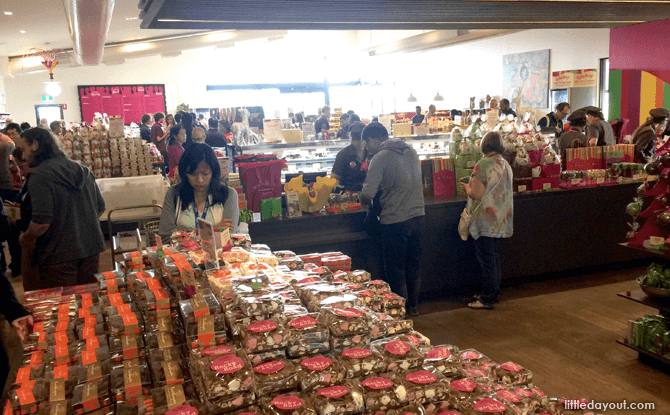 The Yarra Valley Chocolaterie and Ice Creamery serves up delectable chocolates and scrumptious ice-creams. So, so good.
Visitors get to sample free chocolate buttons whenever they wish, from huge bowls of milk, white and dark choc buttons.
The alfresco section of the Chocolaterie overlooks a breathtaking view of wide open fields. Let the kids loose here while you sip that hot chocolate.
Get hands-on at a strawberry farm while you're at Yarra Valley.
Tickets: Free entry
Yarra Valley Chocolaterie and Ice Creamery
35 Old Healesville Road (cnr Melba Highway)
Yarra Glen Victoria
Open daily (except Christmas): 9 am – 5 pm
Gateway Estate has "u-pick" strawberries, which means you can pick what you like from their strawberry plants.
Entry is free for strawberry picking and you may pick as little or as much as you like, and you only pay for what you pick. Strawberries are charged by weight with a regular 250g punnet costing $4.
But be careful and be sure to go early during the day, as the berries may not be available for picking depending on the crowds and maturity of the fruit.
Yarra Valley Gateway Estate
667 Maroondah Highway, Coldstream, VIC 3770, Australia
Open daily: 9 am – 5.30 pm
Blue Hills Berries and Cherries also offers u-pick for strawberries and cherries. In fact, the farm even has a daily fruit report you can check on before you go, so that you don't waste your time visiting when there are no berries for picking!
The adult entry fee of $13 includes a 500g punnet of mixed fruit, while children three to 14 years old pay $6.50 with 250g of fruit to take home. It's free for kids under three.
Blue Hills Berries and Cherries
U-pick berries: 27 Parker Rd, Silvan
U-pick cherries: 30 Chapman Rd, Silvan
*Check fruit report the night before, after 7 pm, to ensure that the berry farm is open for picking.