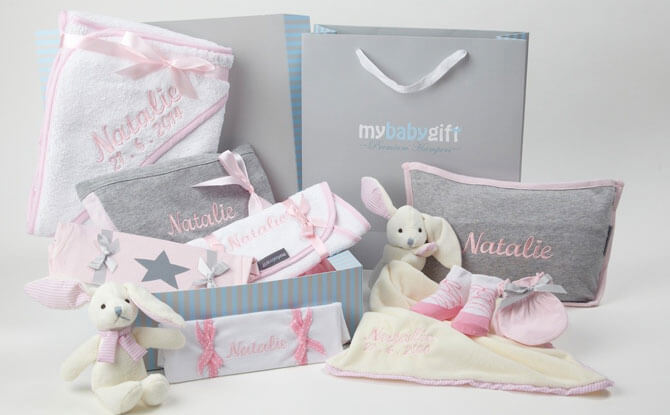 Whether it's a baby shower for mummy or a full-month celebration for baby, you don't have to wade through the vast sea of baby shower gifts for the perfect present.
From big gift hampers for group sharing to beautifully simple presents just to bless this young family, this baby shower gift guide ticks all the boxes – unique, practical, educational, fun, luxe, simple, affordable, and even pampers mummy, too. 
13+ Mummy-Approved Baby Shower Gifts You Can Get In Singapore
Get excited with the young mum in welcoming her little bundle of joy with gifts that stand out!
---
Personalised Luxe Hamper 
Pamper the new mummy and the newborn with hampers from MyBabyGift, which specialises in personalised luxury baby gifts. Baby blankets, towels, or pillows can be customised with baby's name, and you can pick from popular premium toys like Sophie the Giraffe, Jellycat plush toys – or Djeco toys or a Skip Hop backpack for an older sibling, and more. But don't forget mum (and even dad), as there are luxe add-ons like a Moet and Chandon champagne. Popular hampers include the customised signature hamper, the uber cool black-and-white My Little Arrow hamper, and the flexi create-your-own hamper.
---
-- Story continues below --
Where: MyBabyGift
Great for: Sharing the gift with a large group, mummy care, customised baby products, luxe products
Price: From $88 for a starter hamper 
---
Diaper Cake
One thing a newborn will always need: Diapers. Lots and lots of diapers. So you can't go wrong if you are looking for baby shower gift ideas with a diaper cake. It's essentially a hamper of rolled-up diapers made in the shape of a two- or three-tier cake, and other goodies too. The three-tier Mummy and Baby Indulgent diaper cake bundle by The Diaper Cake Company is filled with goodies from premium brands, including 54 Merries diapers, Aden and Anais swaddle cloth, JJ Cole diaper changing clutch, Little Innoscents organic skincare, My Natural eco-friendly stroller toy, Oribel VertiPlay toy, and more. There are flexi add-on options too, like drool pads and teethers.
Where: The Diaper Cake Company
Great for: Practical gifting, sharing the gift with large group, luxe gifts, fun designs
Price: From $98 for a starter bundle 
---
Sophie the Giraffe
If you are looking for baby shower gift ideas in Singapore, this is one of the most popular baby toys around. This adorable soft teether has had an enduring place in nurseries all over the world since its invention in 1961 in Rumilly, France. Sophie the Giraffe is made of 100% natural rubber and food paint, safe for soothing baby's sore gums. It's designed to stimulate baby's senses – sight, hearing, taste, touch and smell (it has a delicious vanilla-like scent due to the natural rubber from the Hevea tree). Sophie was much loved for the first year of our little one's life.
Where: Agape Babies and other stores
Great for: Non-toxic baby product, simple toy, popular brand name
Price: $31.90 
---
Aden and Anais Muslin Cloths
Super soft and breathable, Aden and Anais muslin cloths are well-loved for their versatile uses. Good for hot Singapore weather.  From birth, they can be used as swaddles. The 42" by 42" cloth also doubles up as a stroller blanket, summer blanket, burp cloth, nursing cover – and for toddlers, a comfort blanket. We love how it washes really well, and stays soft and sturdy for years. Our five-year-old still uses it!
Where: Pupsik Studio and other stores
Great for: Multi-purpose products, long-wearing gifts
Price: $39.90 for a pack of three 
---
Manduca Pure Cotton Baby Carrier
This award-winning baby carrier is suitable for newborns from 3.5kg to pre-schoolers up to 20kg (about 5 years old) – which is a really LONG time. Some features we love? It comes with a newborn insert built-in, so there is no need to buy another expensive insert, which could be thick and makes it hotter for baby. There are many positions for baby-wearing: Front carry, back carry and hip carry positions with option to use the carrier in backpack style or cross-straps. Also, the terrific little sleeping hood keeps baby's head from falling backwards – and keeps noise and light out. Really sturdy carrier that will last for years. This particular one is made with 100% organic cotton. A great choice if you are looking for baby shower gifts in Singapore.
Where: 1010 Mother & Child Essentials and other stores
Great for: Useful for being mobile when going out, baby is soothed during baby-wearing, travelling
Price: $175.92 
---
Baby Carrier Accessories
Accessorise up with these lovely baby carrier bits and bobs from JingleBib. Made with high quality double gauze cotton imported from Japan, these gorgeous fabrics are soft, breathable and absorbent. The drool pads and carrier bibs can be buttoned onto most baby carriers (check for compatibility) at the perfect spots where baby loves to chew on – so the carrier stays clean.
Where: JingleBib on Etsy
Great for: Baby carrier lasts longer between washes, unique gifts
Price: $33.76 for a set of two drool pads and one carrier bib
---
My Brest Friend Nursing Pillow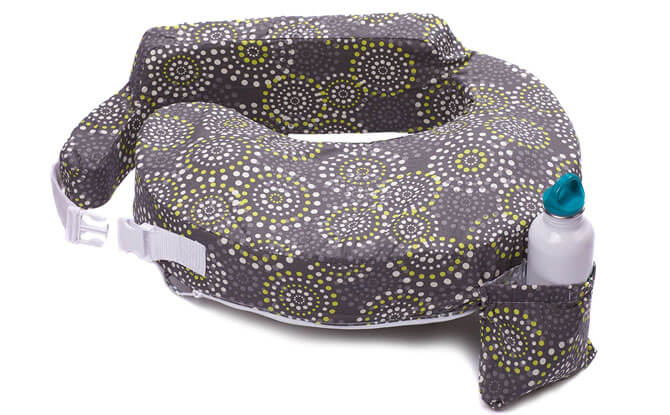 One of the best gifts you can give to a breastfeeding mum. This sturdy pillow by My Brest Friend is designed so that baby can rest completely on the pillow when nursing, and is a real back-saver. Newborns need to eat eight to 12 times a day – that's the number of times this pillow will be appreciated every day. How's this for real mummy care!
Where: Amazon and other stores
Great for: Breastfeeding mums, first-time mums
Price: $46 
---
Moo Moo Kow Cloth Diapers
Speaking of newborns feeding eight to 12 times a day…. that is also the number of times those little bundles of joy will soil their diapers. Cloth diapers are especially great for babies prone to nappy rash. Have a chat with the new parents to find out their diapering plan – disposable or reusable? Some parents opt for half-and-half. For those who want to go for fully reusable diapering, the baby would need at least 12 diapers a day. Moo Moo Kow cloth diapers are longwearing and stand heavy-duty laundering – and it's a Singapore brand. For a taste of cloth diapering, try the starter kit, which include four diapers, various inserts, a waterproof wet bag, and more.
Where: Moo Moo Kow
Great for: Sharing gifts with a group, starter gifts, practical baby product
Price: From $130 for a starter kit 
---
Beansprout Husk Pillow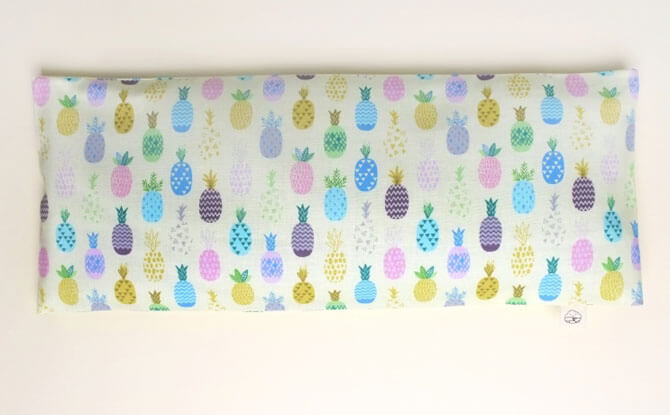 Given to babies to calm them and help them sleep better, the traditional Asian beansprout husk pillow gets a modern update at Chubby Chubby. Choose from a wide palette of dreamy fabrics, like this Marching Icecream Party, or Tropical Pineapples. This shop uses all-natural beansprout husks that are sorted, dried in the sun, and handpicked. These pillows are meant to be loosely filled, then placed across baby's chest while sleeping to prevent the startle reflex.
Where: Chubby Chubby
Great for: Unique gift, traditional baby product
Price: $35.90  
---
Chic Teething Necklace
Mummy doesn't have to give up wearing necklaces, for fear of curious, grasping little fingers. The handmade Serenity Necklace is a comfortable teething necklace that will keep both mummy and baby happy. Strung on a soft silk cord with a breakaway clasp for safety, the BPA-free, phthalates-free, cadmium-free and lead-free silicone beads are a stylish accessory while baby's sore gums get some relief. Each necklace is about 36 inches long; you can message  this Canada-based seller for any custom requests.
Where: Quinn & Lane on Etsy
Great for: Stylish accessory, mummy care, multi-purpose gifts, teething babies
Price: Only $10.56, plus $11.35 shipping to Singapore
---
Skip Hop Diaper Bag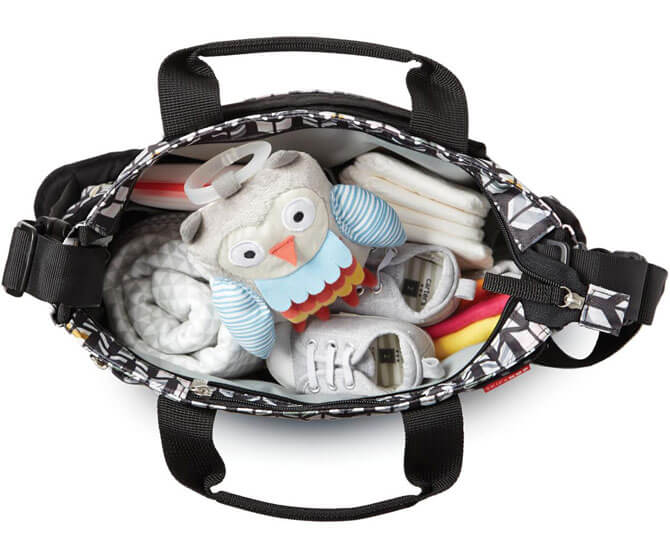 A well-loved classic in a young parent's arsenal – a sturdy diaper bag with lots and LOTS of compartments and easy access! The Skip Hop Duo Signature Diaper Bag features a zippered main compartment that is complemented by an additional total of 10 pockets! Tote handles make it easy to grab and go while shuttle clips easily convert it from a shoulder bag to a stroller bag. Includes a cushioned changing pad. This diaper bag is chic for mum but also neutral enough for daddy to tote around, making it a practical baby shower gift.
Where: Pupsik Studio and other stores
Great for: Going out, travelling, organisation, mummy and daddy-friendly
Price: $79 
---
Tiny Love Take Along Arch – Sunny Stroll
This developmental toy can be easily attached to a stroller, car seat, or even baby bouncer for entertainment at home or on the go.  The activity arch caters for two developmental stages: Battling and sensory exploration for newborns at 0m+ and pulling for cause and effect learning at 5m+. Its flexible arch can be bent, while six fun baby-activated toys will keep the little one occupied. The Sunny Stroll comes with a rattling butterfly ball with crinkly texture, little butterfly, transparent sun prism in the middle, flower mirror, baby-activated propeller and teething toy. Ideal if you are looking for baby shower gift ideas to get him or her started on little day outs.
Where: Pupsik Studio and other stores
Great for: Going out, travelling, keeping baby entertained, developmental toy
Price: $39.90 
---
Skip Hop Vibrant Village Smart Lights Activity Gym
Looking for baby shower gifts for baby's playtime? Bold patterns, bright pops of colour, and interactive activity arches on this activity gym will keep baby busy. The arches play upbeat music along with two light modes: Tracking for baby to follow and a light show, and fun sounds as baby bats at the four hanging soft toys. Plus, bright and colourful lights illuminate each window to make learning and development fun. BPA-free, PVC-free, and phthalate-free. 
Where: Redmart and other stores
Great for: Developmental toy, stimulating activities
Price: $179 
Note: Information and prices are correct at time of publication