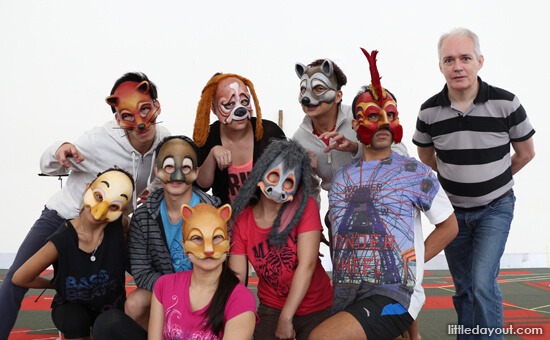 "Tell me a story, Mommy!"
My daughters are always hankering for me to tell them stories, and if they are anything to go by, my guess is that most children love and long to hear good, rich stories. They want their imaginations sparked and they yearn to be transported to magical worlds not limited to the here and now.
I Theatre, with their upcoming production of Grimm's Fairy Tales, is looking to do just that. And what better material to work with than stories that have stood the test of time and are still as well-loved today as they were two centuries ago!
Rehearsals, Rehearsals, Rehearsals
With ambitious plans to tell nine well-known and lesser-known tales within a ninety-minute full-scale Broadway production, I Theatre has been tirelessly at work in daily workshops and rehearsals. I had the privilege of sitting in on one of their blocking rehearsals.
"This is a production where if any actor is missing, it is very hard to do anything, because everyone takes a very active role," shares Brian Seward, I Theatre's Artistic Director.
I soon realise what he means.
Collective Story Development
Although he is the Artistic Director, Brian actively involves the eight cast members and choreographer in deciding the characters' various stage movements, actions and expressions. The result is a dynamic flow of creative energy during the rehearsal where every actor is fully engaged. This is useful as there are a total of 55 roles, with each actor in this ensemble cast playing no less than seven roles.
Brian explains that Grimm's Fairy Tales marks a departure from their regular productions in that this is a semi-devised work.
"We start with a bare story, then we play with the story and look at different ways to tell the story. The frame, the script, the words are fixed. The songs are fixed… before we start. But still, we still allow the actors a lot of leeway to play with the words, make different meanings out of them and change the text around if necessary."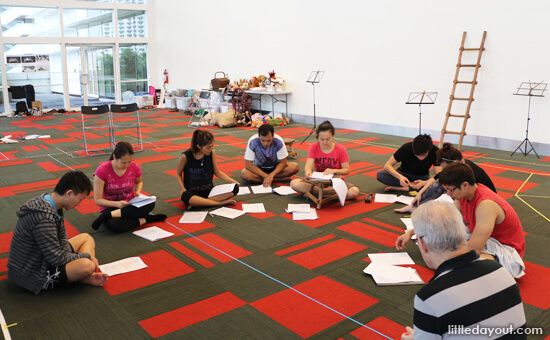 Familiarity Breeds Creativity
Brian tells me that the creative process started eight months ago. Every actor had to read all 201 Grimm's fairy tales and they had online discussions to discuss their favourites. Brian made the final edit as to which tales would be staged, and each actor will be narrating his or her own favourite story, and playing the animal character of his or her own choice.
Judging by the dynamics at the rehearsal, the actors' familiarity with the material was tangible as they actively discussed the various characters' intents and motivations. The fact that their stories and stage characters were personally self-selected also meant that the actors contributed with uncommon insight and portrayed their animal characters with so much enthusiasm it sounded like I was on a farm at one point!
The first two weeks of their seven-week rehearsal period were dedicated to workshops. Specialist trainers were engaged and flown in from the UK and Italy to hone the actors' skills in physical comedy and performing with masks. The workshops have paid off with aplomb.
Bringing The Characters To Life With Masks
In the rehearsal, the cast had been working on a musical number, and Brian decided to step it up and have the cast put on their masks as he reminded them, "The movement has to be heightened and not match the naturalistic form". And unexpectedly, I witnessed a magical transformation – the actors suddenly took on a renewed energy and passion – the masks helped them slide perfectly into character and all at once, they were in sync with one another and their choreography and singing hit new notes of harmony.
If this is what I Theatre can achieve in a standard blocking rehearsal with no sets, no make-up and no costumes, with a four-week lead till curtains rise, I am intrigued to see what the actual performance will look like!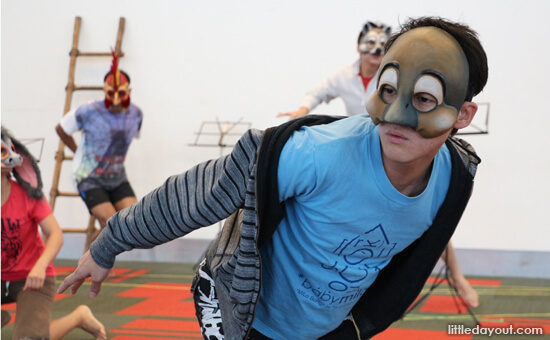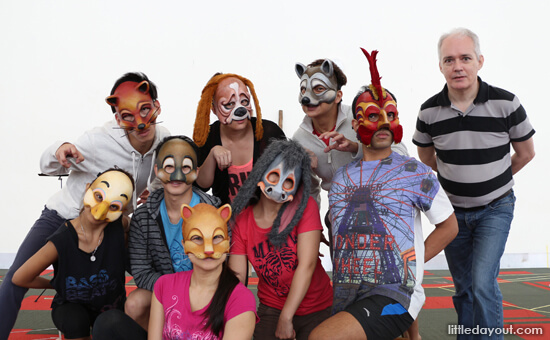 Get Grimm's Fairy Tales Activity Sheets and More
Get a set of printable activity sheets for Grimm's Fairy Tales and more at Little Day Out Shop.
About the "Behind The Scenes" Series
This special feature is part of Little Day Out's Behind-The-Scenes Aspects of Theatre Production series to help young and old understand more about theatre productions. Want to find out more? Click here for more Behind The Scenes feature stories.