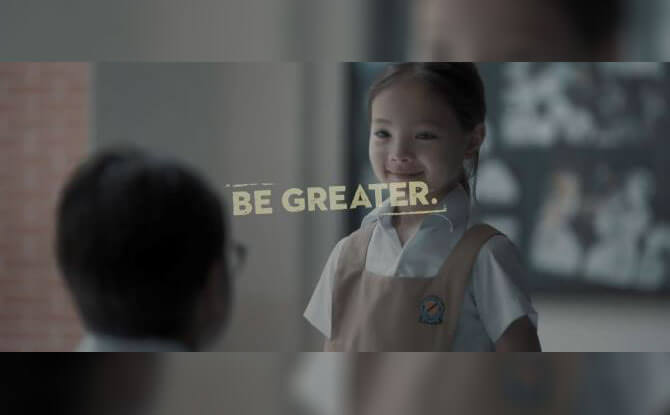 "What is greatness?" is the opening line from Singaporean filmmaker Kirsten Tan's one-minute video vignette for Singapore Kindness Movement's 2018 campaign, Be Greater.
What Does It Mean To Be Great
Launched on 3 July 2018, the Be Greater campaign, aims to get people thinking about individual and collective values and what it means to be "great".
The Be Greater television commercial (TVC) features various scenarios – a corporate office, a school environment and an Mixed Martial Arts (MMA) arena. In each of these, Kirsten Tan provides a cinematic look that challenges the viewer to think about the definition of greatness.
---
-- Story continues below --
"I guess when we think of greatness and great people we think of people who are powerful, successful, ambitious, people who are at the very top of the pyramid. Who at the drop of a word can say something and change society. But to us we're trying to refocus attention away from those very self-centered definitions," said Kirsten.
"What we're trying to say in this very TVC is that greatness is not what we do for ourselves but it can also be found in what we do for others. And in this TVC we draw attention to all the different small tiny little acts that often go unnoticed. But these acts are nonetheless wonderful and great acts because they happen in service for a larger humanity.
Leaving a Lasting Impact
"The Be Greater campaign aims to embolden society to be kind, unhindered by doubts or self-consciousness," said Dr William Wan, General Secretary of the Singapore Kindness Movement. "Kindness should become second nature, not limited to random acts. It should be sustainable, where one good deed begets another, fostering long term change."
The Be Greater commercial will be aired in cinemas and on television in the month of July 2018.
Individual Stories
In addition, to support the Singapore Kindness Movement's 2018 campaign, various individuals who exemplify what it means to be greater through their actions will also be featured in posters and through their own video stories.
Amanda Chong is a lawyer who co-founded ReadAble, reading programme that aims to improve literacy among children.
Bruce Loh is an MMA fighter and trainer who places sportsmanship above competition.
Ayuni Qiyanah is a student who takes care of younger ones in school.
Senthil Anathan is a civil servant who volunteers regularly with Lighting Hearts Lighting Homes.
Singapore Kindness Movement's Be Greater Campaign
"Everyday situations present opportunities to be kind and gracious in big and small ways, each a step to be greater. If the acts of a few can affect many, the collective acts of many would transform a nation," said Dr Wan.
Get more information of Singapore Kindness Movement's Be Greater campaign and upcoming activities here.