Has your child ever expressed a desire to be a radio DJ or a little news reporter? Want to give their presentation skills a boost or allow them to find out the secrets behind how reporters pull off such slick presentations on TV?
During the June school break, there is an opportunity for them to do exactly that with holiday courses from Singapore Media Academy.
With a wide range of courses for children as young as four years old, Singapore Media Academy's programmes are designed to bring out your child's creativity through hands-on, experiential learning.
As an enterprise of MediaCorp, Singapore Media Academy draws on the broadcaster's industry experience for its programmes. Some courses even make use of media production studios and incorporate 'tips' from professionals on how to make better presentations or to write better.
Junior Radio Academy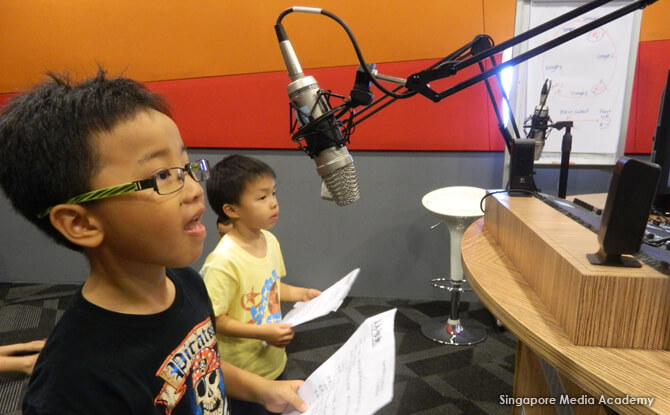 The Junior Radio Academy course allows children to experience what it is like producing a radio show. It inculcates writing and planning skills, develops interviewing techniques and provides the opportunity for kids to improve their vocal expressions. Participants even get a chance to plan and produce their own radio segment in the studio.
Little Reporters
Ready to anchor the news desk? With Little Reporters, children get an introduction to news reporting, writing news scripts and even have a chance to present in front of a camera. Children get to make a recording within the Academy's production studio that showcases their work.
Junior Writers Toolbox
Is your child an aspiring novelist? He or she can take part in Junior Writers Toolbox to learn how authors write to grab the readers' attention, spice up the story's narrative and edit their words to make the story even tighter.
The Secret of Writing Humour
Designed for kids between 10 to 14 years old, learn what plot twists and cliffhanging devices can be used to create an engaging story and what creative devices can be used to make a story humorous. Participants will get to conduct a dramatised reading of a story and learn about giving and receiving feedback.
Kidz Talkin' Explorers
Developed to help four- to eight-year-olds build their self-esteem and communicate their ideas more confidently, Kidz Talkin' Explorers is a workshop that encourages young children to exercise their imagination by being creative with popular children's stories. It will end with a show-and-tell session on the last day of the workshop.
Fun with Mandarin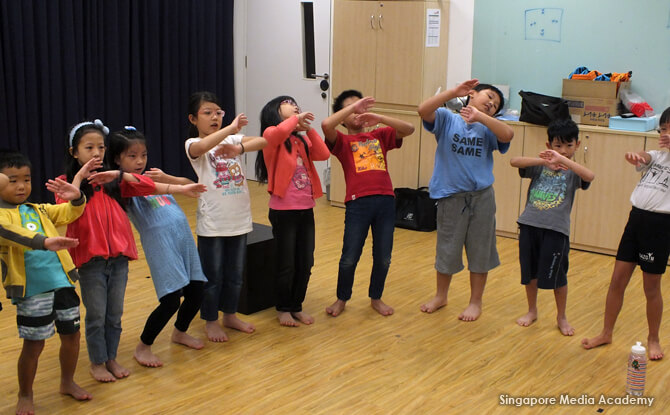 Incorporating impromptu performances, tongue twisters, acting exercises and art appreciation, thisthree-day workshop encourages interaction among participants. By engaging in various activities together, they get to build up their teamwork skills and confidence in using the Chinese language.
3D Painting
Let your child discover the world of 3D characters. Using professional software, Cinema 4D, they will learn how to colour and add texture to their favourite characters through 3D painting.
Bubbling Talents Starters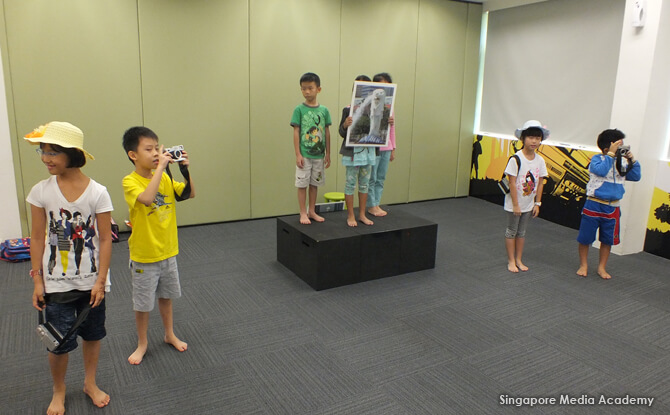 Think your child is a star in the making? Uncover their hidden talents at the Bubbling Talents Starters workshop. Kids get to pick up basic acting skills through theatre games and impromptu acting, allowing them to learn how to express themselves better and improve communication skills. There will be a performance by participants on the last day of the workshop.
| | | | | | | | |
| --- | --- | --- | --- | --- | --- | --- | --- |
| Course Title | Junior Radio Academy | Little Reporters | Junior Writers Toolbox | The Secret of Writing Humour | Kidz Talkin' Explorers | Fun with Mandarin | Bubbling Talents Starters |
| Age Group | 9 to 12 years old | 9 to 12 years old | 9 to 12 years old | 10 to 14 years old | 4 to 8 years old | 7 to 12 years old | 6 to 12 years old |
| Dates | 11 to 12 June | 8 to 10 June | 15 to 17 June | 18 June | 3 to 5 June | 17 to 19 Jun | 3 to 5 June |
For more information on the course fees, dates and times, and to register, visit the Singapore Media Academy website.
Singapore Media Academy
6435 6000
ask@MediaAcademy.sg
This article is sponsored by Singapore Media Academy.