From 4 September to 31 October 2020, experience on a theatrical "underwater" dining experience, Aqua Gastronomy, at S.E.A. Aquarium's iconic Open Ocean Habitat.
---
"Underwater" Fine Dining Experience
Aqua Gastronomy is a new dining concept which provides guests with a fine dining experience against the backdrop of magnificent sea creatures. Adding to the theatrical experience are dynamic lighting effects, an atmospheric soundscape and special underwater performances.
Aqua Gastronomy's four-course, ocean-themed menu has been specially designed by Chef de Cuisine Marvas Huang of Ocean Restaurant and Chef de Cuisine Tony Choo of Forest森.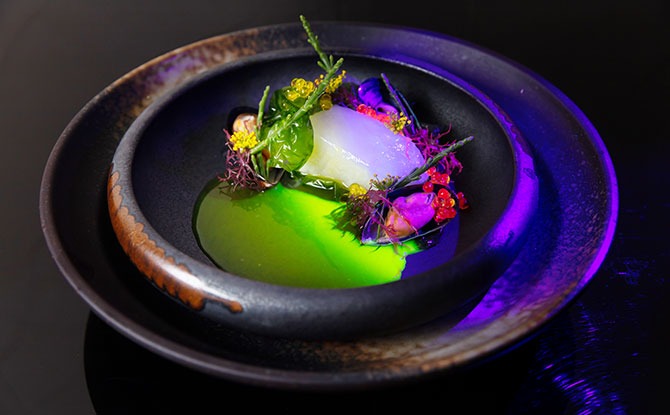 The dinner pays homage to the treasures of the Deep Blue with poetically named courses like Misty Morning Sea, Ocean's Reflections, Shining Seas and Treasures of the Ocean. These make use of 100% sustainably-sourced seafood.
Each course at Aqua Gastronomy is served accompanied by rich theatrics and effects to heighten the sense of taste, sight, smell and sound.
---
Intimate Dining Space in a Pod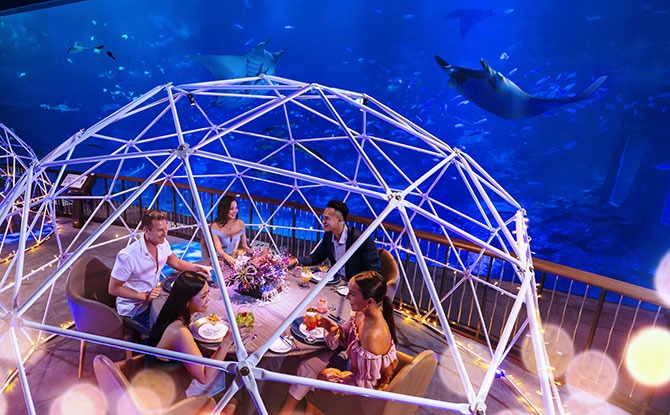 Diners will be enjoying their food in an intimate space created by an elegant, theatrical molecular-inspired frame.
There will only be eight pods available and they will be spread out more than 1.5 metres apart from each other to enable safe distancing. Find out more about safety management measures at Resorts World Sentosa and S.E.A Aquarium here.
---
Aqua Gastronomy, A New Experience at S.E.A. Aquarium
The Aqua Gastronomy experience will be held after the S.E.A. Aquarium's public visiting hours on Fridays to Tuesdays, 4 September to 31 October 2020.
There will only be one sitting from 7 pm to 9 pm per evening and each sitting can accommodate up to a maximum of 50 guests.
The price of the four-course menu is $118++ with exclusive rates for RWS members. Children above 10 years old are welcomed.
Get more details here.
---
MORE GREAT READS