Resorts World Sentosa and its attractions have always been destinations where families can spend a day of fun together and leave with unforgettable memories. Now, in Phase 2 of the post-Circuit Breaker period, Resorts World Sentosa is once again welcoming back guests with measures in place to keep them safe and healthy.
Universal Studios Singapore and S.E.A. Aquarium were amongst the first attractions in Singapore to attain the SG Clean accreditation* and resume operations. Four hotels at Resorts World Sentosa have also reopened, welcoming guests back for staycations.
We recently paid a visit to Resorts World Sentosa Singapore, including Universal Studios Singapore and S.E.A. Aquarium, and have put together five essential tips and things to know before paying it a visit in Phase 2.
---
1. Revised Universal Studios Singapore Operating Hours (And How to Get In Early)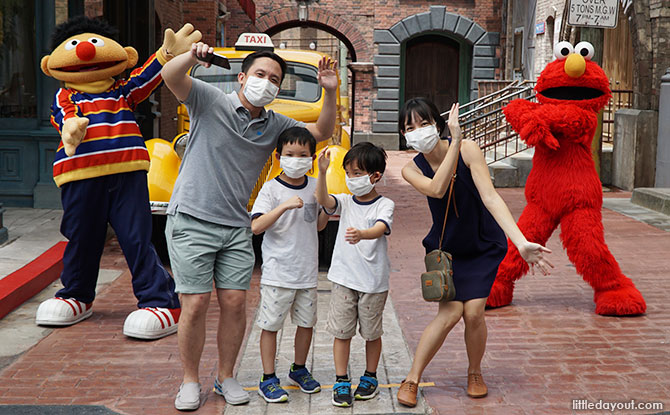 ---
-- Story continues below --
For Phase 2: Safe Reopening, Universal Studios Singapore has revised its opening hours to Thursdays to Sundays, 2 pm to 9 pm.
Sales of tickets are available onsite and via the Resorts World Sentosa ticketing page. To ensure your safety, a reservation is required before you visit.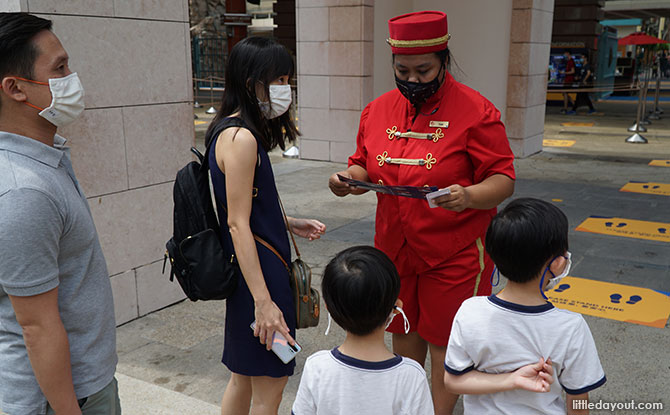 At the Universal Studios Singapore entrance, guests need to check-in with the SafeEntry code. Face masks are mandatory too.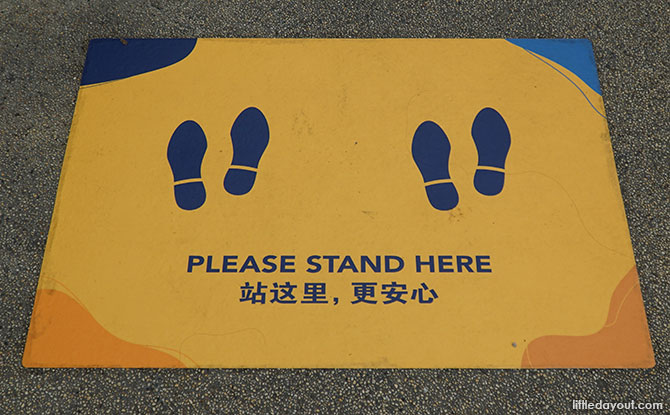 Safe distancing markers on the floor clearly show where to stand while in the queue to enter the park.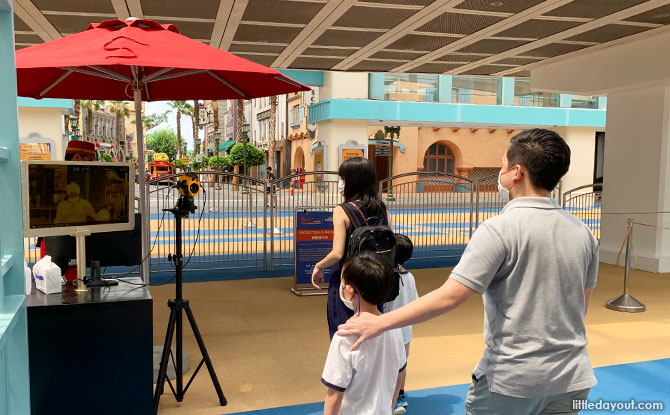 Everyone entering the park needs to undergo a temperature check. However, this process is a breeze – thanks to high-tech thermal scanners.
Here's a tip, even though the park officially opens at 2 pm, you can enter earlier with either an add-on Priority Entry Special ($9) or Adult One-day Ticket ($59). With these tickets, you can enter the park between 12 pm and 2 pm and there are perks for doing so.
While the rides and attractions only start operating at 2 pm, you can enjoy the park with fewer people around. Plus, it is an ideal time to fuel up at one of the park's themed restaurants.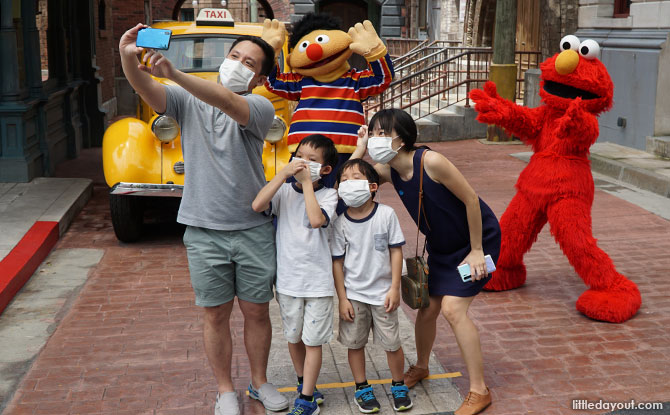 Special meet-and-greet sessions are also held between 12 pm to 2 pm. You can pose (at a safe distance) with your favourite characters such as Sesame Street's Elmo and Ernie, or with Gru and the Minions.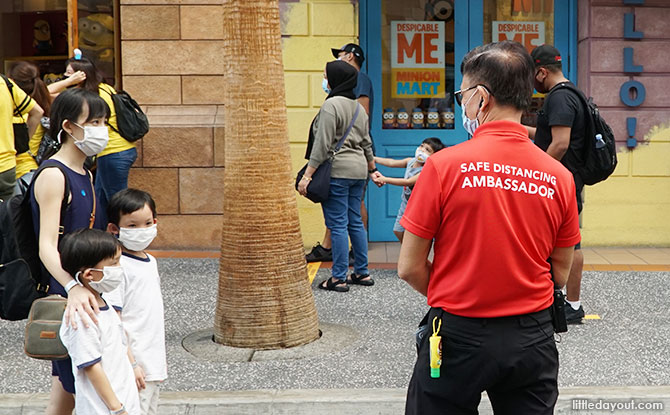 Safe Distancing Ambassadors are stationed throughout the park to remind everyone to keep at least one-metre apart from each other, even when queuing for the meet-and-greets.
---
2. Enjoying Rides and Attractions Safely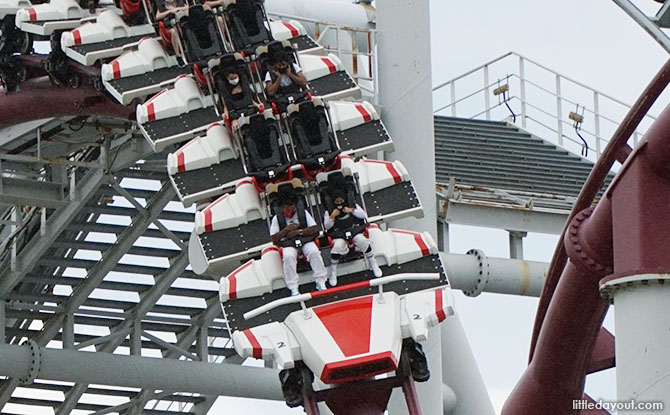 Hurray! The rides at Universal Studios Singapore are rolling again!
Whether your favourite experience is the kid-friendly Sesame Street Spaghetti Space Chase or the adrenaline-inducing Battlestar Galactica: HUMAN vs. CYLON™, you can get your fix of fun at Universal Studios Singapore.
Only Magic Potion Spin and Amber Rock Climb have yet to open. Street entertainment and shows are also on hold during this period of Safe Reopening.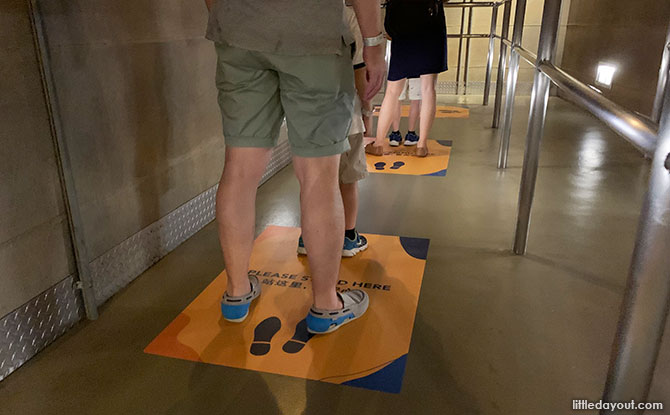 Queues at each ride have clearly marked standing areas. These guide guests on where to stand to maintain a safe distance apart from others.
Ride vehicles are meticulously wiped down after each use.
Safe distancing even applies while on the rides. Guests are seated on alternate rows with an empty row between groups. Masks must be worn on at all times.
At popular rides, like Jurassic Park Rapids Adventure™, guests also get to enjoy the convenience of a reserved ride time with a virtual queuing system. This minimises the need for guests to wait in line.
---
3. Dining At Universal Studios Singapore
If you are feeling hungry, a variety of restaurants and dining outlets at Universal Studios Singapore are open for both lunch and dinner.
Pull up at Mel's Drive-In or grab a bite at Goldilocks or Loui's NY Pizza Parlour.
Greeting every guest at the door is a Safe Distancing Ambassador who reminds guests to check in via SafeEntry before entering the restaurant.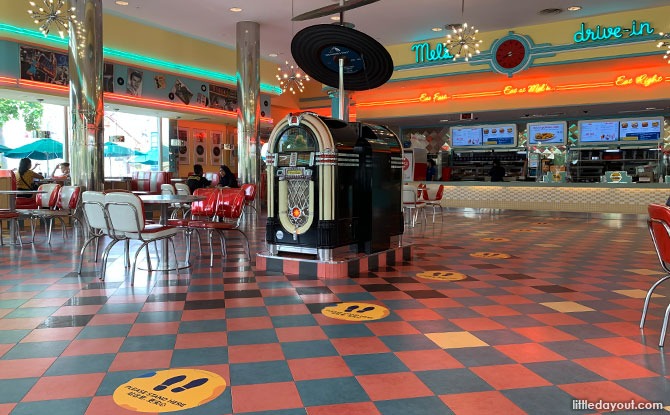 Tables are spaced out, at least one-metre apart, so that guests can dine safely.
Scanning a QR code on the table brings up the menu. You can leisurely look it at the table and decide on what to get before joining the queue to order the food.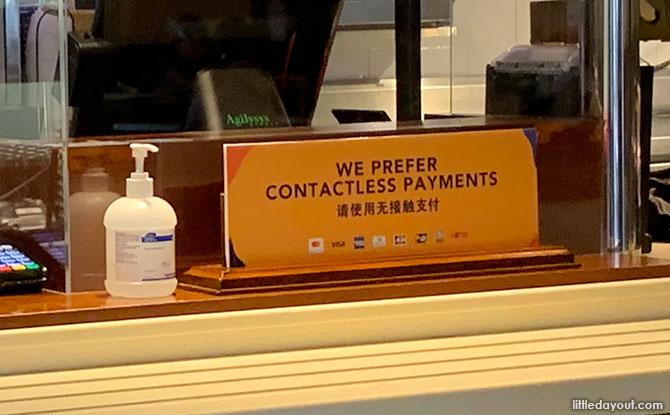 Cashless payment is preferred, so there is no need to handle cash. Hand sanitisers are also conveniently found at the counters.
All this means that guests can tuck in the yummy food at the park with glee.
---
4. A New Tour & Safety Measures at S.E.A. Aquarium
S.E.A. Aquarium has also reopened and it is operating from Saturday to Tuesday, 10 am to 5 pm. It is great to be able to say hello to the 100,000 marine animals, including vibrant reef fishes and graceful sharks, once again.
S.E.A. Aquarium admission tickets need to be booked in advance of your visit.
Before entering S.E.A. Aquarium, temperature checks are carried out using a thermal imaging camera and guests need to check in using SafeEntry.
With everyone looking forward to viewing their favourite aquatic animals, S.E.A. Aquarium has come up with a simple yet ingenious way to avoid overcrowding at the exhibits.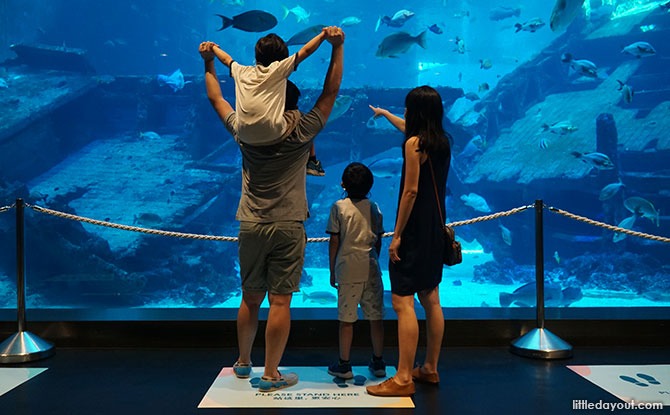 Floor markers designate viewing spots in front of the tanks. These have been spaced out so that everyone can keep a safe distance away from each other while enjoying the colourful, swimming fishes.
Friendly Safe Distancing Ambassadors are also on hand to remind groups to keep a safe distance away from each other.
Signs (which also feature informative marine facts) remind groups to stay one metre apart.
S.E.A. Aquarium has also stepped up cleaning of high-touch areas around the attraction. Surfaces, such as the glass panels of tanks, have been covered with a Quantum-Ion anti-microbial coating for the health and safety of guests.
All this cleaning keeps the tanks sparkling clean, perfect for taking a wefie with the fishes.
---
5. Hotel Rooms Are Cleaned and Sealed for a Restful Staycation Experience
With overseas travel out of the question at the moment, we could all do with a staycation.
At Resorts World Sentosa, guests are spoilt for choice with four unique hotels to choose from: Hotel Michael™, Equarius Hotel™, Crockfords Tower and Beach Villas™ (including Ocean Suites and TreeTop Lofts™).
In order to provide peace of mind to hotel guests, Resorts World Sentosa has implemented stringent measures to maintain the highest standards of hygiene and cleanliness.
Each room undergoes a rigorous three-step cleaning process. This begins with the use of an electrostatic spray to eliminate 99% of bacteria and viruses and is followed by the deep cleaning of touch points like door handles and switches using a hospital-grade disinfectant. Finally, the room is treated with a disinfectant spray mist.
Air purity is also enhanced by 600 air ionisers installed resort-wide which generate virus-killing ions, HEPA (High-Efficiency Particulate Air) filters which trap 95% of particles as small as 0.3 microns and UV-C treatment which kills viruses passing through its light rays.
Once cleaned, the room is sealed to await the guest's arrival.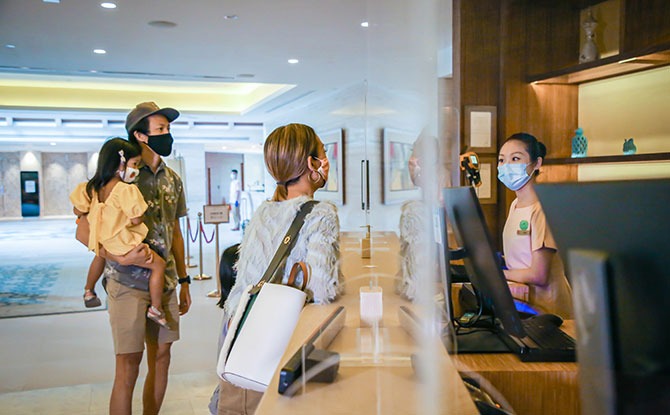 At the hotel lobby, check-in times are staggered to spread out the arrival of guests. In addition to temperature checks, hand sanitisers are also readily available for all.
Room key cards are stored in an UV sanitiser before being issued and guests' luggage also gets sanitised before being sent to the room.
Among the room amenities for guests is a safety pack with face masks, alcohol wipes and hand sanitiser.
To welcome back guests to the island getaway resort, Resorts World Sentosa has a variety of fun staycation packages available.
The Indulgent WONDER package (from $328) includes a stay at either Equarius Hotel™ or Hotel Michael™ and comes with breakfast for two, dining credits and two S.E.A. Aquarium tickets.
Or guests can opt for the Indulgent FUN package (from $398) for a stay at either Equarius Hotel™ or Hotel Michael™, breakfast for two, dining credits and two Universal Studios Singapore tickets.
Nowhere else in Singapore can you have a relaxing resort staycation with world-class attractions at your doorstep.
If you really want to pamper yourself, choose the Indulgent LUXURY staycation package (from $888). Spend a night at either the Equarius Hotel™ Suite or a one-bedroom villa at Beach Villas™ with its own private timber sundeck. Top off the experience with a limousine transfer, bottle of premium wine, breakfast for two and dining credits that you can use at the One-Michelin starred table65.
Get more details of Resorts World Sentosa's staycation packages. Mastercard Cardholders enjoy additional savings from $60, until 16 August or whilst stocks last.
---
Enjoy A Fun & Safe Day Out at Resorts World Sentosa
As we adjust to life in Phase 2: Safe Reopening, it is nice to know that we can still have fun and a million wonderful moments at Resorts World Sentosa.
Much thought and many precautions have been taken to ensure guests have a safe and enjoyable experience at Resorts World Sentosa. The SG Clean mark provides further assurance of the measures which are in place.
Whether you are looking for an unforgettable way to celebrate a special occasion or simply want to give your family and loved ones a treat, make plans for a fun and safe day out at Resorts World Sentosa.
---
August 2020 Promotion – Free Exclusive LiHO TEA
From 1 to 31 August 2020, use Mastercard to purchase a Universal Studios Singapore adult one-day ticket at $59 or a S.E.A. Aquarium adult one-day ticket at $29 and redeem a Resorts World Sentosa-exclusive LiHO TEA flavour – Singapore Swirl or Singapore Tea Sling. Book and visit by 31 August 2020 to enjoy this special August promotion. Get more details here.
This feature is brought to you by Resorts World Sentosa.
* As a SG Clean accredited organisation, Resorts World Sentosa (RWS) has implemented enhanced safe management measures to ensure guests and team members are protected every step of the visitor journey. Among the measures is an advanced reservation system where Annual or Season Passholders and guests with the following type of tickets are required to make reservation at https://sdm.rwsentosa.com prior to visiting the park.
Sesame Street ® and associated characters, trademarks and design elements are owned and licensed by Sesame Workshop. © 2020 Sesame Workshop. All rights reserved. Battlestar Galactica TM Universal Studios & © 2020 Universal Content Productions LLC. All rights reserved. TRANSFORMERS and its logo and all related characters are trademarks of Hasbro and are used with permission. © 2020 Hasbro. All Rights Reserved. © 2020 DreamWorks L.L.C. and Paramount Pictures Corporation. All Rights Reserved. Enchanted Airways © 2020 DreamWorks Animation L.L.C. All Rights Reserved. Universal elements and all related indicia TM & © 2020 Universal Studios. All Rights Reserved.