Being immersed in the arts not only stimulates creativity but also helps to build confidence and enhance the academic performance of children.
A study conducted by the University of Southern California's Brain and Creativity Institute found that music education accelerates young children's brain development, particularly in the areas associated with language acquisition and reading skills.
With three arts enrichment options under one roof at Wisteria Mall, kids are well-poised to benefit from exposure to the arts.
From learning traditional performance arts at ANASFA, to developing a compassionate spirit through dance at The Academy of Dance, and embarking on a musical journey with two certified routes to choose from at Cristofori Music School, these young ones will find their time well-spent at Wisteria Mall.
---
-- Story continues below --
We had a chat with representatives from these arts establishments to find out why kids love them so much.
---
ANASFA – Making Traditional Arts Accessible to Everyone
With violins of varying sizes, tablas and a Saraswati veena displayed at its entrance, ANASFA is a curious sight to passers-by at Wisteria Mall.
ANASFA teaches Indian traditional arts such as Bharatanatyam, a classical South Indian dance, Carnatic vocal, and tabla, a North Indian percussion instrument. As Indian fine arts schools are not usually located in high footfall areas like malls, people are generally not familiar with the setup.
Hoping to make these traditional art forms more accessible, Founder and CEO Kalai Selvan set up his newest branch at Wisteria Mall six months ago.
Unique Teaching Methodology Loved by Students and their Parents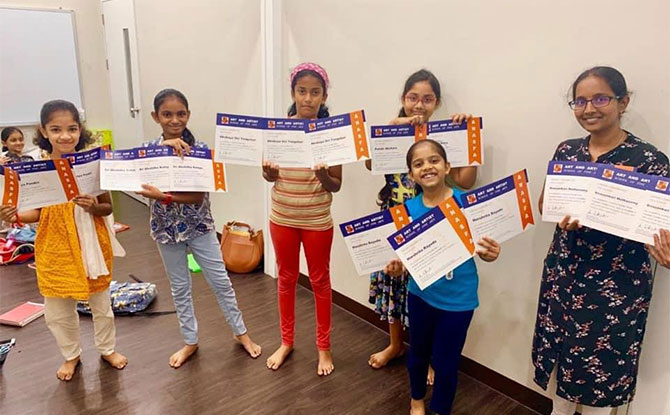 Kalai is no stranger to change. Fifteen years ago, he started ANASFA because he saw a need to breathe new life into the way Indian classical arts are taught.
Traditional training relies on frequent and long hours of practising to develop muscle memory. However, today's children simply do not have the time to learn this way.
"I started mixing cognitive skills with the traditional form of learning," Kalai recalled. Using his methodology, he shared, students could "get the muscle memory in a quicker way", effectively shortening the learning time.
It took a few years for this new methodology to take off, but in the end, both the students and their parents were won over.
Small Classes and Cutting-edge Technology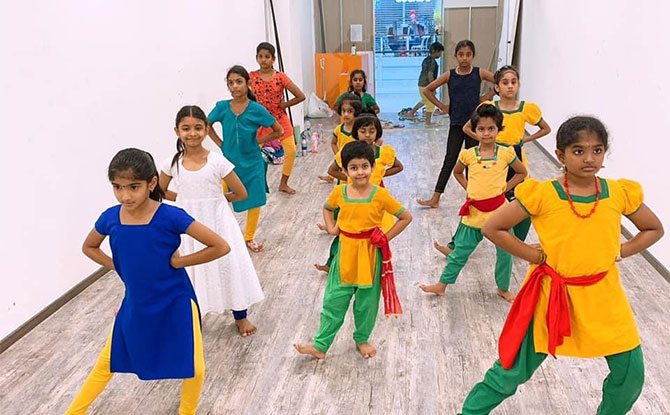 At ANASFA, classes are kept small, with a student-teacher ratio of 6 to 8 : 1. The teachers are well-qualified, possessing at least a Bachelor's degree, although some are Master Degree- and PhD-holders.
To enable parents to keep track of their children's progress, the school uses an application to communicate with parents, sharing detailed information on what students have learnt.
Videos are also taken at every lesson so that students can watch their own performances and learn from their mistakes.
Performance Opportunities for Every Student
When asked how the school makes classical arts interesting for children, Kalai replied, "This generation of kids… need a much better way of learning things. So, we give them more platform to perform."
The school includes everyone in their performances, even the beginners.
"The traction comes in when they perform. There's a value for what they learn, so they love to do that," Kalai added.
Students also take part in various competitions to put their skills to the test.
These performance opportunities have helped to boost students' confidence dramatically, not just in Indian classical arts, but in all areas of their lives.
---
Cristofori Music School – Embracing All-rounded Musical Development
A household name in music education in Singapore, Cristofori Music School has had an outlet at Wisteria Mall since the latter's inception in 2018.
Chatting with Business Education and Operations Manager Wang Wen Han and Business Development Manager Eunice Tan, we were impressed by the programmes that the school has put in place to develop its students holistically.
Two Routes of Certification for Students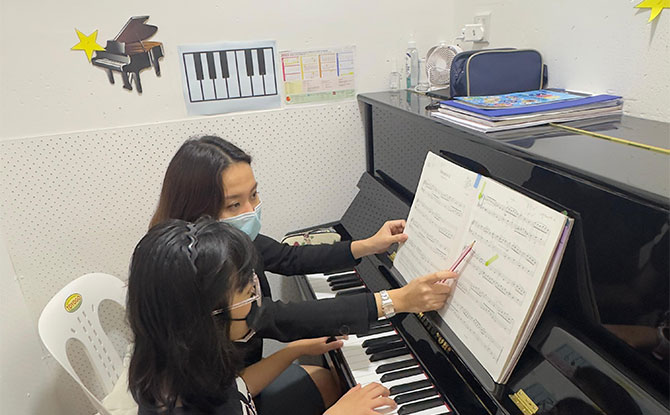 Children have traditionally taken the classical approach in their music learning journey, obtaining certifications from the Associated Board of the Royal Schools of Music (ABRSM).
At Cristofori Music School, however, students have the option to take the contemporary route too, in which case they will be earning internationally recognised qualifications from Rockschool, a UK-based examination board.
"We follow the latest trend," Eunice said of the school's decision to offer two education routes. "We don't want to train music robots. We want students to be more creative, so we provide different types of syllabus."
Programmes Beyond the Classroom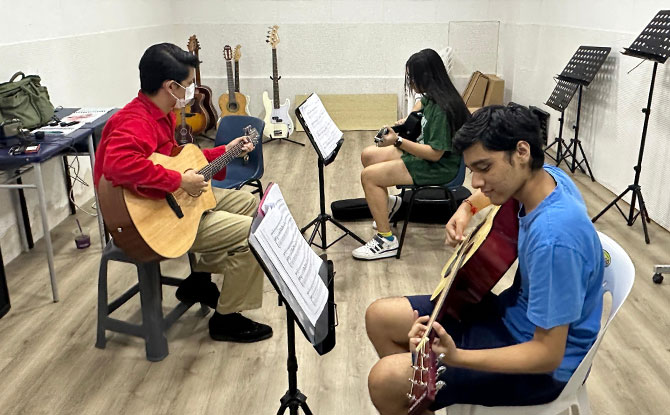 While examinations are an important gauge of students' progress, the school looks into the overall musical development of each child by offering out-of-the-classroom learning opportunities.
It hopes to build up the confidence level of students and motivate them towards excellence through recitals.
"Every year, we have at least 500 recitals," Eunice informed. These are held at 10 venues across the island and are open for all students to participate in – even those who have just started learning.
The school also encourages students to be exposed to classical music by attending concerts featuring international artistes.
"We take the initiative to organise classical music concerts, and then we ask teachers to bring students," Eunice shared, adding that students are offered discounted tickets at prices as low as $15.
Students who wish to challenge themselves at a higher level can take part in competitions organised by Cristofori in collaboration with industry partners. The Kayserburg International Youth Piano Competition, for example, sees competitors from all over the world and holds its finals in China.
Free Piano Rental for Students
While practice makes perfect, not everyone owns a piano at home. Parents may not be confident of their kids lasting the learning journey, or they could need more time to save up to buy a piano.
To ensure that these students have the means to practise between lessons, Cristofori Music School offers free piano rental to them, as long as they make an advanced school fee payment for a minimum of four terms.
After all, like Eunice said, "Music is for everyone."
---
The Academy of Dance – Moving to the Beat of Confidence and Compassion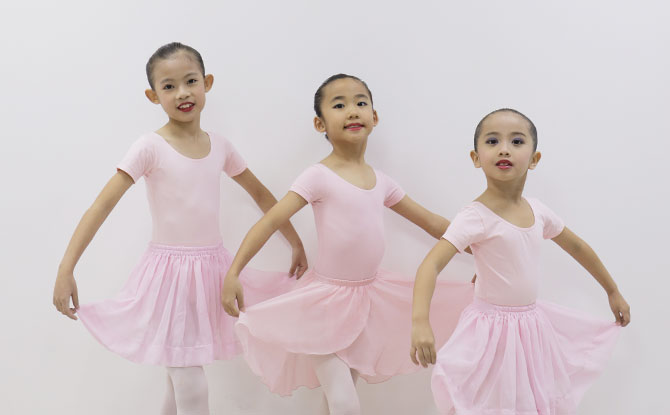 Arriving at The Academy of Dance (TAD), we saw little children in pink tutus making their way excitedly to the studio for their ballet lesson. One of them ran towards their teacher and hugged her affectionately before proceeding to class.
It was evident that kids enjoy their time at TAD.
Making Dance Classes Fun for Children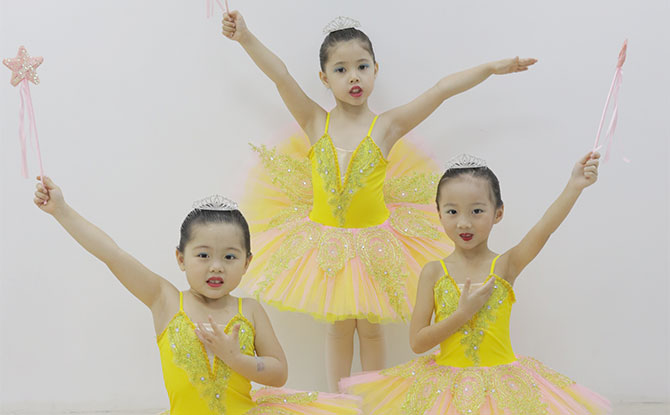 Classes start for children as young as 3 years old. The Baby Gems programme is unique to TAD and is created by the school's principal to introduce 3- and 4-year-olds to dance fundamentals in a fun way – by choreographing age-appropriate exercises and dance moves to nursery rhymes and Disney pieces.
Using the children's song Head, Shoulders, Knees and Toes as an example, Senior Teacher Tan Jia Jia shared about how it has been made into a dance for these little ones, with "a turn and a tippy toe" added in-between.
"Or sometimes, we have a Cinderella dance," she added, "so they pretend to wear high-heeled shoes and… walk around."
For kids who have graduated to the syllabus programme, the school keeps lessons interesting by including a variety of dance forms in its curriculum. Fun dance challenges at the end of their lessons also keep them happily on their toes.
Giving Students Multiple Opportunities to Perform
As the school believes that performances are essential in a dancer's journey, it provides many opportunities for students to participate in events such as concerts, overseas dance exchanges and competitions.
This year, more than 200 students had a good experience taking part in the Chingay Parade held at the F1 Pit Building.
The school also fields dancers in the Get the Beat dance competition and CSTD Singapore Regional Competition annually, with much success to show for it.
Such exposure has enabled students to grow in confidence while deepening their passion for dance.
Using Dance for Good
Beyond teaching students to be better dancers, TAD hopes to challenge them to be better people.
The school makes regular visits to Cerebral Palsy Alliance Singapore and performs for mentally challenged residents at Pelangi Village to spread love through dance. It also organises mission trips to bless the less privileged overseas.
This May, a group of students and teachers, led by the principal, travelled to Cambodia to teach dance to children at schools and orphanages in Phnom Penh and Battambang.
"The main focus is to… give them some exposure to dance (and) bring some joy," Jia Jia shared. "The amazing thing is: they don't speak English, we don't speak Khmer. But everybody interacts."
Dance is indeed a universal language of love.
---
WisKids at Wisteria Mall
ANASFA, Cristofori Music School and The Academy of Dance are part of WisKids, Wisteria Mall's sub-brand that supports the all-rounded development of children through a well-curated range of enrichment and learning centres located at the mall.
Find out more about ANASFA, Cristofori Music School and The Academy of Dance.
This feature is brought to you by Wisteria Mall.