What better to get the March holidays started than with tea in Wonderland? My 8-year-old and 10-year-old were gamed enough to accept the Mad Hatter's invitation to Alice's Topsy Turvy Tea Party at Esplanade – Theatres on the Bay, part of the March On children's festival and plunged in!
---
Down The Rabbit Hole
Upon entry, we were greeted by a mysterious dreamscape – a sparkling tunnel-like corridor of luminous balloons and iridescent bubbles – with a video screening of Alice (Yarra Ileto) on her own, reading her book and going about her daily chores in Singapore.
Just around the corner, we entered a fairy tale forest glade, draped with rippling leafy branches and twinkling fairy lights. Coloured picnic boards were laid out, each complete with a cloth basket of party stuff ready for a magical tea affair.
All picnic-goers were warmly welcomed by the voiceover of the Cheshire Cat who appears and disappears occasionally on-screen.
---
Time for A Mad Tea Party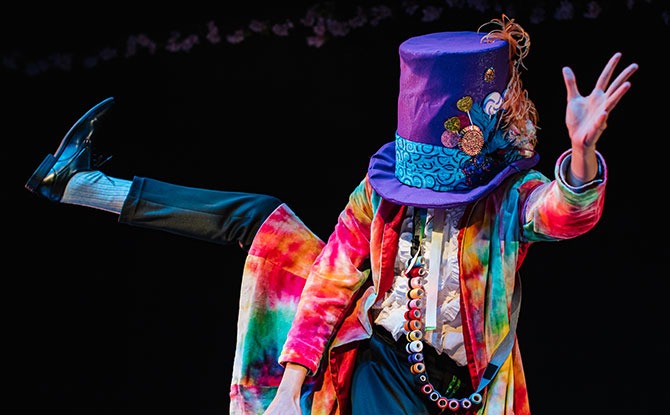 A lonely Mad Hatter (Marcus Foo), garbed in his rainbow coat and top hat, lolled about before the audience was introduced to the White Rabbit (Zhuo Zihao). They are joined by Alice who pops up to the delight of the picnic-goers after curiously following the White Rabbit down the rabbit hole.
The clever duo sequences shone – whether it was the tug of wills through the gleeful play of teaware and fluid spinning circles between Alice and the Mad Hatter, building their gradual friendship, or the latter and the White Rabbit wiggling and weaving movements in sync into the table-turned-box to cheer Alice up together.
There were spots of interaction with the audience, who were invited to learn the unique movement styles of the three characters. Each audience member also came up with their own movement or gesture to symbolise their own personality.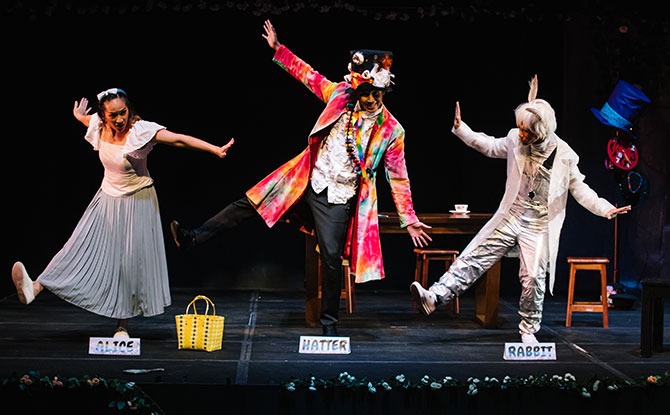 Another highlight was a high-energy all-out dance party with shiny rainbow streamers, mimicking tea-pots or just romping around the space in twists or turns, within each safely distanced picnic mat of course.
Live music by a trio of musicians, playing like a tight deck of cards, helped to create that sense of spontaneity and lyrical emotion. They were tuned in to the skilful play amongst the trio, coupled with little audience members happily responding back, overall added to the feeling of Wonderland coming to life. There was plenty of waving hands and rattling of tea cups at this party!
Alas, usually when one is having loads of fun, "round goes the clock in a twinkling!" One can beat to time but as the White Rabbit looks sadly at his giant watch, it is time to go!
---
Wonderland or Waking
Where does one belong? In a place or where someone you value is there with you? What if one never ever wishes to leave Wonderland where it is always tea time?
Beyond the colourful showcase, the cast engaged the children and their families to discuss and respond to Alice's dilemma imaginatively. Look out for the surprise ending(s) of the show based on the different choices the audience makes.
We left Alice's Topsy Turvy Tea Party thinking it was lovely to have been a part of Wonderland and were reminded of the simple joys of friendship but how one ultimately has to dance to the beat of Time.
Sometimes, when asked riddles with no answers, it would be wise to ask as Alice did in Lewis Carroll's tale, "What happens when you come to the beginning again?"
The kids also penned their notecards (in the picnic basket) for the trio. Goodbye Alice, Mad Hatter and White Rabbit! It has been a pleasure and we enjoyed your lovely tea party, and would not mind circling back to Wonderland!
---
Alice's Topsy Turvy Tea Party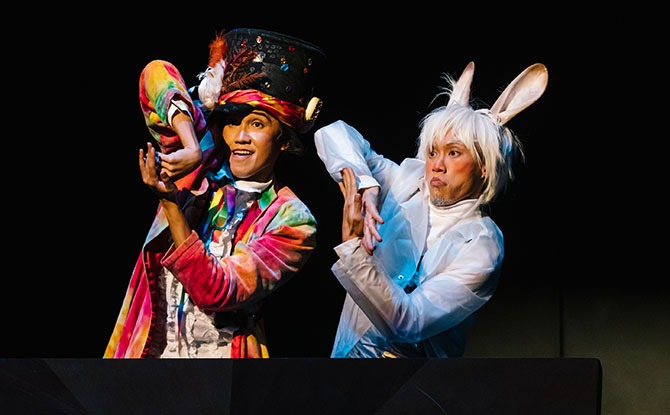 Alice's Topsy Turvy Tea Party is created by Melissa Quek with The Kueh Tutus www.thekuehtutus.com, a collective that creates dance performances and experiences which unlock the imagination of all ages. This interactive dance theatrical piece was designed for children aged 4 to 9 years old and their families.
Be prepared to remove your shoes to sit on the picnic board and bring along socks just in case it gets chilly inside the glade!
Find out more about March On children's festival and Alice's Topsy Turvy Tea Party.