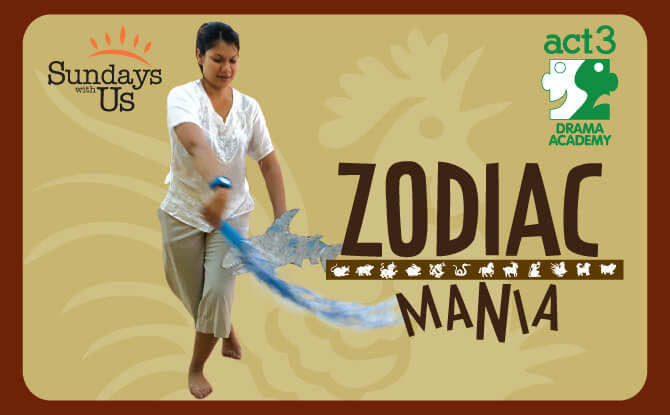 "We like creating interesting, fun and memorable experiences for children. Theatre feeds into the desire to know, to learn to discover, and our show-n-work approach will have children not just watching as audience but learning from doing as active participants.  You need to try it to find out how valuable it is an experience!" – Ruby Lim-Yang, Artistic Director, ACT 3 International
This February, discover the unique experience of watching a show that comes with a drama workshop with ACT 3 Drama Academy's Zodiac Mania, and see how that enables children to extend their imagining journey.
Best for ages 4 to 8, this Show-n-Work approach starts with a two-hander play of 30 minutes and is followed by a series of active participation activities for children to explore the narrative, themes and characters after they have experienced it all through the play. There's even a small craft making segment at the end.
The programme will begin with an interactive dramatisation of The Great Zodiac Animal Race, where children will learn the true story of how the Chinese Zodiac began with its 12 glorious animals. Based on the story, they will dramatise and have fun learning to use their whole body to become the different zodiac animals. They will then mimic the sounds the animals make, building it up to a rousing and tremendous zodiac soundscape. Then, coming back together in a line, they will create their version of a dragon dance. Finally, to end it all, the children will learn how to make their own red paper cuttings for good luck.
This is a drop-off programme for only 30 children.
Recommended for ages 4 to 8.
Price
$35 per child
Discount
10% if you register 2 children or more
Dates and Times
Sunday, 12 or 19 February, 2017
10:30 am to 11:45 am

Venue
ONE-TWO-SIX Cairnhill Arts Centre
Registration
Book online with credit card.