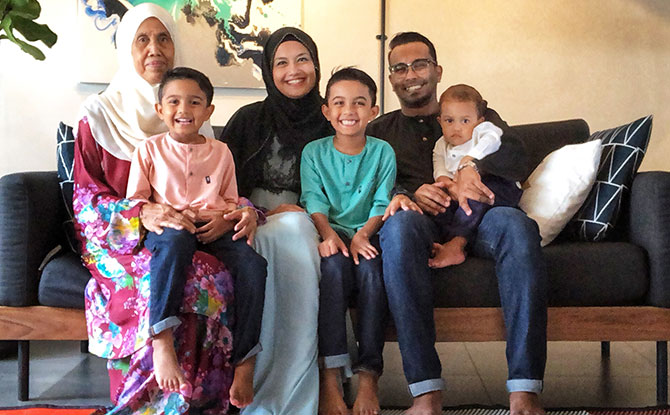 The pandemic has put a pause or scaled down celebratory events for some time. While this has dampened the spirits of many Muslims celebrating Hari Raya Adilfitri, they are continuing with different ways of remembering this significant festival. We speak to Sophina, mum to three boys and mom boss of The Meatery who shares how her family is celebrating Hari Raya in the midst of the current COVID-19 situation.
Sophina & Her Family
Sophina is a mother of three boys who also juggles her role with managing a gourmet halal butchery called The Meatery along Sunset Way. Her heritage is a mix of Eurasian and Javanese, while her husband is Indian. Hence, the family celebrates more than one festive occasion a year and the children are exposed to a variety of cultures and practices.
The biggest change this period is the inability to visit the mosque.
During Ramadhan, Muslim would perform a nightly prayer called the tarawih. While this prayer can be performed at home, nothing beats the experience of joining brothers and sisters in the same faith, uniting in the same goal.
This is something which Sophina and her family have had to forego this year.
Online bazaars are also quite different. The energy one gets from a bazaar, jostling with the crowd, soaking in the sights, smells and sounds simply cannot be replaced with an online experience she explained.
"I miss getting my fix of traditional kuehs like kueh lopes and sides like kebab as part of my break fast menu. It used to be as easy as visiting a coffee shop or bazaar and picking from a plethora of colourful kuehs that would appeal to all tastebuds," she said.
"To coordinate organising the varied tastebuds in the household, abiding with the various deadlines for pre-orders and managing the transactions and delivery cost from each vendor while juggling work and kids is impossible!"
Making Adjustments
With the Circuit Breaker, there's a lot of talk about businesses having to pivot but the reality is that it's also a huge undertaking for the consumers to rewire themselves.
While there may be a good percentage of businesses who have managed to pivot and launch their wares on cyber space, there are also those that are managed by older folks who are losing out.
"I wanted so badly to gift my mum a new piece of clothing to mark the end of Ramadhan but couldn't get to any of her favourite shops. I'm sad thinking about their fate."
In addition, Ramadhan used to be a time to catch up with different groups of people over iftar (break fast sessions). The company of family and friends in the home is much missed.
Making Adjustments at Home
However, the cloud always has a silver lining.
The circuit breaker has meant that the kids are at home for the period of Ramadhan. That's a huge relief for mums who worry if their children can cope with the physical stress of school and the weather and upkeeping their fast.
While she misses the opportunities for human interaction with loved ones, love finds a way. She has had several surprise deliveries bearing food from various family and friends which really speak volumes of their intent. This circuit breaker period has really helped her relook at the depth of her relationships with others.
The eased up social schedule also means more quality time focused on self-reflection and worship so she is able to get the most out of what this holy month has to offer.
"With the responsibility of worship now being in our hands, our family has formed a closer bond with our new routine of performing the terawih in congregation in our home. We also try to use the time to gain knowledge from the multitude of online lessons on the topic of the Quran."
Sophina also had more opportunities to try her hand at making some traditional recipes that would have otherwise been a simple purchase. In the process, there is more appreciation for the art involved.
Charity this year takes on more meaning: Ramadhan and acts of charity usually go hand-in hand and with the effects of the pandemic being so vast, everyone is bound to know someone affected by the impacts. Now, instead of just a obligatory donation, Sophina has made more effort to involve the kids in helping others through their actions.
Breaking Fast During Ramadhan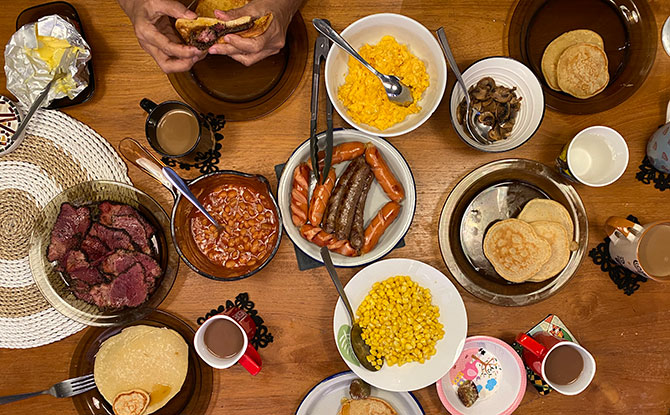 Muslims are encouraged to break fast with something sweet.
"The ladies in the household love to break our fast with a date, while the boys reach for a sweet snack like a kueh or a gulp of milo. Other than that, coffee is a MUST in the family! Some form of dessert to round up the meal always helps too," said Sophina.
Normally, Sophina's mother would cook a different special dish every day – Mee Bandung, Beef Hor Fun, Chicken Rice and Laksa. This time around, Sophina is contributing more to the menu so her mother can have her rest days but it feels like a good custom to upkeep to keep this month more special than the rest.
Go-tos for Groceries, Home-baked goodies, Comfort food
We asked Sophina what her go-tos are during this period when access to wet markets is restricted on certain days. This is her list:
Seafood: 9sseafood or The Fresh Label  or Kidslovr
Vegetable: Veggie Aunty. She is also eyeing Tada Fresh Market  because it has her favourite vegetable supplier – Chia's Vegetable Supply!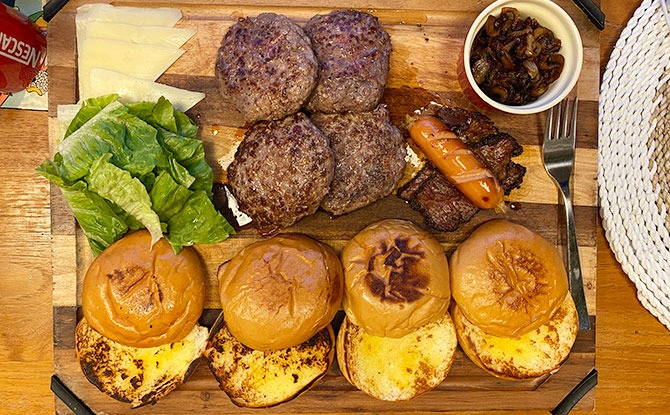 Meat: The Meatery of course!
Kids' Picks: kunafe for dessert from Awesome Sauce, kaya tart from Dapur Mother Mary
Desserts and Goodies: Fluff Bakery and Ratu Lemper
Head to HalalFoodHunt for more home-based brands and other establishments to support.
Communicating to Children on Themes of Being Thankful, Giving Back and Slowing Down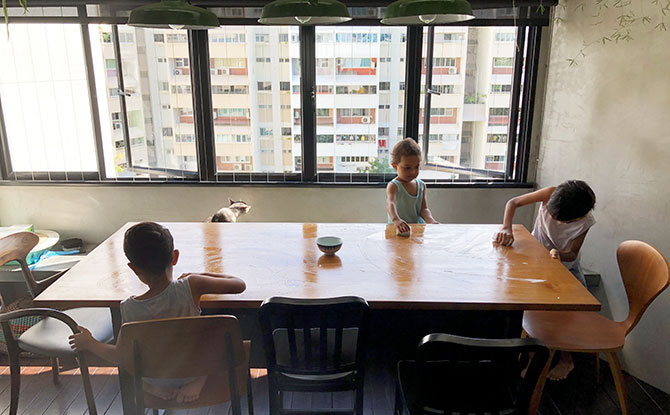 During this time at home, Sophina has added on the roles of therapist and negotiator to her other tongue-in-cheek titles of IT technician, Canteen Operator, Housekeeper and Personal Assistant.
While life at home has been busy, Sophina makes it a point to have intimate conversations with her children one on one, asking them how they feel, letting them know that it's ok to not feel ok, and to talk about it when that happens.
"Once, after much persuasion, I found out that my eldest just wanted to "do nothing all day but hang out in my room"
From there she has learnt that sometimes the best interest of parents to occupy them can be lost when we forget that they have mood swings too. She also learnt that it's important to enforce personal time for the kids to be with their own because being in such close proximity over an extended period can take its toll.
As and when, Sophina shares stories with her children of other families who may be going through a tough time, so that they are aware of what's happening in the news.
"It is important not to shield them from the realities of the world."
In the evenings, she also tries to ask them to think of at least three things they are thankful for to get them into the habit of staying positive.
She also encourages her children to get in the habit of asking "how can I help?" instead of being a bystander.
"The best way is to demonstrate this is through our own actions so they understand that help can mean many forms such as making a thoughtful greeting card and that their age and that financial status shouldn't be a deterrence," she said.
Celebrating Hari Raya during COVID-19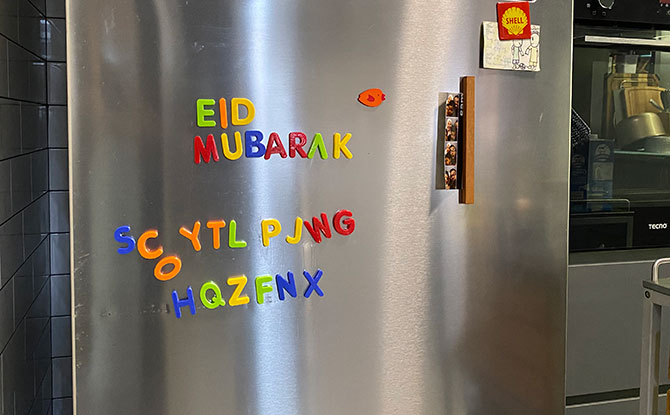 Even though there can't be community visits this year, Sophina's family will still have some of the customary aspects of the day such as dressing up, performing the obligatory Hari Raya prayers in the morning (instead of the mosque), baking some goodies and cooking the usual Raya dishes so there can be some form of normalcy.
She will also be having a Zoom hangout with the extended family to say "hi" to each other.
Top Tip to Fellow Parents with Disappointed Children: Bring the Experience Home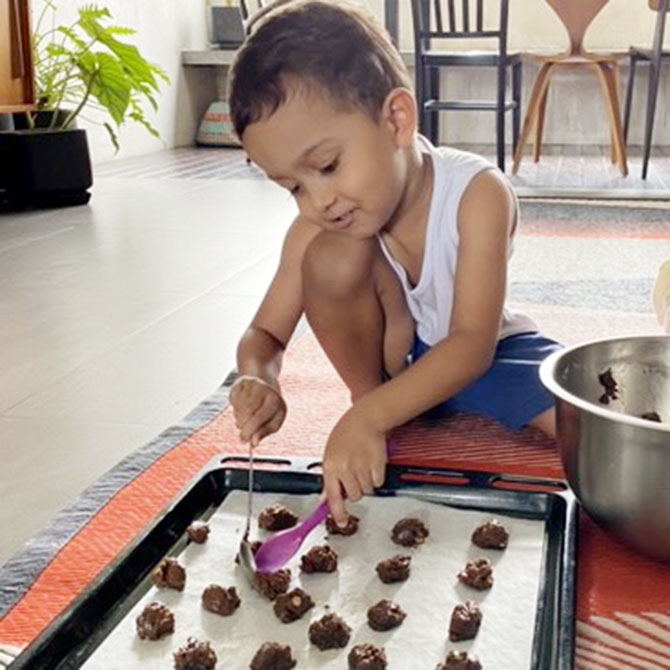 Sophina's best tip is for parents to let go and get the children involved! Whether it is in the menu, the décor, the outfits, etc,  when kids feel involved in the process, they feel more invested in it.
"It is far too easy to take the easy way out and treat it like a normal day but that's not how cultures are inculcated. We may not have the experience physically outside so we can bring the experience in or home."
The children have take charge of decorating the house with fairylights, made up signages, made easy cookies and cakes which lifted the spirits. One project also involved making their own greeting cards which will be sent out to recipients of their choosing.
A Mum's Reflections on the Ramadhan during COVID-19
Instead of frivolous spending over new clothes and matching accessories, Sophina is grateful for the opportunity to spend more on helping others through charity.
Instead of filling days with open houses, she is working on the deepening her relationships with those who matter with her time.
Instead of spending on home improvements for the sake of vanity, she is choosing to spend on mental wellbeing through more conscious self-care.
Instead of spending carelessly on too much food to fill a Raya buffet spread, she is choosing to spend more on quality on the people who matter and focus on their nourishment. Why waste calories on margarine when there is butter?
Celebrating Hari Raya with Family
Nothing can take the meaning out of the festival which means something bigger.
We are grateful to Sophina for sharing about the importance of the bigger things during this season. Likewise, we ought to be thankful for many blessings and privileges we have despite challenges we face.
Here's wishing all our Muslim readers Eid Mubarak!