Did you know that Sir Stamford Raffles preferred eating dugong to durian? And that there was once a "sea serpent" spotted on a ship off the straits of Malacca enroute to Singapore? Did you know there used to be a time when a pelican and a crab named "Queen of Sheba" would participate in the menagerie race tied to strings? While these sound like they belong to a bizarre book on Singapore facts, you can find out more at Lee Kong Chian Natural History Museum's (LKCNHM) exhibition 200: A Natural History.
Lee Kong Chian Natural History Museum's Exhibition 200: A Natural History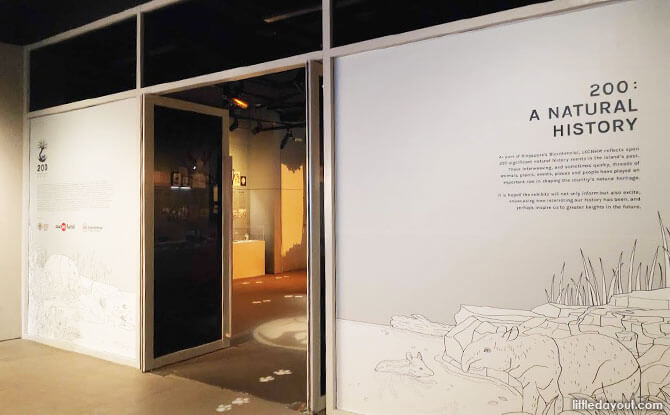 200: A Natural History is located on the mezzanine level of LKCNHM's public gallery. It is a temporary exhibition that ends its run in June 2020 and part of LKCNHM's commemorating of Singapore's bicentennial. 200 significant natural history events are remembered at the gallery. Animals, plants, events, places, people that have contributed to the shaping of our nation's natural heritage have been remembered in the form of interesting anecdotes, specimens and videos.
The gallery is categorised according to time periods and has a chronological display of signs, specimens, drawings and stories.
Interesting Finds at 200: A Natural History
A walk through the exhibition unveils events, discoveries and remembers contributors to Singapore's natural history from 1819 onwards. There were very quirky tales and strange anecdotes even of familiar historical figures in our past.
Guess what was the first recorded creature in Singapore in 1819? No not the Merlion, it was the Neptune cup – a sea sponge which can grow to over one metre in height or 50 metres in radius, and considered a giant of the seafloor. The Neptune's cup sponge seemed to be commonly found in Raffles' time and brought to them in great numbers.
Sir Stamford Raffles was documented praising the quality of dugong meat likening that of "most excellent beef" in his account dated 1820. You would see it in the glass display once you enter the gallery. If you are thinking of trying dugong meat, please don't. Dugongs are a critically endangered species in the "Red List of threatened animals of Singapore".
A sea serpent was even spotted at the Straits of Malacca when the ship SS Rangoon was sailing to Singapore. In October 1869, Edward Hamilton Pringle, an engineer of public works observed a serpent "speeding through a sea".
One of the most bizarre events held in Singapore was probably menagerie races held in the 19thcentury. Domestic animals from pelicans, pigs, turkeys to a crab named "Queen of Sheba" were tied to a string to race. The races ran annually and the last known race was taken in 1910, possibly when animal activists came in action to stop the bizarreness.
Animal Specimens, Skulls and Insects
The kids will be delighted to see the animal specimens, particularly those that they have never seen. For instance, the banded leaf monkey used to be common in our forests till civilisation drove them nearly extinct. We were able to see it preserved as specimens. Perhaps one day we will be able to spot them in the wild.
There were also various skulls showcased – that of rhinoceros, orangutan, different birds and other creatures. We also saw ant specimens like the Trapjaw ants, which we recently saw at the Ant Museum.
Honestly, we never knew there was so much biodiversity in Singapore. Hence, the records of the findings, passionate naturalists visiting Singapore just to study the flora and fauna as well as conservationists have truly uncovered so much of our heritage.
Fast Forward to Modern Day
Explorations continue to be held today with biodiversity surveys done near Singapore – in Christmas Island, off-shore reefs and on islands mostly inhabited by nature.
Did you know that our reefs also offer a good look at what the coastal environment was like years ago? Coral reefs are valuable historical archives, the core is extracted using a metal tube driven into the reef and exposes the core when taken out.
Teams in Singapore continue to run marine biodiversity surveys as well as explorations. Recent surveys of Christmas Island and nearby islands such as Pulau Semakau, Cyrene Reef and St John's Island are documented in videos screened at the gallery. It also gives a peek into how researchers find out more through excavating, searching and exploring the various habitats.
200 Points to Note in Singapore's Natural History
Want to encourage biophilia in the family, head down to the mini exhibition at Lee Kong Chian Natural History Museum. There are many interesting facts to uncover and specimens that leave you wide-eyed. Of course, the main exhibition at both levels is still the main draw for visitors. You can enjoy hours poring over the exhibits.