7-Eleven is launching an all-new and exclusive menu showcasing local Singaporean iconic dishes. The Dabao Flavours of Singapore menu is an exclusive collaboration with local brands featuring ten Singaporean delights!
---
Dabao Flavours of Singapore at 7-Eleven
Here's what we tried from the Dabao Flavours of Singapore menu.
Jiak Song Ban Mian ($5.00)
Masterchef finalist Aaron Wong's bowl of handmade noodles in a rich broth with ingredients like chicken, spinach, and egg, and topped with crispy fried anchovies. The flavour was nice and intense and we enjoyed the bits of chicken meat.
---
-- Story continues below --
---
Lao Chao Zhou Ghim Moh Mee Siam ($3.50)
This dish is made of soft, fine rice noodles mixed with an array of ingredients such as beancurd puffs, eggs, chives, chilli, and tiny shrimp. It had a nice hint of lime and the gravy had a nice intense flavour.
---
Killiney Traditional Laksa ($6.50)
Killiney Traditional Laksa features aromatic spices, thick vermicelli noodles, thickened coconut milk, earthy ingredients, and prawns. We personally felt that the noodles could have been cooked a bit more but we still enjoyed the flavour of the broth, finishing it up to the last drop.
---
Minang Ayam Belado with Nasi Kuning ($6.50)
Originally from West Sumatra, Indonesia, this dish featured chicken in a hot and spicy bumbu spice mixture served alongside Nasi Kuning. The chicken was tenderly cooked and we enjoyed the kick from the spices.
Additional Dabao Flavours of Singapore items that you can look out for and try include:
---
7-Select Egg Mayo x OLD CHANG KEE Curry'O Double Combo Sandwich ($3.70)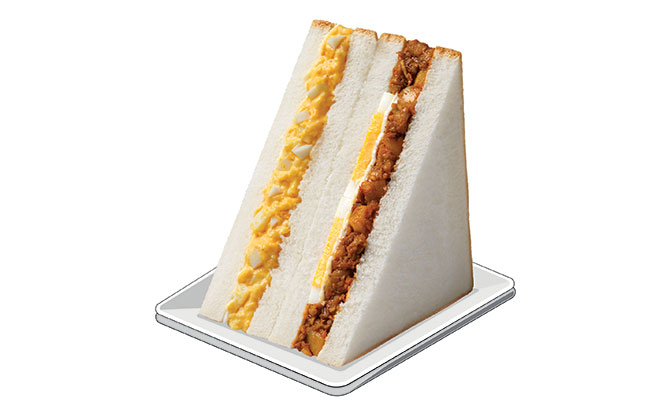 Enjoy a curry puff sandwich with fragrant curry chicken and potato filling between soft Japanese-style milk bread. This combo pairs the OLD CHANG KEE Curry O' Sandwich with the 7-SELECT Egg Mayo Sandwich.
---
Beach Road Prawn Noodles Soup ($6.50)
Beach Road Noodle House is the go-to place for prawn mee for Easties. This bowl of prawn noodle soup packed with prawns, tender chicken pieces, and springy yellow noodles will be available at 7-Eleven.
---
Yuan Yuan Claypot Rice ($4.80)
Indulge in a Singaporean classic with fluffy rice and the crunch from the scorched rice.
---
Chef Arifin Korma Curry with Rice ($5.00)
This rich and creamy korma recipe features tender pieces of chicken breast simmered in a mildly spiced curry sauce.
---
My Kampung Chicken Charsiew with Fragrant Rice ($6.00)
Tenderly roasted chicken is paired with seasoned rice and a a luscious, sweet gravy.
---
Chef Aaron Wong Ginger Chicken Rice ($4.80)
This chicken rice is topped with tender chicken, and infused with the intense flavours of garlic and ginger.
In addition, from 19 July to 15 August, enjoy $0.30 off (14% savings) on First Brew Grass Jelly (U.P. $2.20) when you buy any of the items above included in Dabao Flavours of Singapore.
If you enjoyed this story, read about this other brand collaboration for National Day.