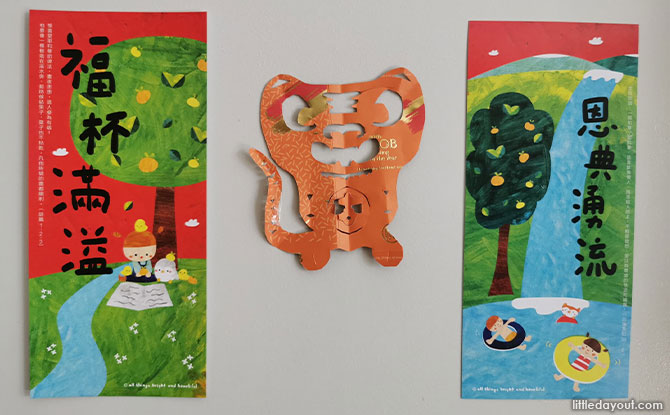 Earn that Tiger mama stripes with these easy tiger-themed Chinese New Crafts. You might be wondering how to keep little hands busy this festive season, we combed the web and found brilliant and no-cost ideas to craft just for the year of the Tiger.
Try these out and let the little tigers come to life!
---
7 Easy CNY Tiger-Themed Crafts to Make
Kow Fong's Paper-cut Tiger for Chinese New Year
Artiste Kow Fong or Ah Guo has shared his Tiger Paper-cut template and techniques for all to try.
---
-- Story continues below --
We tried our version of a paper tiger and simplified it. One tip is to help the little ones draw out the tiger, you can simplify the design by introducing fewer motifs and draw in shapes easier to cut. For instance, use more rectangles and triangles rather than floral patterns. See more here.
---
Year of the Tiger Ang Pao Head by Happy Bee Arts & Crafts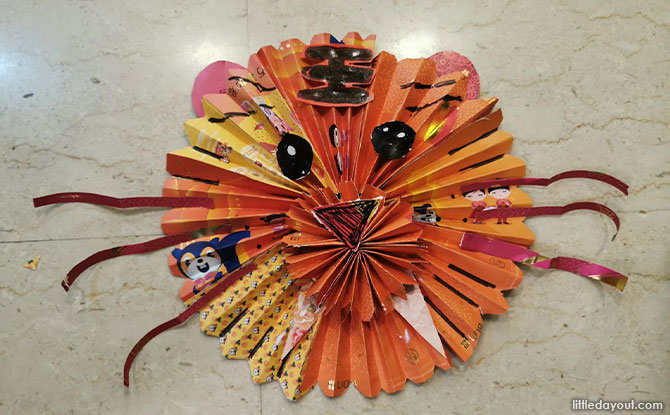 With plenty of red packets leftover each Chinese New Year, this craft is perfect for re-using red packets.
Simply gather red packets, fold them in accordion style, trim them and paste them together to form a larger circle. Then paste in the other facial features of the tiger like eyes, ears, nose, mouth and if you like – sharp teeth and whiskers!
My 7 year old found the size a tad too small for the original craft so we "upsized" it.
Here's another version by Merryn Tan.
---
Little Tigers Sending Greetings by @is.kai.of.fun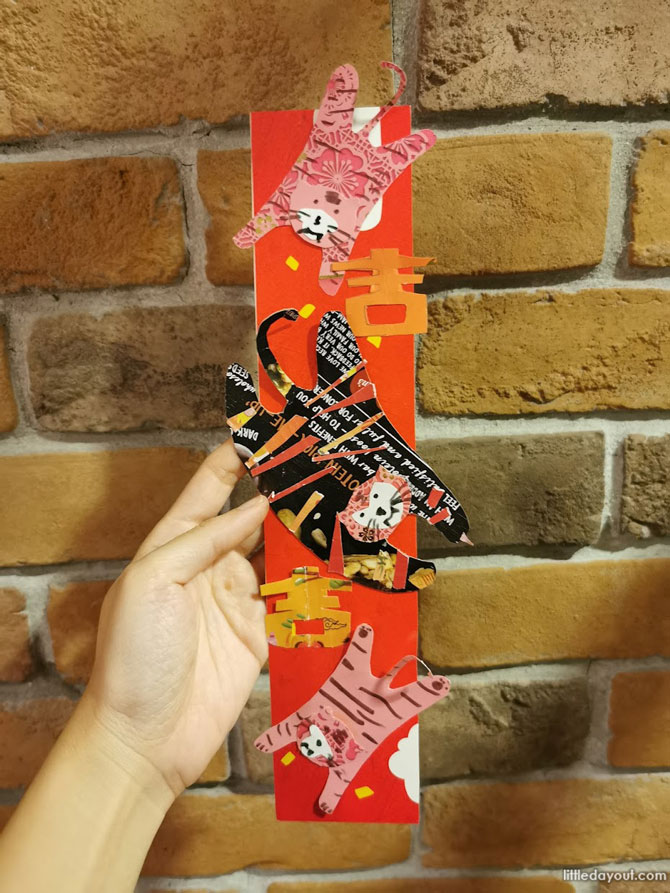 This classy poster or banner can be easily done by the little ones. Simply cut out the little tigers, add some paint or stripes and use the tigers to adorn your Chinese New Year poster. See how here.
---
Upcycled CNY Hanging Ornaments by @littlecitytales
Don't know what to do with toilet rolls? Paint them, cut them into words and ta-da you have an upcycled CNY ornament that does not cost a cent!
This parent has also cleverly upcycled a plastic container, with the help of the child, painted it into a tiger head.
Before you head out to buy some pre-made decorations, how about using what you have at home? Read more here. 
---
Tiger Head Lantern
With a single red packet, you can make this Tiger Head Lantern! I thought this craft was really smart.
Children will probably need their parents' assistance when handling a penknife.
---
Tiger Red Packet by @ivmouse
If your child loves origami, this should be right up his or her alley!
Combine the art of origami plus the Tiger theme, and transform it into a Tiger envelope. @ivmouse has included instructions for both the head and envelope. See the details in the link here.
---
Tiger Paper Plate by @ourjoyoflearning
The final craft is very toddler-friendly. It uses just a paper plate and paint to make a Tiger face. Use black paper or even scraps of newspapers and magazines to cut out eyes, ears, mouth and whiskers.
Hang the plates up and they will instantly add a festive touch! See the tutorial here.