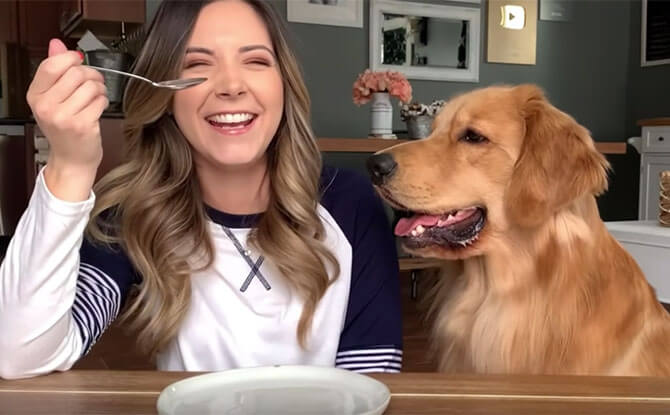 We're not sure about you, but with the COVID-19 virus articles flooding our timeline, Whatsapp chats and newspapers, sometimes it can be pretty hard to remember that life goes on. If your day needs some brightening up, here are six videos from around the world to bring a smile to your face.
1. Invisible Food Challenge
With everything being down and dreary, cheer yourself up by watching some cute pet videos. The latest one is the invisible food challenge where pet owners pretend to eat out of an empty plate in front of their pets and the expressions of confusion on these furry faces are sure to brighten up anyone's day.
This lighthearted video seems to be a follow-up of other "invisible challenges" that pet owners try on their furry friends such as putting cling wrap in the middle of doorways and watching them try to figure out how to get through it. It's funny to see the different reactions of both dogs and cats.
---
-- Story continues below --
2. Standing Broom Trick
A viral tweet swept the internet by suggesting that NASA said 10 February was the only day a broom would be able to stand because of the earth's gravitational pull. Queue people posting photos and videos of their brooms standing upright.
Turns out that NASA never made such a claim and you can make this kind of broom stand upright any day of the week because of the ever-reliable center of gravity. NASA even got an astronaut and a scientist to film video evidence that it could be done a few days after with the ending statement of "It's just physics". #micdrop.
Other than this incident being a warning that we need to be careful of fake news, the real question we had was: how do so many people in the world have the same broom?
3. This Cover of "Too Good At Goodbyes" by a Schoolboy
When Carl Malone Montecido took the mic at a karaoke machine in a shopping centre and belted out top radio hit "Too Good At Goodbyes", the video recorded by a bystander went viral. The boy's rendition was even noticed and praised by the original singer, Sam Smith, who said that he was "out of this universe". If you listen to the cover, you can understand why.
Carl Malone Montecido, who is also blind, was a finalist in the talent show 'Tawag ng Tanghalan' and is one of Philippines' representatives in the World Championship of Performing Arts set to take place in California in July.
4. New South Wales Fires Declared All Contained
We started the year off with the tragic news of the bushfires in Australia, and after months of fighting, all the fires in New South Wales have been declared contained. Thousands of heroic lives were selflessly sacrificed in the act of saving another.
The immense effort by firefighters and healthcare workers in the frontlines were also assisted by the rains that poured over Sydney for four consecutive days. Although this event is sure to leave a significant scar in the history of Australia, we hope that things only get better from here on.
5. Parasite Film Makes History at the Oscars
History was made again at the Oscars with South Korean film Parasite taking home best picture award. The film directed by Bong Joon-ho also won Best Screenplay, Best Director, and Best International Feature Film. This is the first non-English speaking film to win the Academy's most prestigious award. The themes of Parasite revolve about class warfare, a social issue which is evident in every part of the world.
This win for Parasite is celebrated by many around the world as it seems to point towards a more inclusive Oscars, which is what critics have been highlighting for years. With positive steps forward such as the language change from "foreign-language film" category to "international feature film", Mr Bong himself said, "I applaud and support the direction that this new change symbolizes."
6. McGriddles ASMR
Don't forget the good things happening in our own backyard, like the return of the McGriddles burger! Available Monday, 17 February 2020 onwards, for a limited time only, chase away the Monday blues any time of the day with the McGriddles Burger being available all day. To make it even better, they are bringing in a new variation: the new McGriddles Stack. We're so ready to order it along with some chocolate pie!
For those who can't wait, check out the ASMR McDonald's breakfast video from Singapore above!
We hope we've managed to brighten up your day!