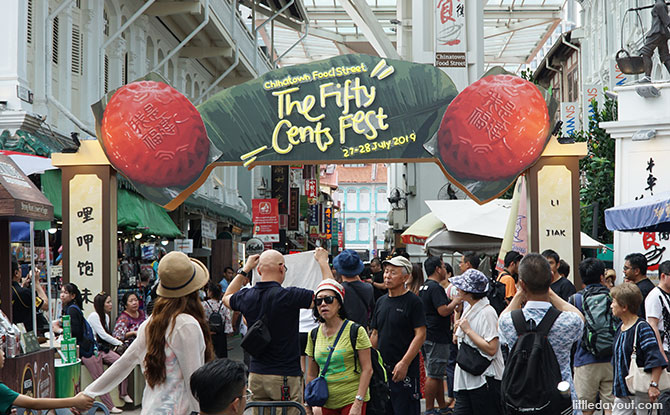 Soak in the retro vibes and snack away at the two-day 50 Cents Fest 2019, taking place at the Chinatown Food Street on Saturday and Sunday, 28 and 29 July 2019.
Savour Hokkien & Heritage Delights
Part of Singapore Food Festival 2019, this year's 50 Cents Fest in Chinatown throws the spotlight on Hokkien heritage and showcases gastronomic delights from Singapore's largest Chinese dialect group.
There are more than 40 stalls with over 50 different dishes – both savoury and sweet – on sale. Think Hokkien-style rice, noodles, soups, snack and ice-cold desserts.
Prices at the 50 Cents Fest start from… drum roll please… 50 cents. Nothing costs above $3.
Food portions are served in yellow cups, but who's complaining.
This year, the 50 Cents Fest includes the participation of Hokkien heritage restaurants like Beng Hiang, known for its kong ba bao (braised pork belly bun), and Kim Choo Kueh Chang, established in 1945 and selling traditional Hokkien rice dumplings.

Among the 50 cent dishes on offer at the 50 Cents Fest 2019 are Kan Chia Mee (Rickshaw Noodle), a dish of Hokkien yellow noodles in broth with bits of minced meat, and Kiam Png (Hokkien Stye Cabbage Rice), a one-pot dish made with cabbage and Chinese dried mushrooms.
Be sure to try the Orh Pia. Also known as UFO, it is a battered snack made with fillings of marinated minced pork, oyster and parsley. The store selling it is facing the shophouses away from the main thoroughfare so you will have to seek it out.
Those with a sweet tooth can seek out Ong Lai Sng Giu or Pineapple Ice Ball, a cool snack made from shaved ice.
Activities at the 50 Cents Fest 2019 at Chinatown Food Street
This year, the 50 Cents Fest also has retro arcade game machines for people to play and a Mixed Goods Store Retail Lane selling Hokkien-inspired merchandise from local brand Wetteeshirt.
Perhaps the most retro sight is the a street massage corner ($2 for a 10-minute massage).
It is two days of street food at the 50 Cents Fest 2019, perfect for hardcore snackers. Don't say bo jio.
50 Cents Fest 2019
Where: Chinatown Food Street, Smith Street, Singapore 058938
When: 27 to 28 July 2019, 11 am to 11 pm