With a name like "Demon's House", it may seem that SAFRA Punggol's Halloween event on 27 and 28 October 2017 is not for kids. And, in fact, many of the event's haunted house trails and scare zones don't even admit anyone below the age of 16 years old.
HOWEVER, we will let you in on a secret.
This year, SAFRA Punggol has come up with a kid's edition of Demon's House for kids below the age of 13.
Here is a quick rundown of the activities taking place at SAFRA Punggol's Demon's House 2017 for kids.
1. Kids Trick-or-Treat
With a Kids Admission Ticket, kids will be able to redeem a pumpkin basket with three cards inside as a door gift.
The pumpkin basket can be used to go trick-or-treating around SAFRA Punggol. To do so, kids need to search out three "Ghost Clowns" around the SAFRA Punggol Clubhouse. Each "Ghost Clown" will be dressed in a themed outfit and have a Trick-or-Treat box.
By handing over a card, kids can dip into the Trick-or-Treat box to retrieve a prize. Available prizes include sweet treats such as chocolates, candies and biscuits and "trick" items such as toy lizards, roaches and spiders.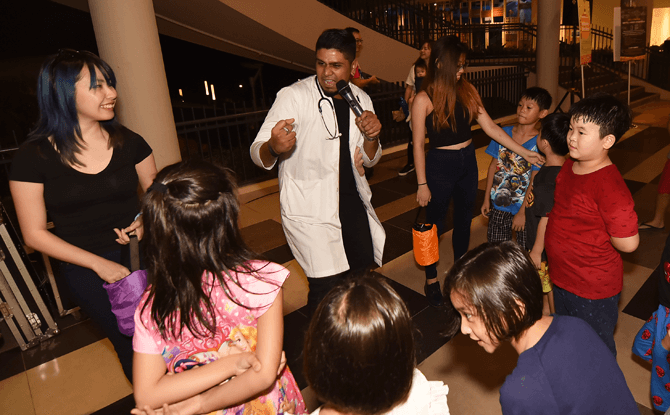 The free-and-easy Kids Trick-or-Treat activity will take place between 7.30 pm and 12 midnight during SAFRA Punggol's Demon's House.
2. Best Kids Dress-up Contest
What is Halloween without dressing up in costume?
At SAFRA Punggol's Demon's House event, kids can participate in a Best Kids Dress-up Contest. There will be three contest sessions held every evening between 9 pm and 9.30 pm.
At each session, five kids will go up on stage with their friends or family and compete with each other by dressing-up with materials provided. The best-dressed contestant stands to win a mystery prize.
3. Water Play and Games at Splash @ Kidz Amaze at Night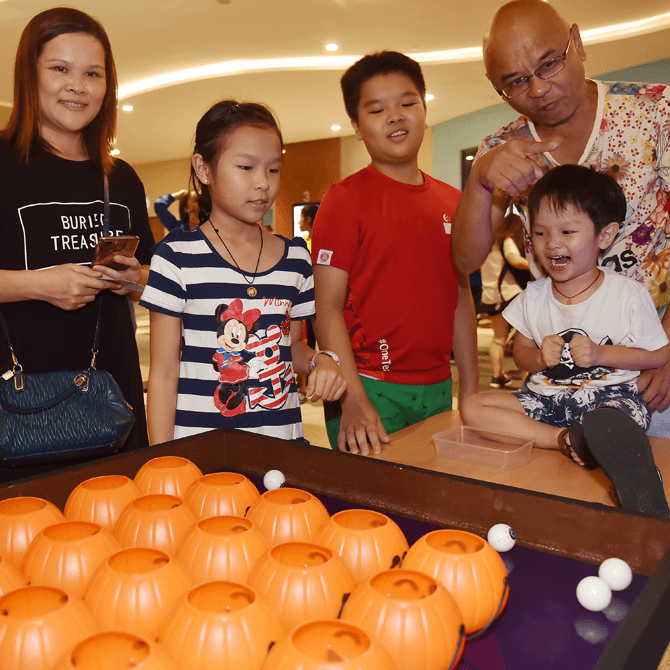 The Demon's House Kids Admission Ticket includes entry for 1 adult and 1 child to Splash @ Kidz Amaze, SAFRA Punggol's indoor water playground, from 7.30 pm to 9 pm.
Inside, they are free to enjoy the water park and Halloween-themed fringe activities at Splash @ Kidz Amaze's party rooms.
Be sure to bring along swimming attire and towels!
4. Retro Nintendo Console "Horror" Games
For a bit of retro-fever, SAFRA Punggol has arranged for some old-school, horror-themed, Nintendo console games to be available for kids to play.
The pixel-heavy graphics and 8-bit music of the action-adventure games Castlevania and Ghouls 'n Ghosts may even stir up childhood memories amongst adults who played them as kids too.
In Castlevania, players play as the vampire-hunting Belmont family on a quest to fight the evil Dracula.
Ghouls 'n Ghosts puts players in control of King Arthur as he goes running, climbing and battling monsters to bring his beloved Princess Prin Prin back to life.
Retro indeed.
5. Haunted House Trail: Escape or Die
The full SAFRA Punggol's Demon's House event consists of two Haunted House Trails and two Scare Zones. These Haunted House Trails and Scare Zones are only open to those at least 16 years old, with the exception of one – Haunted House Trail: Escape or Die.
Haunted House Trail: Escape or Die is open to kids 13 years and below on condition that they are accompanied by their parents.
So, what's inside this haunted trail?
Up to five brave participants will be let into Haunted House Trail: Escape or Die at a time. Each participant will be given a tag that represents their "life". They have to run through the haunted trail and retrieve an item locked away in a hidden number-pin box.
Here's the catch.
Participants will have to avoid "monsters" lurking around the Haunted Trail who are out to snatch away their tags. Once a participant's "life" tag is taken, they are "dead" and can no longer take part in the haunted house trail and have to sit down on the ground.
The estimated time for Haunted House Trail: Escape or Die is 10 minutes.
Admission Details for SAFRA Punggol's Demon's House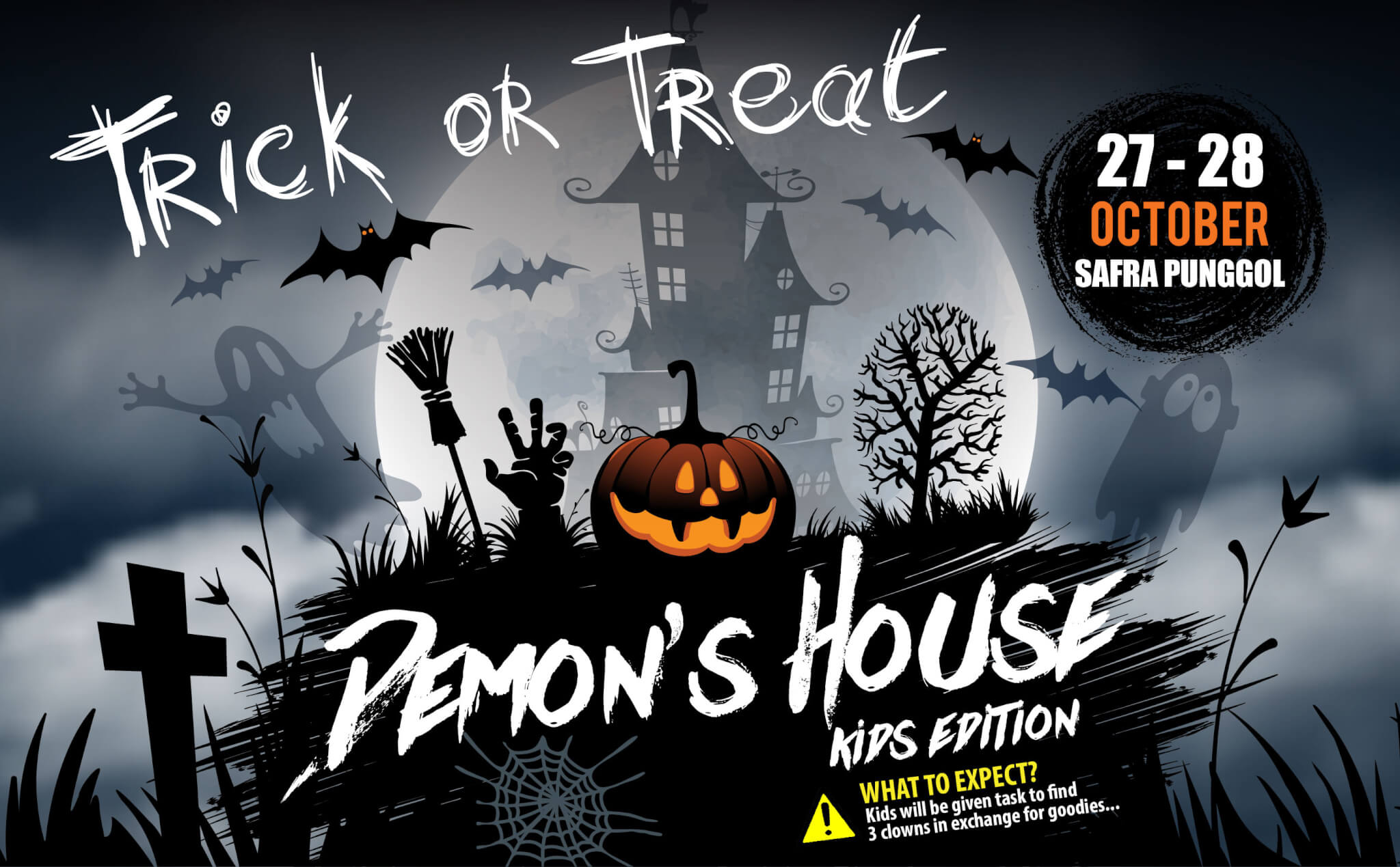 SAFRA Punggol's Demon's House is a ticketed event.
Kid Admission Tickets for SAFRA Punggol's Demon's House (for kids below 13 years old) are $10 for early birds who buy tickets between 6 September to 13 October, and $15 for tickets bought between 14 to 28 October. Each Kid Admission Ticket admits 1 child and 1 accompanying adult to Demon's House Kids Zone and exclusive kids' activities.
General Admission Tickets are priced at $38 for early birds and $44 for standard priced tickets.
More information on SAFRA Punggol's Demon's House can be found here.
SAFRA Punggol's Demon's House
Date: 27 & 28 October 2017
Time: 7.30 pm to Midnight
Location: SAFRA Punggol
Website
This feature is brought to you by SAFRA Punggol.
---
SAFRA Punggol's Demon's House Ticket Giveaway
Stand a chance to win Adult-Child Tickets (1 Adult, 1 Child) to SAFRA Punggol's Demon's House, Kid's Edition. We are giving 3 pairs of parent-child tickets to our lucky readers. To take part, complete and submit the form below.
Like and share this Facebook post to double your chances of winning.
Closing date is Thursday, 19 October 2017, 23:59 hrs.
---
Congratulations to our 3 winners!
Ooi Yu Ting, Ian Chuah Boon Kiat, and Sun Sun Khor, you have each won a set of Adult-Child tickets to SAFRA Punggol's Demon's House Kid's Edition! The details are in our email to you. We wish you all a great little day out!
---