So your month-long confinement is driving you slightly nuts, and you have a burning jealousy of the life you used to have.
Time to head out!
Here are some tried-and-tested places you can bring the bub for the first time, maybe even before your confinement period is over.
We won't tell the confinement lady if you won't.
#1 Neighbourhood Park
Close enough to home if you feel like making a dash back to safety, but far enough to make you feel "hey, I went out and lived to tell the tale".
If mummy is feeling a bit blue – which is very common – studies have shown that soaking up some sunlight will help lift the mood, thanks to Vitamin D.
Choose a good time when the light is soft, either mid-morning or evening. Take a nice stroll with baby, and point out to the little one all the things you are seeing – trees, flowers, birds, bicycles.
You won't forget that you're sleep-deprived, but it will be a nice breather for both of you!
#2 The Shopping Mall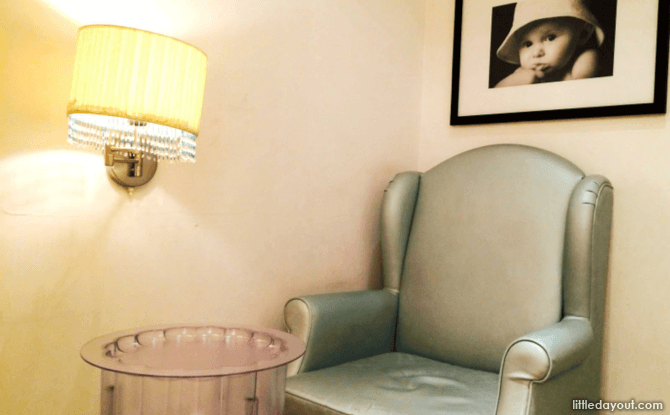 You can't go wrong with shopping malls – they are indoors, air-conditioned, and have amenities like food and nursing rooms at hand.
Hungry? Sit down and grab a meal. Bored? Go browse the shops (even if it is just baby stuff). Baby did a poo-poo? Head to the nursing room.
So, do yourself a nice turn by picking a mall with famously luxe baby changing rooms (see some ideas below). And avoid the weekends, because the crowds will run you over.
Make the most of malls' weekday lull and stroll to your heart's content. Or, if you like crowds, go for it and take the weekend by its horns!
Use the stroller if you intend to spend a long time at the shopping centre. Or if you're alone and need your hands free, use a baby carrier for easy manoeuvring.
#3 Changi Airport
Sprawling spaces, air-conditioned comfort, and cafes and shops abound. Although you don't have flight to catch (one can dream, right?), the airport is a great place to stroll with baby for the first time.
The nursing rooms are clean and pleasant, so that's a plus.
The open spaces also means this is a good place for tots to stretch their legs. Give the airport a mental bookmark, this is a place you can keep coming back to as baby grows up, day or night.
#4 Cafes
Kick back, close your eyes, and slowly sip your double caramel latte. Oh wait, you have a baby. It's still possible to enjoy downtime at a cafe with baby in tow, however distant that golden goal may seem.
Pick a cafe that has ample space for a stroller to park by the table. Cafes such as Cafe Melba, Flock Cafe, Brussels Sprouts and Food For Thought serve good food, are spacious and even have an outdoor area with trees and grassy areas you can bring baby after you're done with your coffee.
And oh, if mummy is still breastfeeding, don't forget to make that a single latte.
#5 Supermarket
Apples! Bananas! Carrots! It's never too early to introduce baby to the world of fresh produce, colours, and shapes (and even the ABCs, if you're an overachiever).
Start with a short trip to the supermarket and pick up a small list of necessities. This means – hold off the hour-long jaunt to buy food that will feed 50 people, at least for now.
You get to run your errands, and have a short time out with baby at the same time. This is bang for buck.