With events, camps, activities, classes, seminars going online or "webinars", engaging students, participants and the audience takes on a different form. Sustaining attention in the digital world can be tricky as there are many more distractions or potential disruption.
We check out three tools that can help engage people and also get instant feedback during the event.
---
We Tried Three – Mentimeter, Quizizz and Kahoot
Mentimeter, Quiziz and Kahoot are online tools to help engage audiences through live polls, quizzes, word clouds, open-ended answers and many more. Quizizz and Kahoot use gamification to make content engaging. This is a big plus for events involving children both young and old.
All three have free accounts but limitations of functions to the accounts. While Kahoot and Quizizz allow more functions for a teacher or school users, you can get more out of the paid versions.
---
-- Story continues below --
After using all three platforms, you will find that each one offers functions suited for various purposes. Mentimeter is great for presentation of information and data in a clear manner, flashing out key statistics and also presenting live polls and opinions. It is also useful to gather questions for the session without using chat functions that could potentially be disruptive
---
Presentations and Online Classes can be fun!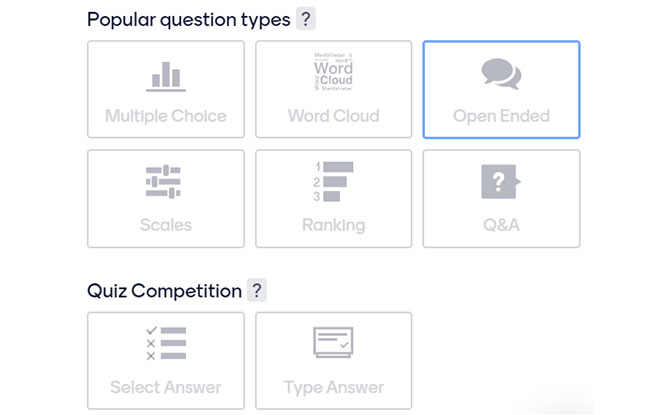 It can be challenging to hold the attention of the participants. By using polls, quizzes, asking questions and presenting information in bite-sized formats can aid in the takeaways of the session. We all want some positive memories as participants or students from a workshop or a class.
At a glance, you do not need to fork out much to make your lessons fun. The free trials of all three platforms – Mentimeter, Quizizz and Kahoot provide pretty good options for a first-timer. The interfaces are easy to use with clear instructions.
Let's have an overview of the three sites.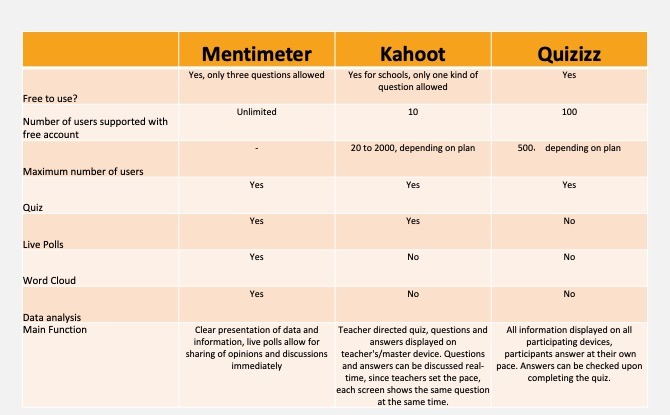 ---
Mentimeter is Ideal for Presentations and Lectures

Functions wise, Mentimeter has the most options of the three. Aside from quiz, Mentimeter has functions such as creating a word cloud, analyse data and gathering opinions through live polls. Its versatility is suitable for many types of events, however, free accounts limit users to only three questions. Mentimeter also has a very minimalistic look and feel. This might be suitable for older audiences.
Specialised Quiz Platforms – Quizizz versus Kahoot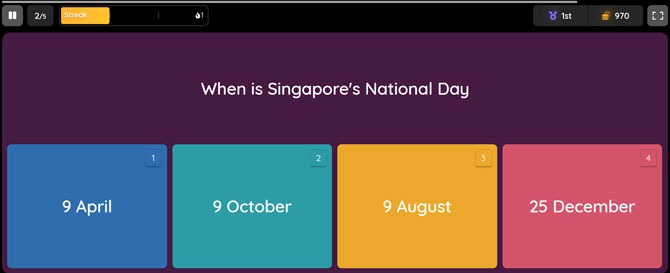 Both Quizizz and Kahoot provides competitive quizzes and they can all be done cross-border. There are some key differences between the two learning platforms.
Quizizz can be integrated with Google classroom. Its quizzes are also not dependant on a common starting time as compared to Kahoot. This means participants can join quizzes at their own pace. Kahoot, on the other hand, is teacher-focused meaning only the master device or screen will show the questions to quizzes. All of the participants' device will only show the options to select. While this increases the competitive aspect, it can also cause some to fall behind and be lost with two screens to manage.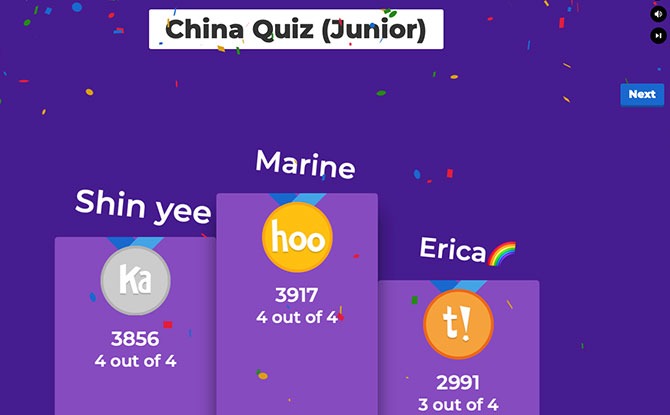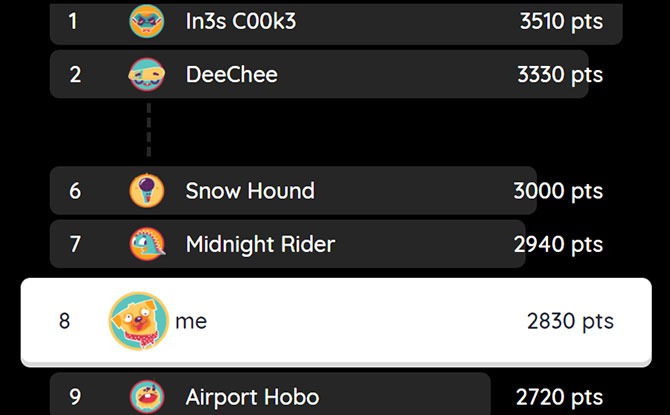 Trainers and teachers can get instant feedback regarding areas that participants lack understanding through the quizzes. Results also indicate which participant needs more help. This could help reinforce certain concepts or repeat of segments if time allows for it.
---
Use Different Tools to Spice Up Your Lessons
Our experience in conducting three virtual camps and an online panel sharing has shown that tools spice up learning and gets participants engaged. Have fun trying out the tools in different ways! We think Mentimeter, Kahoot and Quizizz will be a wonderful boost to your sessions.