Arts in Your Neighbourhood (AYN) – an initiative by the National Arts Council (NAC) – returns for its 11th edition this November with close to 70 specially curated activities, bringing enriching arts experiences right to your doorstep.
Everyone Can Enjoy the Arts
It doesn't matter if you live in Bedok or Ang Mo Kio – anyone and everyone will get to enjoy an activity or two, with numerous interactive arts programmes by established artists and arts groups to be held at 18 locations across the island.
The whole family can look forward to storytelling sessions, larger-than-life puppet performances, public art installations, dance and music live performances, and hands-on activities. Because these arts activities are happening at accessible locations such as town centres, getting involved is as simple as taking a walk or a bus to the town centre, or while you are having dinner or shopping for groceries!
Woodlands In Focus
With a special town-focus for Arts In Your Neighbourhood each season, special programmes are curated to allow participants to discover their neighbourhoods through fun and engaging programmes. With the spotlight town of Woodlands this season, see everyday spaces like playgrounds and parks come alive with roving theatrical performances, and uncover stories from the residents of Woodlands' jumbo flats through a specially curated walking trail.
---
-- Story continues below --
Look out for some mystery items in the form of gachapon capsules, where interesting and familiar icons of Woodlands are transformed into cute collectibles, accompanied by stories inspired by each of these iconic spaces.  You could even win a limited-edition AYN tote bag, simply by collecting all five of these gachapon capsules and spotting three iconic Woodlands landmarks on the Arts in Your Neighbourhood website. Think Woodlands Checkpoint and Fu Shan Garden with its decades-old dinosaur playground! For more on this contest, visit the AYN website here.
Enjoying and appreciating the arts couldn't get any easier than this. Here's are some highlights happening at Arts in Your Neighbourhood from 8 to 25 November.
---
The Rubbish Prince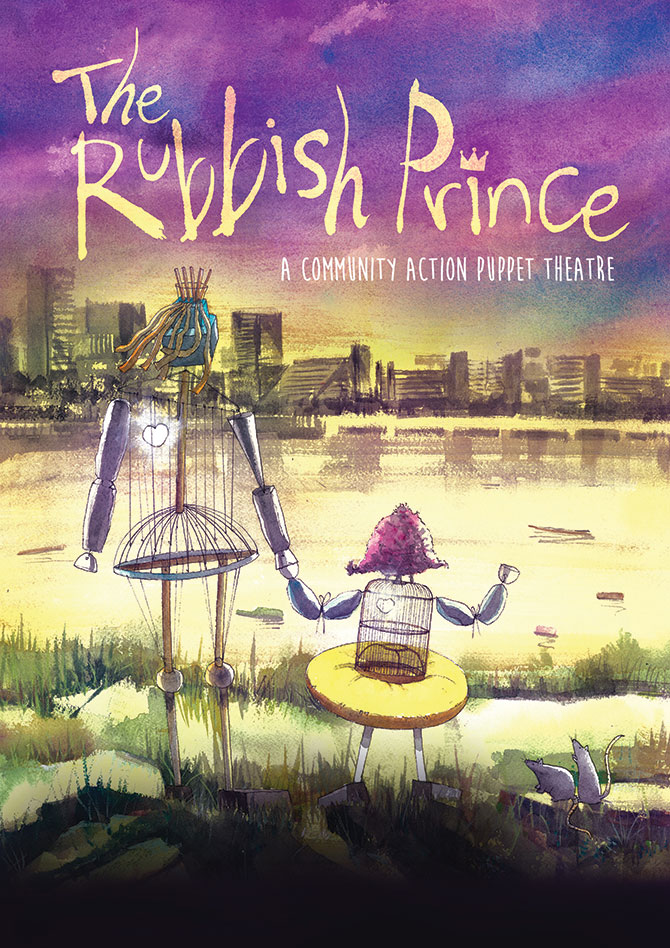 Produced by 3Pumpkins, and directed by media personality Danny Yeo, and Ong Kian Sin, The Rubbish Prince tells the story of a 3.5-metre tall puppet made of clean recyclables.
Having received a new lease of life through the recycling process, the Rubbish Prince – in the company of his good friends – goes on a quest to rescue a fellow puppet character from the disastrous effects of non-recyclable waste!
The Rubbish Prince will be narrated through an original musical score composed by Phang Kok Jun. This contemporary outdoor performance aims to ignite and stretch our imagination beyond the ordinary.
Through collective upcycling efforts of various community partners in putting this production together, The Rubbish Prince illustrates the relationship we have with the materials that we consume and discard daily.
Before the performance, take part in fringe activities including "plarn bombing", that is wrapping structures with recycled plastic yarn, and weaving nettings made from recyclable materials.
Locations and Timings of The Rubbish Prince
Admiralty Park (Pavilion near slides) – 17 Nov, 6 pm and 7.30 pm
Fu Shan Garden – 18 Nov, 6 pm and 7.30 pm
Woodlands Crescent Park – 24 Nov, 6 pm and 7.30 pm
Woodlands Waterfront Park (Playground) – 25 Nov, 6 pm and 7.30 pm
Fringe activities take place from 5-6 pm before every performance.
Get more information here.
---
Jumbo Fabrica by Sweet Tooth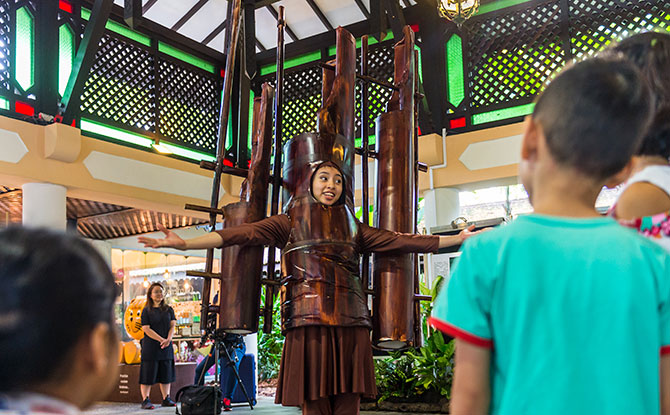 Embark on a 50-minute walking trail inspired by the jumbo flats in Woodlands. Hear stories based on the furniture that has been passed down from generation to generation within the jumbo flats and take part in upcycling stations located at void decks to learn how to rejuvenate the old into something new, and be treated to live performances.
Follow the Jumbo Fabrica blog here: jumbofabrica.wordpress.com
Locations and Times of Jumbo Fabrica
Hands-on Furniture Upcycling Sessions / Installation
Kampung Admiralty Community Plaza – 19 – 23 Nov, 10 am – 6 pm
Walking Trail
24 – 25 Nov, 4 pm – 7 pm
(Trails start every 30min, capped at 25 participants each)
Pre-register for the free walking trails here.
---
Musical Notes by Compagnie des Quidams (France)
Picture this: 3 black-and-white characters on stilts walk through Bedok Town Square. They approach and whisper musical secrets to members of the audience. From their unique musical instruments, they play different melodies and break into dance – all while on stilts.
Presented by The Compagnie des Quidams, an arts-group based in Lyon, France, Musical Notes is both funny and moving, and will certainly take you on a fantastical musical journey like never before.
Locations and Times of Musical Notes
Mapletree Business City (Plaza) – 8 Nov, 12.30 pm
Asia Square (The Cube) – 9 Nov, 12.30 pm
Our Tampines Hub – 10 November, 5 pm and 7.30 pm
Bedok Town Square – 11 November, 5 pm and 7.30 pm
Get the full details here. 
---
Woodlands Memory Capsules by Tan Li Ling and Victoria Lim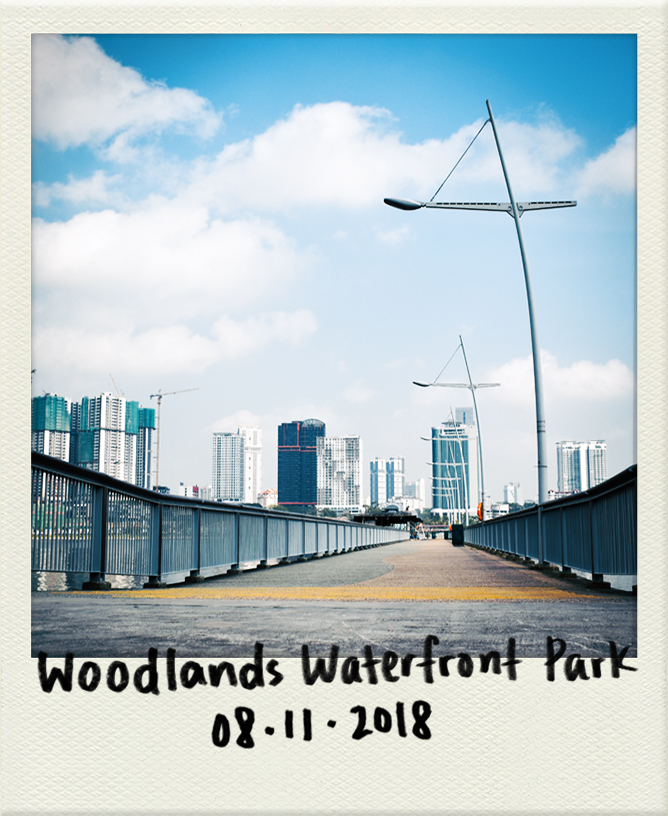 Try your luck at gachapon machines set up at 3 different locations in Woodlands and collect capsules containing unique Woodlands-inspired collectibles.
Designed by Tan Li Ling and Victoria Lim, the Woodlands Memory Capsules are all about commemorating parts of Woodlands. Every capsule includes a write-up by local writer, Chen Xinda, on memories and wonders of the neighbourhood.
[GIVEAWAY!] Collect all 5 designs and redeem a limited Woodlands edition Arts in Your Neighbourhood tote bag at any AYN programme!
---
Rama & Sita and Badang, The Strong Man by ACT 3 International
Enjoy two traditional stories turned into dramatic plays, infused with traditional artistic expressions and storytelling. One of the stories, Badang, The Strong Man is a legendary folk tale from Temasek (old Singapore), about the hero Badang as he struggles with being born thin and weak. This piece will be performed to traditional Malay music with a mix of storytelling, dramatisation, movement and dance – bound to light up young audiences' eyes with wonder!
This performance was first commissioned by the National Arts Council as a Traditional Arts taster programme for pre-schools.
Locations and Times of Rama & Sita and Badang, The Strong Man
Ang Mo Kio Central Stage – 18 Nov, 6pm
888 Plaza (888 Woodlands Drive 50) – 24 Nov, 6pm
Get the full details here.
For a complete event listing, download the AYN programme brochure here or visit artsforall.sg/AYN.
Follow @NACSingapore on Facebookand Instagramor the Official Facebook AYN Event Page to stay up-to-date on activities and programmes!