Play-based learning is essential for children, especially pre-schoolers. It allows children to develop the ability to discover the world around them and are crucial in their developmental process.
A play-based learning approach is something that top international pre-schools like GEMS World Academy (Singapore) emphasise. This approach lays the foundation of their Nursery and Early Years curriculum, nurtures a love for learning and helps to develop essential skills and knowledge.
We spoke to Ms Lynn White, Grade Level Leader and Teacher at GEMS (Singapore) to find out what activities are best for helping children to learn through play.
What is Play?
"For generations of school children, play was something that was a privilege only when your 'work' had been done. Little did people know then that play is the work of children and comes with such a wide range of fantastic benefits! Play is one of the most fundamental ways in which young children gain essential knowledge and skills. Teachers at GEMS (Singapore) ensure that children benefit from varied and well-directed early learning opportunities through their involvement in a wide range of carefully planned educational play-based activities." – explained Ms Lynn White, Grade Level Leader and teacher at GEMS (Singapore).
Lynn shared valuable insights about the benefit of play-based learning and what activities are best for helping children to learn through play.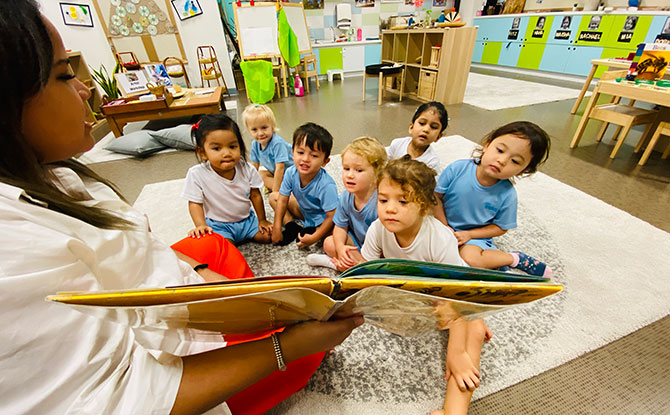 Read to the end to find out how you can stand to win a
100-piece Magna-Tiles set worth $199
---
Insight #1: Play is Essential for Brain Development
Play has significant and positive effects on brain development. It aids in the growth of the prefrontal cortex, the brain's control centre. Play also contributes towards the child's ability to solve problems, manage plans and regulate emotions. Some play activities that pre-schoolers can engage in include:
1. Building Blocks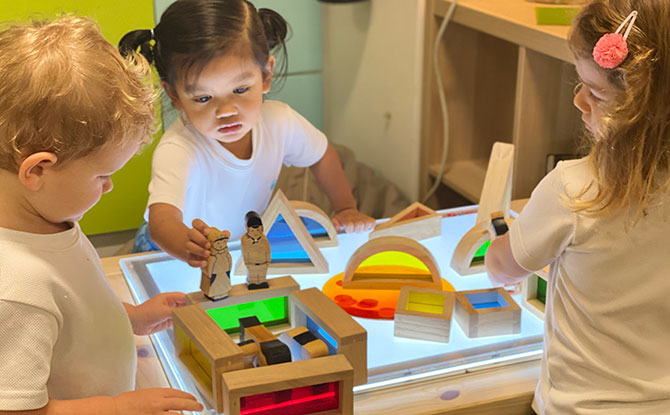 Building blocks provide endless open-ended play opportunities for pre-schoolers. With a bit of imagination, they can be transformed into skyscrapers, vehicles and even a gourmet meal. The simplicity of these objects allows children to innovate and come up with unbridled ideas for play.
2. Jigsaw Puzzles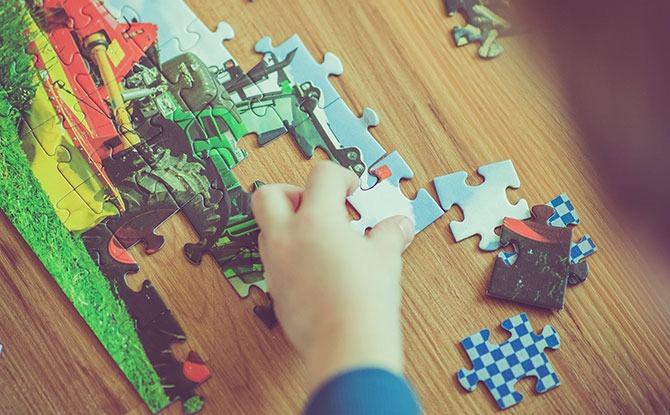 Jigsaw puzzles are tremendous brain teasers which provide entertainment while encouraging problem-solving at the same time. They are available in a variety of levels from easy-to-solve versions to those which are progressively more challenging.
Pick up a set for pre-schoolers to play and watch their sense of accomplishment once having completed it.
3. Simple Board Games
Many board games for pre-schoolers support the development of their literacy or numeracy skills. Games such as Zingo can help develop vocabulary amongst pre-schoolers. Older ones will enjoy Race to the Treasure, a cooperative board game with elements of strategy.
---
Insight #2: Play Fosters Curiosity
Children are born curious. As they interact with the world around them, it is natural for them to have questions which demand to be answered. Cultivating curiosity from an early age also sets children up for life as they learn to ask and seek answers to their questions. Here are some play activities to encourage pre-schoolers to be curious.
4. A Cardboard Box
A simple cardboard box can provide hours and hours of fun. So many possibilities are presented by a simple box. If it is big enough, it can turn into a spaceship or a mighty castle. The possibilities for play are endless.
5. Sand and Water Play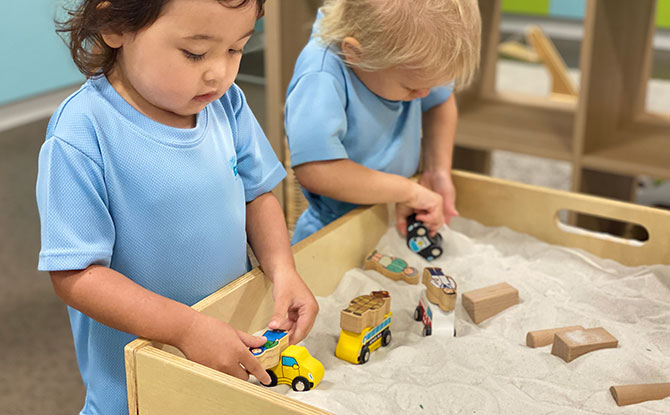 Sand and water play are staples of many pre-school programmes for a good reason – they provide opportunities for open-ended play. As free-form materials, there is no one correct way to play with them. Pre-schoolers can scoop sand, brush sand and use it as a building material to create structures. Water can be channelled about, have objects floated on it and diverted around.
6. Nature Activities
Nature is a great teacher. Exploring the natural world – whether it be examining the intricacies of a leaf or watching a sprout growing from a bean – will spark wonder and curiosity amongst children. It is a wonderful way to engage their curiosity and a chance to answer the question, "Why?"
---
Insight #3: Play Encourages Language Development
Play has a strong social aspect. As part of a group that is playing together, children quickly learn to communicate. Initially, this may be through non-verbal gestures and movements, but this then quickly progresses on to words to express their thoughts and feelings.
7. Make Up a Story Together
A simple game which parents can play with their pre-schoolers is to take turns making up a story. The parent can start with an idea, for example, "Once upon a time, there was a green frog that lived in the drain." The child would then need to add on the next part of the story. This would then go back and forth until the story is completed. It is a good way for children to exercise their imagination, practise language skills and the ability to express ideas.
8. Create a Scrapbook
A scrapbook allows pre-schoolers to capture what they know in a keepsake book. It requires organisation skills and making use of language and writing skills to classify and label the book. At the end of it all, the scrapbook is something which they can be proud of.
9. Staging a Play
Acting helps give the confidence of pre-schoolers a boost. Having to coordinate their lines with others teaches them about working and cooperating with their friends.
---
Insight #4: Play Accelerates Gross and Fine Motor Skills
Children undergo significant physical development in their early years. Play activities can contribute to a child's gross motor skills like climbing, running, balancing and lifting. Fine motor skills fostered through play can also lead to greater confidence when it comes to skills such as pencil holding, writing and tying shoelaces.
10. Arts and Crafts
Practice makes perfect. Art activities provide countless opportunities for practising fine motor skills through holding a crayon, colour pencil or paintbrush. Craftwork with scissors and glue sticks can be fun too. Moreover, children get something to be proud of after they have completed their art and craft activities.
11. Sports Day
Running and jumping are staples of any sports day. However, you can also mix things up with an egg-and-spoon race or a sack-hopping relay. Organising sports day can be loads of fun.
12. Obstacle Course
Ready for greater challenges? How about designing an obstacle course for pre-schoolers to tackle. Using objects like chairs to crawl over or a blanket to scramble under, you can devise an exciting obstacle course for children. Just be sure to keep safety as a top priority when designing the course.
---
Insight #5: Play Instils Social Skills and Values
Through play activities, children can learn what it means to share, show empathy, respect others and develop self-esteem. It is through play, whether in small or big groups that pre-schoolers gain confidence and learn to build friendships.
13. Role Play
Build empathy by getting children to step into the shoes of others. Get them to play-pretend as doctors, firemen, teachers and other occupations. This provides them with the chance to think about different points of view.
14. Cooking Together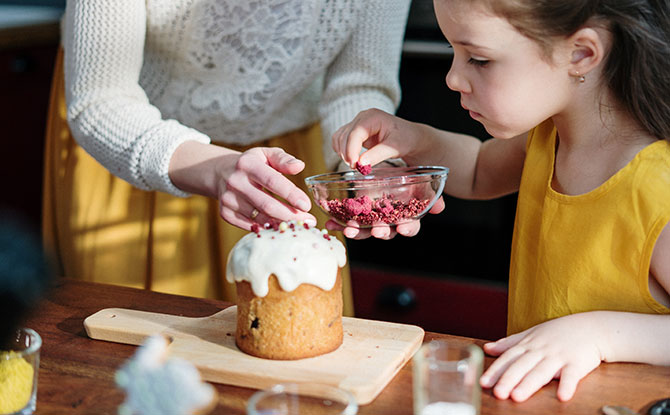 Children love to cook and doing it together can encourage social interaction and thoughtfulness as well. For example, if the meal being prepared is for others, pre-schoolers will have to consider other's likes and dislikes. They can also play different roles in the preparation process and finally end off with a communal feast together.
15. Group Scavenger Hunt
Get the children to cooperate by grouping them up for a scavenger hunt. Children can learn to cooperate with each other for the good of the group and work together to complete the hunt!
---
Discover the world of play-based learning at GEMS (Singapore)
There are so many different ways for pre-schoolers to learn through play. It the best way for them to discover the world around them and learn about social interactions.
An environment which encourages play-based learning is essential for children's mental, physical and social development. That's why GEMS (Singapore)'s Nursery and Early Years programmes place such a strong emphasis on play-based learning.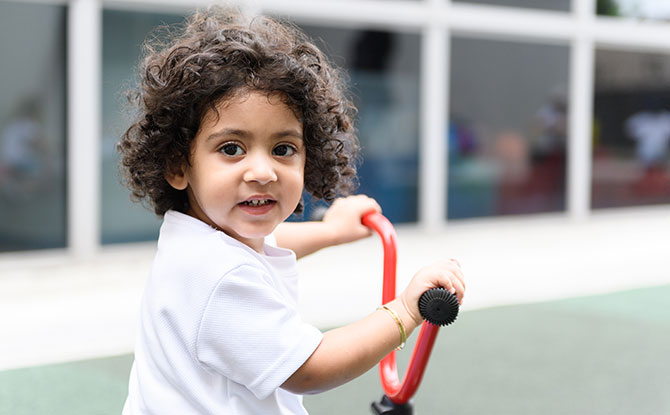 With a low student-teacher ratio and a Reggio Emilia-inspired curriculum, it provides a safe and welcoming place for children to learn and be themselves. Children learn to express their feeling through activities like drama, dance and arts, which have been closely integrated into the curriculum. Its programme encourages children to speak up and learn by asking questions.
Interested to find out more about the Nursery and Early Years Programmes at GEMS (Singapore)?
GEMS (Singapore) invites you to join a live information session on Thursday 28 May, 10 am to 11 am.
The Livestream includes presentations from the GEMS (Singapore) Early Years Education Leadership Team on the benefit of play-based learning, read-aloud session for children aged  2 – 5, introduction to educational family activities to do at home, a virtual campus tour, a Q&A session.
Participants stand to win a 100-piece Magna-Tiles set worth $199 during the session!
This informative webinar is open to both local and expatriate families in Singapore.
Hurry up. Spaces are limited! Sign up now!
---
About GEMS (Singapore)
GEMS (Singapore) is an international school with its own dedicated campus in Yishun, offering a truly international environment and world-class education.
In addition to its Primary and Secondary Years programmes, GEMS (Singapore) offers a Nursery and Early Years programmes for children aged 2 to 5.
Both programmes welcome applications from local and expatriate families in Singapore and provide young learners with meaningful play-based activities that nurture curiosity, develop students' academic, social and emotional well-being, while simultaneously focusing on international-mindedness and the development of strong personal values.
Click here to find out more: www.gwa.edu.sg
This feature is brought to you by GEMS World Academy (Singapore)