Where can you buy mooncakes in Singapore 2017? We pick out 15+ mooncakes in Singapore, from the uber-fancy to the traditional, on the market right now.
Mid-Autumn Festival falls on 4 October this year. A little later than usual, because there's a 闰六月 (leap sixth month) in this year's Chinese lunar calendar.
As families gather to celebrate the festival, mooncakes set out on the table, accompanied by a pot of Chinese tea and sometimes pomelo, often become the centre of attention.
Mooncakes in Singapore 2017
With confectionery brands and hotels trying to outdo themselves every year by introducing new mooncake creations in exquisite packaging, it's hard to take our eyes off the delicious pastry. And even harder to keep our hands from reaching out for a slice of every tantalising flavour on the table!
Purchasing mooncakes in Singapore has become a rather complex task, what with the vast number of choices we have here locally.
Fret not! We've got our picks here, arranged in different categories for you. Here goes.
Mooncakes That Are Oh So Pretty
We shouldn't judge a book by its cover. But we just can't help being swayed by the appearance of Man Fu Yuan's Garden Collection snowskin mooncakes. Shaped like flowers, with intricate petals sculpted out of the pretty pastel-coloured snowskin, these beauties come in delicate flavours such as Roselle and Red Date; and Rosemary, Almond and Green Tea.
Another snowskin range that has caught our attention is Cherry Garden's mini snowskin mooncakes covered in artistic muted colour splatters. With flavours such as Osmanthus and Walnut; and Custard Paste, Rose petals and Chestnut, these mooncakes are hard to resist.
Goodwood Park's Prickly Pear with Bergamot Snowskin Mooncake is another head-turner with its blush pink hue. Plus, who wouldn't love the contrast of crunchy diced pear in soft juicy prickly pear and bergamot paste?
Departing from the usual round shape, Fairmont has come up with peach-shaped mini snowskin mooncakes in pastel shades of blue, pink, yellow, and white, housed in a peach-shaped box.
Mooncakes With Unique Flavours
If you're the adventurous foodie, Bakerzin's Bold Collection might just be the thing for you this Mid-Autumn Festival. Imagine savoury sakura ebi in premium low-sugar lotus paste encased in aromatic, perfectly baked skin. Sound exciting to you?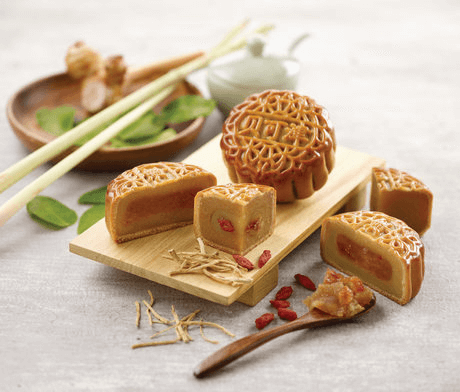 Another savoury offering comes from Marriott Singapore Tang Plaza's Wan Hao Restaurant: baked mooncake with salted white lotus seed paste, parma ham, and handpicked US pistachios.
But if you're looking for something more tangy, sweet and sour, try Shang Palace's Yuzu Bird's Nest mini snowskin mooncake with yuzu filling and premium bird's nest in its core. Now that's a luxe dessert that will have you over the moon!
Ever wondered if tea is the only beverage that goes well with mooncakes? Goodwood Park serves up a different type of drink – in its mooncake! The Root Beer Snowskin Mooncake is a nostalgic crowd pleaser. It even comes with a dash of rum and vanilla beans for a boost!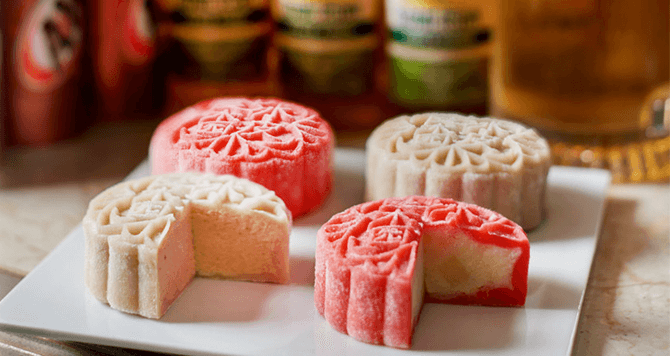 If soft drinks are not your cup of tea, how about some kopi – with salted Hokkaido milk and wrapped in delicate snowskin? This delectable mooncake from Fullerton is smooth, with the perfect balance of sweet and savoury.
The following mooncakes are unique because they aren't really mooncakes! TungLok's Sweethearts Mochi Snowskin Mooncakes come in four flavours – lychee, cranberry, grape, and mango – and offer a chewy alternative to the usual baked and snowskin mooncakes. Le Café's Moon Pies ­– eight different flavours in a box – are one of the brand's signature products. They had Violet Oon raving about them way back in 1984!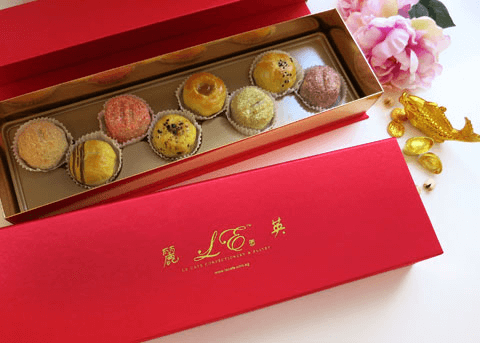 Mooncakes That The Kids Will Love
Kids will squeal with delight when they set eyes on the cute Snowskin Pig-Me-Up with Silver Lotus Paste and Egg Yolk Custard Mooncakes from Michelin Bib Gourmand restaurant Peony Jade @ Keppel Club and Bunny Mooncakes from Ollella. Note: Two out of the four flavours from Ollella contain alcohol, so make sure your kids are eating the correct ones!
Old Seng Choong's Joyous Collection (limited edition) featuring three cute animal mooncakes in three different flavours will also be popular with the kids, as will the Hello Kitty baked mooncakes from Hello Kitty Orchid Garden.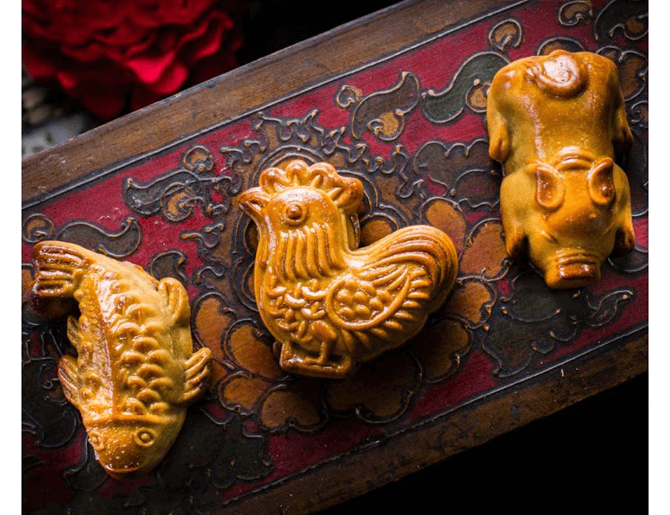 For fans of superheroes Iron Man and Spider Man, Hong Kong's best-selling mooncake brand Mei Xin offers the popular Marvel Exclusive Set for a gourmet action-packed celebration this Mid-Autumn Festival.
Children who don't eat mooncakes with lotus paste will like the Sweet Medallions ice cream mooncakes from Swensen's. Just imagine Sticky Chewy Chocolate as a mooncake! The other flavour that will appeal to these kids is the Baked Mini Milo Dinosaur Mooncake from Peony Jade @ Keppel Club. It's filled with Milo crème diplomat and feuilletine. Yum!
Mooncakes In Out-Of-The-Box Packaging
If you're the design-conscious type who can't resist good packaging, Michelin-star restaurant Summer Palace's spice carrier box containing the unique Pineapple Pink Peppercorn Mini Snowskin Mooncake and other snowskin flavours will definitely catch your eye.
Making an impression too is Crowne Plaza Changi Airport's limited-edition vintage suitcase packaging, complete with shiny gold hardware and a leather luggage tag; and Wan Hao Chinese Restaurant's mooncake container resembling a Chinese lantern.
Awfully Chocolate's unique Blue Moon Chocolate Mooncakes in dark chocolate and white chocolate housed in special bamboo boxes make a stylish gift, while Crystal Jade's Mickey & Minnie mooncakes – presented in a lacquered box that opens up to reveal Mickey and Minnie laser-cut out of gold card – are so popular, they have already sold out!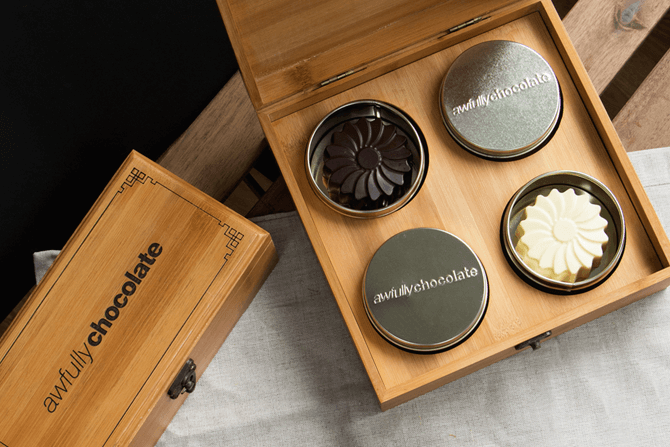 Mooncakes For The Traditionalists
For those who prefer Cantonese traditional baked mooncakes with lotus paste and egg yolk, many of the well-known hotel brands such as Carlton Hotel (Wah Lok Cantonese Restaurant) and Ritz Carlton (Summer Pavilion) offer well-made, handcrafted options. But if you're looking for old-school taste, Tai Chong Kok's Lotus Paste Mooncake is your answer. The brand has been making mooncakes the same way since 1935 and does not intend to change.
If you're into the other type of traditional mooncake – Teochew filo pastry with yam paste, you have to go for the Flaky Teochew 'Orh Ni' Mooncake with Premium Golden Pumpkin (by the Ex-Crown Prince original creator)! It's the king of its category, having been voted the top choice a few times over the years by different publications.
Yet another Teochew favourite is Thye Moh Chan's famous tau sar piah, with a history dating back to 1943. In addition to the classic flavours, Thye Moh Chan is offering a new XO version, plus Mao Shan Wang and Yam with Salted Egg Yolk in limited quantities.
This is by no means a comprehensive list. There are just too many options of mooncakes in Singapore 2017 out there. Whether you're a purist traditional mooncake lover, or a sucker for new-fangled creations, we hope these mooncakes will bring family and friends together this Mid-Autumn Festival. Happy reunion!