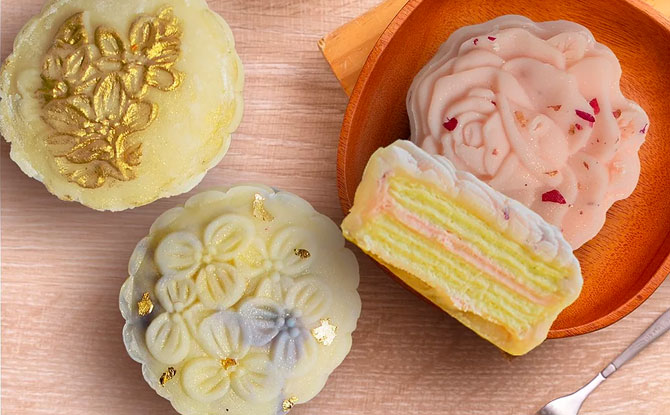 Promising humble and quality fresh bakes, Yours Sincerely Bakery has just released some elegant and unique mooncakes for their customers to enjoy this mid-autumn festival. This innovative bake takes the delicate layers of a mille-crepe and combines it with a soft chewy snow skin texture.
---
Snow Skin Mille-Crepe Mooncakes
Yours Sincerely Bakery offers their Premium Snow Skin Mille-Crepe Mooncakes in four delicious flavours in an elegant Sakura packaging. Customers can order their classic flavours of Madagascar Vanilla, Blue Pea Flower and Japanese Strawberry.
---
-- Story continues below --
These mooncakes are beautifully designed with flower motifs and match the dainty Sakura packaging. They have gold dusting that highlights the floral embossing on the mooncake.
We enjoyed the taste of these aesthetic mooncakes and the delightful layers that were found in each of the mooncakes.
We especially enjoyed the sweet and creamy Madagascar Vanilla mooncake as well as the subtle fruity strawberry in the Japanese Strawberry mooncake. The beautiful blue pea flower mooncake was a treat for the eyes and stomach as well.
---
Mini Sakura MSW Durian Snowskin Mooncake
For durian lovers, Yours Sincerely Bakery also offers a box of Mini Sakura MSW Durian Snowskin Mooncake. Made with 100% Premium Grade MSW flesh, enjoy this creamy king of fruits enveloped by a layer of pristine snowskin and brushed with gold accents. There are a limited number of sets available, so be sure to get a box while stocks last.
---
Where to get Mille-Crepe Mooncakes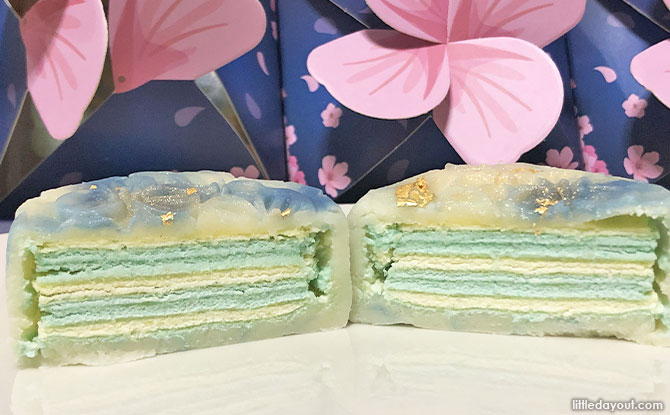 Both the Snow Skin Mille-Crepe Mooncakes and Mini Sakura MSW Durian Snowskin Mooncake from Yours Sincerely Bakery are sold at $72.15 per box but customers who order before 22 august 2021 can get it at an Early Bird Promotional price of $55.50 per box. Order the mooncakes at the site here.