Making exciting discoveries at FairPrice Xtra through puzzles and gifting one-of-a-kind foodie gifts for your loved ones? Check!
Our Little Day Out Adventurers did just that in the recent Family Adventure Quest at FairPrice Xtra VivoCity and FairPrice Xtra Parkway Parade. It was a fun-filled event with loads of laughter as both parents and children put their heads together to solve some puzzles!
FairPrice Xtra – One-stop Shopping Destination for Your Family!
Walk along the aisle to discover an extensive range of products – from fresh produce, international selections, organic foods, food including hot deli and sushi, to electronics and more!
But wait, there's more! They even offer food preparation services to process and prepare your vegetables, meat, and seafood. Simply pick out fresh ingredients and have them cooked exactly how you want it and enjoy it at the dine-in area!
---
-- Story continues below --
Did you know that you can also customise a snack bouquet with your favourite snacks at the florist in FairPrice Xtra VivoCity, or even blend spices into paste at Jeya Spices in FairPrice Xtra Parkway Parade?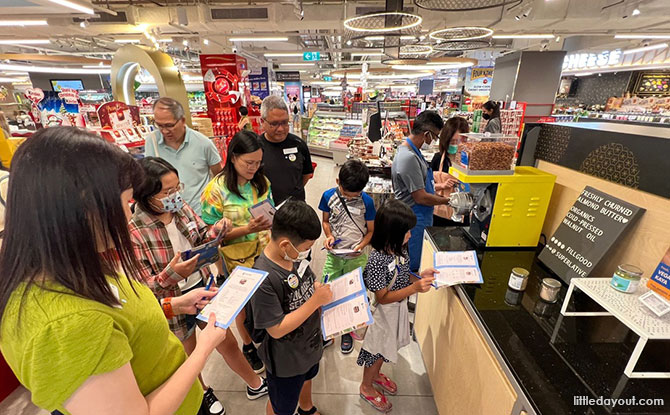 You can even churn your own nut butters, bottle them up and bring home freshly churned almond or cashew nut butter.
Families were fully engaged in their quest as they discovered what the Hypermarket has to offer. From the hundreds of toys in the kids section to watching the cascading waterfalls of the tanks, and even finding a mushroom garden.
The participants weaved through different aisles to look for clues with enthusiasm. They cooperated with one another to navigate to each new station using the maps of the hypermarkets. Teamwork makes the dream work!
Praline-Making: Gifting from the Heart
After completing the quest, FairPrice Xtra VivoCity participants made their way to Agora CoLearning for the no-bake praline-making session whereas families at FairPrice Xtra Parkway Parade had their session at the cosy dine-in area.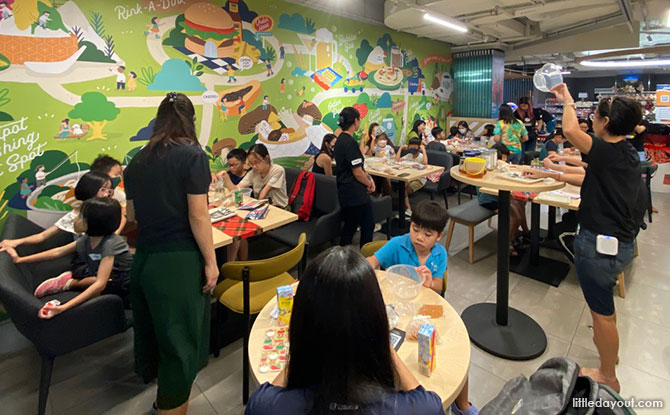 The children crushed the pretzels, mixed the coconut oil, honey, seeds and nut butter together followed by shaping and chilling the pralines!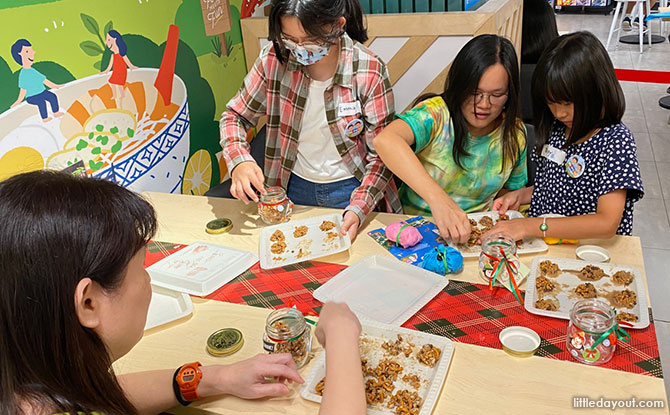 While waiting for the pralines to cool, the participants decorated their jars and made it ready to be filled with the praline and gifted to their loved ones!
Some families also stayed on to participate in the many child-friendly activities available at Agora Co-learning. It was an afternoon well-spent and we were glad to see families bonding over meaningful activities!
Thirst for Adventure?
Special thanks to FairPrice Xtra for making the Family Adventure Quest possible and Agora Colearning for hosting us!
If you would like to join us for more quests and memory-making adventures, sign up in the link below!