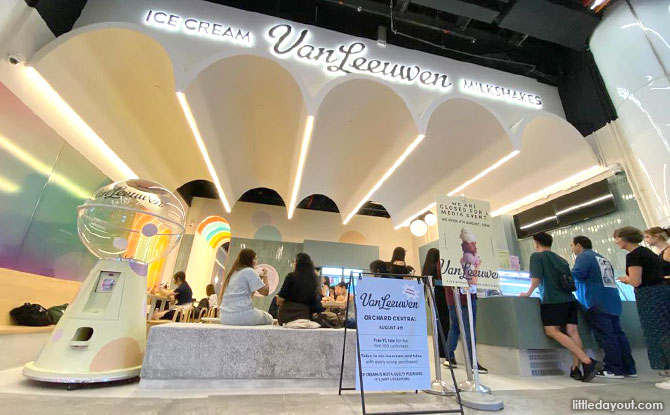 Van Leewuen Ice Cream, a brand from New York has hit Singapore's dessert scene. Its first international outlet opened on 4 August 2023 at Orchard Central offering an exciting array of flavours including some extremely tempting vegan options.
Van Leeuwen began in a humble ice cream truck on the streets of Brooklyn, New York City in 2008. The brand is known for serving ice cream made with double the amount of egg yolks, making it "french ice cream".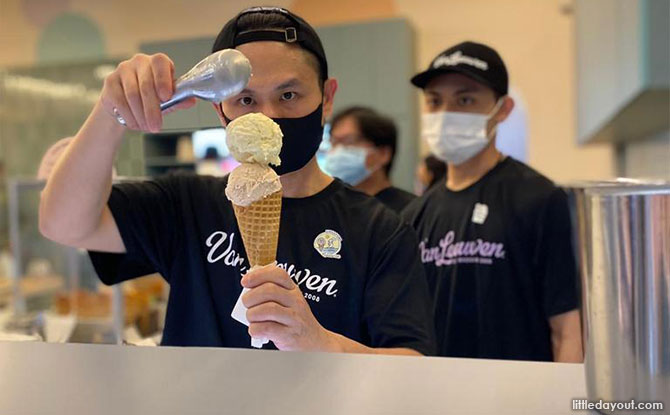 Its Orchard Central store is a 32-seaters on the ground floor and one cannot help being drawn to the alluring colours of the ice cream pints; what a happy place to be at!
---
-- Story continues below --
Leewuen's scoopers also proudly wear the slogan "Happiness is healthiness," and we wholeheartedly agree.
---
Van Leewuen Ice Cream Review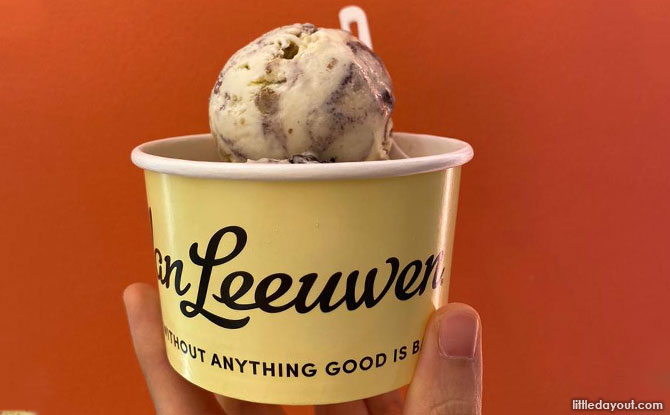 Van Leeuwen Singapore's menu features 16 scoop flavours in cups or their housemade waffle cone (+$1) at $6.50 for classic, $7.50 for vegan for 1 scoop, $10.40 for any 2 scoops, and $14 for any 3 scoops.
We managed to try quite a few flavours and here's our review of what we got to try at Van Leewuen at Orchard Central.
Sicilian Pistachio – The Sicilian Pistachio flavour impresses with its creamy texture and nutty aftertaste.
Marionberry Cheesecake – A smooth and balanced delight, bursting with luscious berry flavor.
Earl Grey – A dreamy treat for tea enthusiasts, offering a pronounced tea taste and comforting creaminess.
Strawberry – A refreshing choice with a pleasant, fresh taste amidst the richer options.
Vanilla – Quite a unique taste with different textures admits the creaminess.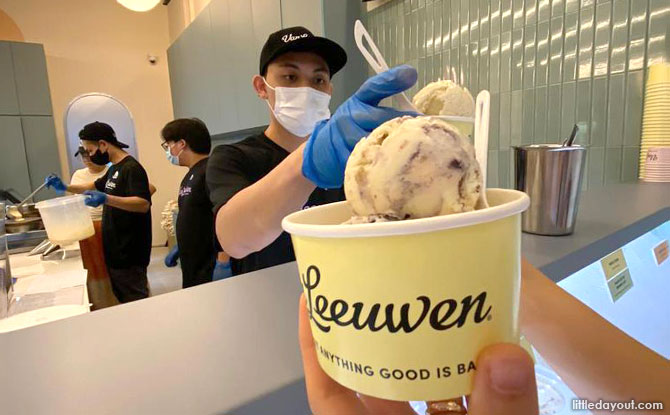 Personally, our favourites at Van Leewuen Ice Cream were:
Mint Chip – This refreshing and light flavor stood out among the rest. The chocolate chips provided a delightful texture and complemented the mint ice cream perfectly.
Chocolate Fudge Brownie – Indulgence at its finest! The rich chocolate taste combined with gooey fudge chunks made this flavor a decadent treat that paired brilliantly with the classic vanilla.
---
Milkshakes, Floats and Take Home Flavours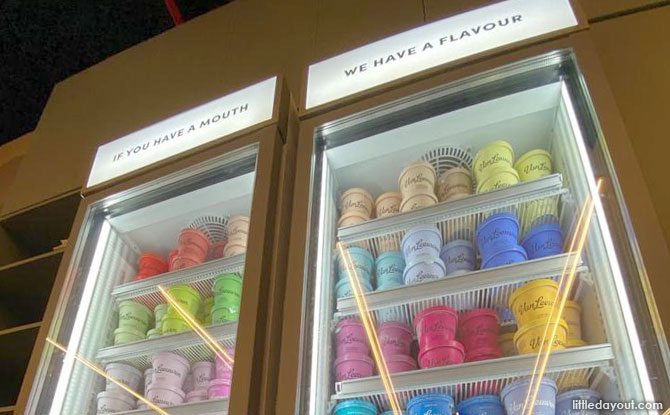 In addition, the store serves DIY Sundae ($13) which comes with a choice of any two scoops classic and/or vegan and any 3 toppings, along with Milkshakes ($13 for classic, $16 for vegan) and Root Beer Floats ($9 for classic, $10 for vegan).
Customers can also take home 23 different flavours of 14 oz Pints ($17) featuring pint-exclusive flavours.
Van Leeuwen Singapore will open Sundays to Tuesdays from 12 pm till 11 pm, Wednesdays to Saturdays from 12 pm till 1 am. It is located at 181 Orchard Road #01-19/20, Singapore 238896.
If you enjoyed this story, we think that you will enjoy this other foodie one.