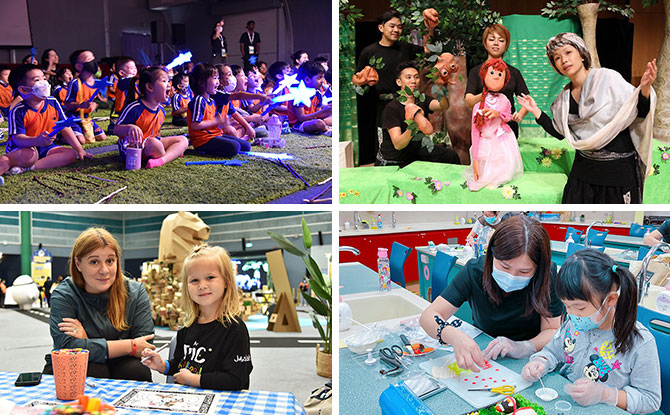 UNTAME STEAM Festival is back! This year, KidSTOP™ is cooking up a storm starting with the Magic Mee Goreng puppetry performance in early October and an exciting six-day festival at the end of October, stretching into early November!
Centred around the theme of the science of food (and who doesn't love food?), the Magic Mee Goreng puppetry performance and STEAM Festival 2023 will be dishing out plenty of fun and learning for kids.
Plus, we've got some tips on how to save on tickets. So be sure to read to the end.
---
Magic Mee Goreng Puppetry Performance
Have a sizzling Children's Day at the Magic Mee Goreng puppetry performance at The Marquee, Science Centre Singapore, from 3 to 8 October 2023.
---
-- Story continues below --
There once was a town famous for its food. One store was especially famous for its delicious, mee goreng, attracting people from near and far.
A curious man sets to out to uncover why the mee goreng store is so successful. Follow along as he discovers the hidden gastronomic secrets behind the mee goreng store.
Magic Mee Goreng is an immersive puppetry experience that revolves around the science behind what we eat. It makes use of intricate puppets, batik-inspired costumes, hands-on activities and catchy music to engage young audiences and introduce them to the joys of food.
This fun show by Paper Monkey Theatre is an inclusive performance that is suitable for children of all backgrounds between the ages of 4 and 8.
Tickets for Magic Mee Goreng are priced at $29 each. Book your tickets for a great time together with the kids!
And here's a tip: enjoy savings of 15% off on a Family of Four Bundle by using our Little Day Out discount code LDOSFBUNDLE when purchasing tickets on SISTIC.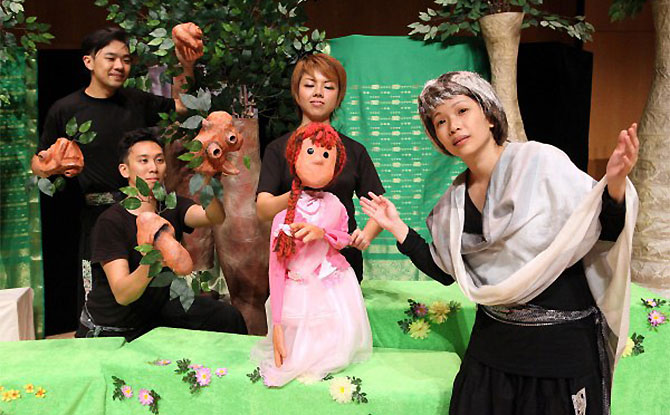 Magic Mee Goreng Puppetry Performance
When: 3 to 8 October 2023 (Tue to Sun)
Timings: 10 am & 2 pm on weekdays; 10 am, 2 pm & 4 pm on weekends
Where: The Marquee, Science Centre Singapore
---
STEAM Festival 2023
Want to know what else is cooking? STEAM Festival 2023 will be serving up a feast of engaging kid-friendly installations, workshops and hands-on activities for kids 2 to 8 years old to discover interesting Science, Technology, Engineering, Arts and Mathematics (STEAM) concepts behind food from 31 October to 5 November!
Enjoy interactive installations on the digestive system and nutrition, and a myriad of experiential festival partner booths with a general admission ticket.
For a full weekend afternoon of edu-tainment, opt for the Festival Workshop/Talk Bundle which gives you additional access to fun, food-themed workshops for children, families and educators alike!
Take a closer look at the main highlights of STEAM Festival 2023:
---
Immersive and Educational Installations
Go on a captivating journey of our digestive system to discover what happens to food once it enters our bodies! Children and adults will get to learn the importance of eating healthily through a series of immersive installations and educational science demonstrations.
The festival will also be unveiling "Healthy Plate-Mates", an interactive community installation comprising of works by kindergarten students and the general public.
---
Experiential Activity Booths
From learning about alternative protein sources to exploring the relationships between our diets and nature, be intrigued by a variety of food-themed games and activities from our exciting range of festival partners such as Altimate Nutrition, Children's Museum Singapore, HaruPlate, Kerry, National Parks Board and more!
Also explore The WonderLab, where children can embark on a journey to experience simple yet engaging kitchen science activities! These hands-on experiences are designed to spark young learners interest to embark on their own scientific explorations.
With these immersive and edu-taining activities, STEAM Festival 2023 guarantees a memorable and enriching experience for your little ones!
---
Food-themed Parent & Child Workshops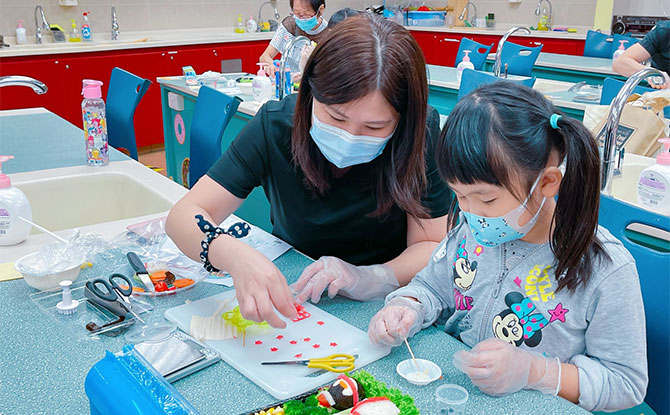 Whip up a delicious culinary creation with science at these separately ticketed workshops!
Delcie's Junior Healthy Chefs in Action
Join Chef Delcie on a learning adventure on how to use healthy and nutritious ingredients to make a scrumptious treat. Working together, parents and children will put together a delicious fruit cake using allergen-free and sugar-free ingredients.
When: 4 November, 3.15 pm to 4 pm
Suitable for ages 5 to 8
Oh My Germ!
Germs normally get a bad rep. But did you know there are also good germs in your food? Zoom into the world of microbes and find out how good germs help to keep our bodies strong. Then make your own delicious Chobani yoghurt parfait to keep your gut healthy!
When: 5 November, 10 am to 10.45 am
Suitable for ages 3 to 4
Kopitiam Klass!
Work together with your child to mix up your own refreshing drink. Concoct your own fizzy beverage with dry ice, and create your own edible bubbles using the molecular gastronomy technique of spherification.
When: 5 November, 2 pm to 2.45 pm
Suitable for ages 5 to 8
Food Detectives – Sugar the Frenemy!
Calling all food detectives! Uncover the secrets of sugar with HaruPlate and learn how they affect our body, teeth and energy through a series of parent-child hands-on activities and experiments!
When: 5 November, 11.15 am to 12 pm & 3.15 pm to 4 pm
Suitable for ages 3 to 8
Navigating Allergies in Children
Specially for parents and educators, join Chef Delcie's talk to discuss food allergies in children and how to keep food and your environment allergen free at home and in school.
When: 4 November, 2 pm to 2.45 pm
Suitable for parents and educators
More details of all workshops and festival happenings can be found here.
There are a limited number of seats for the workshops, so be sure to book quickly before they are sold out.
The parent educator workshop and parent & child workshops are normally priced at $28 and $67.90 respectively, but you can enjoy 10% off when you use the Little Day Out discount code LDOSFBUNDLE.
---
STEAM Festival 2023 Food Drive
This year, STEAM Festival is also partnering with The Food Bank Singapore for a food donation drive.
Play a part to help ensure a steady supply of food rations for the needy and bring along your food donations when visiting the festival to contribute towards eliminating food insecurity in Singapore.
All donations will be collected by The Food Bank Singapore at the end of the festival.
---
Book Your Tickets & Save with Little Day Out's STEAM Festival Discount Code

STEAM Festival 2023 takes place from 31 October to 5 November at The Annexe, Science Centre Singapore.
General Admission Tickets to the festival are now available on SISTIC! The tickets are priced at $29.90 for children and $18 for adults.
Enjoy massive savings of 20% off when you purchase a Family of Four Bundle using Little Day Out's discount code LDOSFBUNDLE.
This is the same code that you can use when purchasing your tickets for the Magic Mee Goreng puppetry performance.
Save the dates and get your tickets for Magic Mee Goreng and STEAM Festival 2023 before they are all gone! Get your tickets now at https://linktr.ee/steamfestival2023
This feature is brought to you by Science Centre Singapore.
---
Take Part in Our Giveaway for a Chance to
Win a Pair of Tickets to Magic Mee Goreng
This giveaway has closed and the winners have been contacted.