The night comes alive with not one, but two festivals over taking place in the evenings over the next few weeks.
One festival celebrates bold new directions while the other celebrates age-old traditions.
Returning for its seventh installment, theSingapore Night Festival takes place over the two weekends of 22 and 23 August, and 29 and 30 August. During these dates, the Bras Basah.Bugis Precinct will be transformed into a hive of activity, buzzing with live performances, art installations and late nights at the museums.
A couple of streets away, Chinatown's Mid-Autumn Festival 2014 marks an important occasion celebrated for centuries. Here, the lights go up in the form of lanterns and munching on goodies like mooncakes are part of the activities. The Chinatown Mid-Autumn Festival 2014 takes place from 23 August to 8 September, creating a buzz on the streets of Chinatown, rivalled only by that of Chinese New Year.
Little Day Out looks at what you can expect at these two "after-dark" festivals taking place over the next few weeks.
---
Singapore Night Festival 2014
"Singapore Night Festival 2014 promises to be louder, edgier and wilder, offering a dazzling and diverse experience for every festival-goer. Some of the most talented musicians, visual artists and performing arts groups will present stunning new works and brave new collaborations for this year", said Ms Angelita Teo, Festival Director, Singapore Night Festival.
With so many events and activities taking place during the Singapore Night Festival, here are our picks of five things to look out for during the Singapore Night Festival.
1. William Close's Earth Harp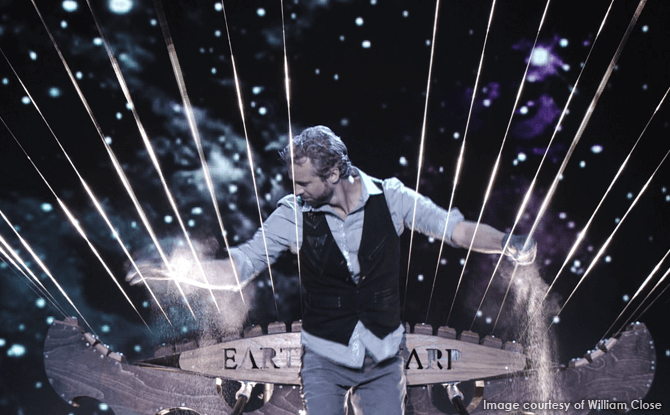 22 & 23 Aug, 29 & 30 Aug
7.30 pm to 11.45 pm (with breaks between)
National Museum of Singapore
The National Museum building becomes an instrument as Festival headliner, William Close, strings up his Earth Harp to its façade. On 22 and 23 August, he collaborates with local groups Sound of Sirens and drumming group ZingO to create spellbinding music. On 29 and 30 August, Close will collaborate with Austrian-based collective Phoenix, to put together a show of acrobatics, pyrotechnics and music. When you are done with the show, head into the Rotunda on Level 1 of the museum to try playing your own melodies on a smaller-scale Earth Harp installed there.
2. Tiger-fighting Hero, Wu Song
22 & 23 Aug, 29 & 30 Aug
7.45pm , 9.30 pm, 10.45 pm (Each show lasts 15 minutes)
Glass Atrium Level 2, National Museum of Singapore
Paper Monkey Theatre presents the story of Wu Song, a fictional character who encounters a man-eating tiger and ends up learning about courage and mental strength. Between performances, 20-minute workshops (with a limit of 25 participants per workshop) will be held for children and families interested to learn more about the ancient art of puppetry.
3. Night Lights: Spirits of Nature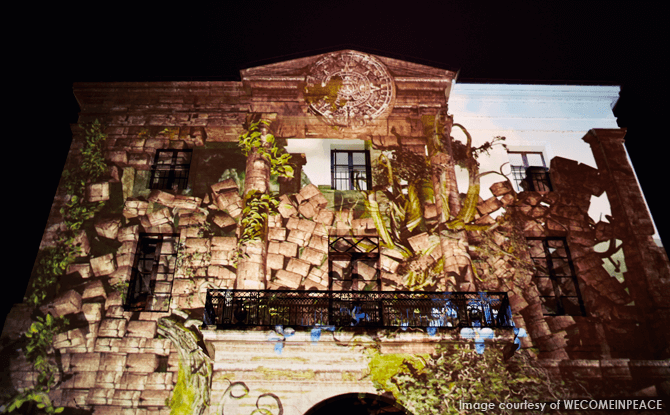 22 & 23 Aug, 29 & 30 Aug
Front Lawn, Singapore Art Museum
The façade, balconies, windows and columns of SAM get transformed into a giant multimedia canvas that showcases the beauty of Mother Nature. Immerse yourself into a fantastical world of light and sound. If it is more light installations you are craving, this year's Festival Guide has a trail marked "The Basic Unit of Society" for families to find more light installations to keep the kids occupied. If you are tired of the lights, head inside SAM to view the exhibition, Sensorium 360° instead. Museums in the precinct will stay open until 2 am on the four nights of the Festival.
4. Night Lights: Alsos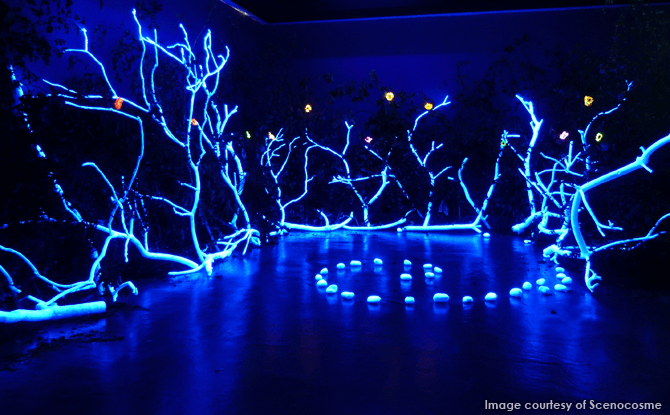 22 & 23 Aug, 29 & 30 Aug
Armenian Church
An interactive installation where a mystical forest filled with fluorescent flowers react with different tunes as light gets casts on them. Visitors can interact collectively with the installation set in the historic Armenian Church. When are done with the ethereal forest, head to the main Armenian Street where a block party with roving brass bands, street performers and even pro wrestlers will be taking place.
5. Light Up Ninja Returns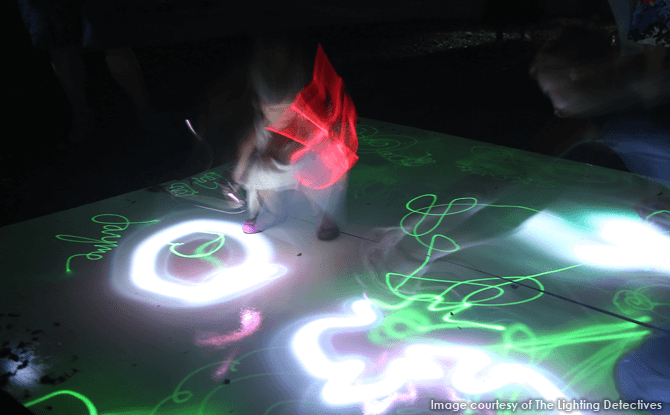 29 & 30 Aug
7.30 pm to 9.30 pm
West Plaza Steps, SOTA
Create glow-in-the-dark painting with fluorescent pens and paints and even craft a small lantern or windmill. When you've had your fill of fun, head to the Festival Village @ Cathay Green where there will be food, a flea market and even film screenings for those who wish to rest their weary feet.
For more information and full set of activities, events and light installations at the Singapore Night Festival 2014, visit their website.
---
Chinatown Mid-Autumn Festival 2014
For the last three months, 36 craftsmen have been hard at work designing, fabricating and producing 3,100 flower-shaped lanterns that now hang suspended over New Bridge Road, Eu Tong Sen Street and South Bridge Road.
Fashioned after six varieties of flowers that include lilies, orchid, peonies and bauhinia flowers, these lanterns are part of this year's month-long Mid-Autumn celebration in Chinatown, themed "A Blooming Mid-Autumn", organised by the Kreta Ayer-Kim Seng Citizens' Consultative Committee.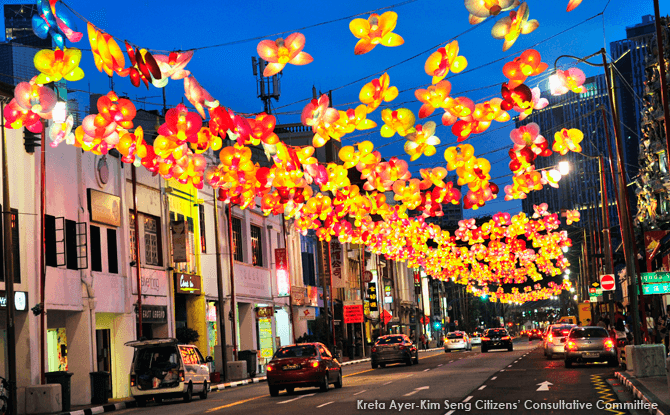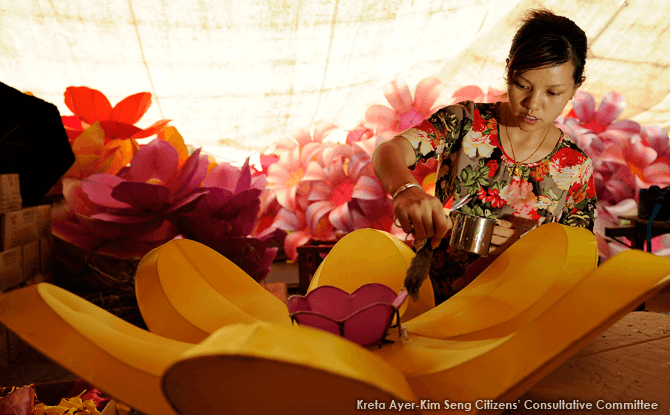 Here are five highlights of the Chinatown Mid-Autumn Festival 2014.
1. Official Opening and Light Up Ceremony
Sun, 24 Aug
7 pm to 10 pm
Get into the heart of the action as the Mid-Autumn celebrations start in Chinatown with multi-cultural song and dance performances by famous sand artist, Ms Tan Sock Fong, local acapella group, Micapella, rhythmic water and LED drum group, the Urban Drum Crew, and other local performers. Watch a record-breaking dragon dance performance by a 28-metre long dragon made up of flower-shaped lanterns and join in the official lighting up ceremony of the 3,100 flower-shaped lanterns. The evening's festivities will culminate in a grand finale with a spectacular fireworks display.
2. Festive Street Bazaar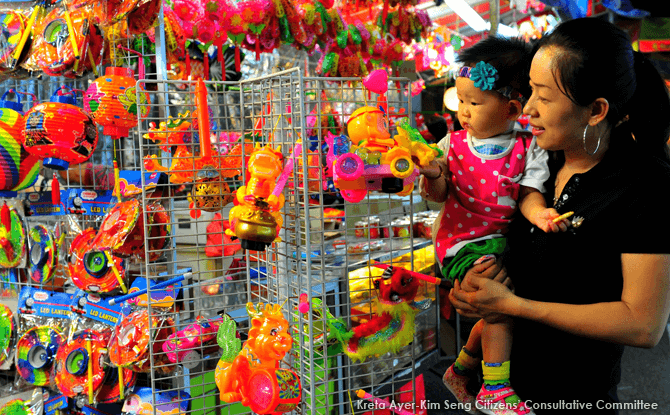 Sat, 23 Aug to Mon, 8 Sept
6 pm to 10.30 pm
Browse through 240 festive stalls lined up along Pagoda Street, Trengganu Street, Sago Street and Smith Street. Shop for festive goodies that include moon cakes, pomelos and handicrafts while taking in the flower-themed decorations along Eu Tong Sen Street and New Bridge Road. Stop by Kreta Ayer Square where stage shows with both local and foreign acts will be held nightly from 8 pm to 10.30 pm. Of course, most importantly, don't forget to pick up your own lanterns to take part in the festivities!
3. Heritage Walking Trail
Sat, 30 & Sun, 31 Aug; Sat, 6 & Sun, 7 Sep
Two sessions: 2 pm to 3.30 pm; 5 pm to 6.30 pm
Learn the secrets of Chinatown's five-foot ways. Starting from Kreta Ayer Square, go on a walking tour around the historic Chinese enclave with knowledgeable tour guides. Covering the streets in the heart of Chinatown, Kreta Ayer Road, Sago Street, Pagoda Street and New Bridge Road, this walking trail is free but pre-registration is required. Limited spaces available.
4. Kwong Wai Siew Li Si She Sut Mid-Autumn Activities
Sat, 30 August
7 pm to 9.30 pm
Get into the festive mood at Ang Siang Hill when the Chinese Clan, Kwong Wai Siew Li Si She Shut, organises activities to mark the Mid-Autumn Festival. Children below the age of 12 get a free lantern and can take part in a lantern walk with their families. There will also be a Chinese calligraphy exhibition and a Mid-Autumn tradition – lantern riddles.
5. Mass Lantern Walk
Sat, 6 Sep
7 pm to 10 pm
Go on a lantern walk led by Mr Chan Chun Sing, Minister for Social and Family Development, Second Minister for Defence and Member of Parliament for Tanjong Pagar GRC. Starting from Kreta Ayer Square and ending up along New Bridge Road, the evening's programme will include performances by dragon dance troupes, cheerleaders and a percussion band, finally concluding a with a fireworks display.
For more information on the Chinatown Mid-Autumn Festival 2014, visit their website.