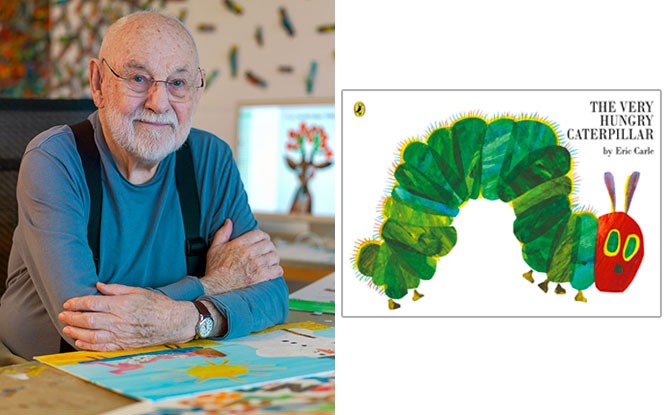 Eric Carle, the author and illustrator of the beloved children's book The Very Hungry Caterpillar passed away, aged 91, on Sunday, 23 May 2021.
Very Hungry Caterpillar Author, Eric Carle, has Passed Away
The Very Hungry Caterpillar was first published in 1969. It was Eric Carle's third book and was about a caterpillar who eats his way through various food before transforming into a beautiful butterfly. It has been a staple of many a childhood bedtime storytime, as well as many kindergarten and preschool projects.
The news of Eric Carle's death was announced on his team on Facebook. In the post, they shared, 'When asked why he thinks The Very Hungry Caterpillar has remained popular for so long, Carle said, "I think it is a book of hope. Children need hope. You, little insignificant caterpillar can grow up into a beautiful butterfly and fly into the world with your talent."'
Tributes for Eric Carle
There have been tributes to Eric Carle that have poured in since the news of his passing broke.
This is the gift that Eric Carle gave me on the first day I visited his studio. Over the next 13 years he gave me such a greater gift: his friendship. A gentleman w/ a mischievous charm. RIP. pic.twitter.com/jyJdJfzqCN

— Mo Willems' Pigeon (@The_Pigeon) May 26, 2021
Oh man, I love Eric Carle. Cannot count the times my children and I were cuddled up, completely enraptured in the glory of his books. He was a gift to humanity. Love forever, broken through to the other side, Eric Carle. https://t.co/5N2dhEvdWS

— Flea (@flea333) May 26, 2021
RIP Eric Carle. I love this illustration from an early draft of The Very Hungry Caterpillar back when it was called A Week with Willie Worm pic.twitter.com/mLZC5v0iNj

— Anna Fitzpatrick (@bananafitz) May 26, 2021
Thank you Mr Carle, for adding a touch of magic to the childhoods of many around the world.